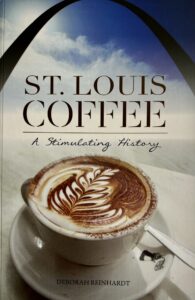 Get excited! November 7 marks the release of Deborah Reinhardt's book: St. Louis Coffee: A Stimulating History. Deborah brews up interesting and informative food, drink and history related books, with her new coffee book preceded by Delectable Destinations: A Chocolate Lover's Guide to Missouri (so fine) and A Culinary History of Missouri: Foodways & Iconic Dishes of the Show-Me State, a book she co-authored with Suzanne Corbett.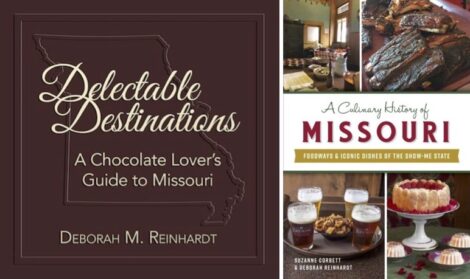 St. Louis Coffee highlights the history of coffee in a town that was at onetime noted as "the largest inland distributor of coffee in the United States," and profiles about 20 current roasters in the St. Louis area. Deborah said that St. Louis brought many innovations to the coffee industry and that coffee men were just as important as beer barons in shaping the nature of the city. Unlike beer, the history of coffee remained somewhat hidden, that is before Deborah dusted off the background and put a spotlight on the history.
Deborah perked an interest in the St. Louis coffee industry after reading about an exhibit at the Missouri History Museum. "Wow, I didn't know that!" she kept thinking as she learned a new fact linking the city to coffee. Figuring that others might not know about the city's coffee connection, and stimulated by the exhibit, she developed a robust interest in research that bloomed into her book.
A St. Louis native, Deborah lived with her grandparents and parents when growing up. Her grandmother always kept a pot of coffee in the kitchen available to visitors. Deborah called it "hospitality coffee," and says that she associates coffee with lovely memories of family and friends.
In addition to writing books, the former travel editor blogs at  ThreeWomenintheKitchen.com, a site filled with terrific comfort-food recipes, cooking tips and family stories. The three Reinhardt women in the blog's title are Deborah, her mom, Kathy, and grandma, Dorothy.
St. Louis Coffee, published by The History Press, sells for $23.99 and can be purchased, along with Deborah's other books, on her blog, through her publishers, at local bookstores and on Amazon.
When asked for a favorite recipe, Deborah double dipped her passions and sent the following savory chili recipe that she flavors with both chocolate and coffee. She says that her recipe is "an evolving thing, especially with the chocolate, "I add some, taste, repeat until it's at the level I like."
CHOCOLATE/COFFEE CHILI
Yield: 6 servings.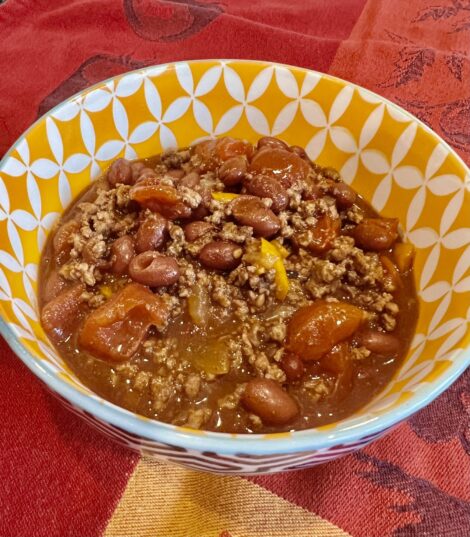 1 pound ground beef (I prefer 85/15)
1 medium orange bell pepper, chopped
1/2 cup chopped onion
1 (15.5-ounce) can Brooks Chili beans (I prefer mild)
1 (14.5-ounce) can diced tomatoes
1 cup brewed black coffee
1 teaspoon salt
1 teaspoon chili powder
1/2 teaspoon granulated garlic
1/2 teaspoon cinnamon
2 tablespoons semi-sweet chocolate (chips or chopped)
Put beef in a heavy saucepan or Dutch Oven and cook, stirring often, until the meal loses its red color. Add the onion and bell pepper. Sauté, stirring often, until the beef almost starts to brown and onions are translucent. Add beans, tomatoes, coffee, salt, chili powder, garlic, and cinnamon. Continue to sauté, stirring often, until mixture starts to bubble. Turn heat down to low, stir in chocolate and simmer 45 minutes, stirring occasionally. Taste and correct seasoning before serving.
To buy Deborah's books through her publishers: click HERE for St. Louis Coffee: A Stimulating History, and HERE for Delectable Destinations, A Chocolate Lover's Guide to Missouri.
For more information about A Culinary History of Missouri: Foodways & Iconic Dishes of the Show-Me State, click HERE.
To see Sweet Leisure's recommendations for the best places in the world to drink coffee, click HERE.