Glory be. Inverlochy Castle Hotel just won the 2015 Scottish Hotel Award for Hotel of the Year. The property double dipped the prizes by also claiming Restaurant of the Year.
Let me tell you why.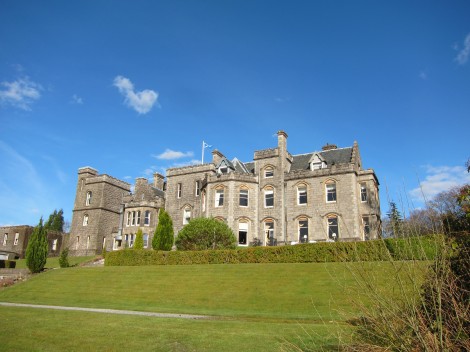 Built in 1863 as a private home named for the nearby 13th century Inverlochy Castle, the baronial mansion has been polishing, perfecting and practicing the art of public hospitality since becoming a hotel in 1969.
Everything about Inverlochy Castle Hotel charms.
First is the setting.


The hotel sits on 50 acres in a green glen at the foot of Ben Nevis (Britain's highest mountain range), near Fort Williams, in the heart of Scotland's western Highlands. The setting couldn't be more enchanting. The mountains glow in each day's ever- changing light. The lock glimmers. Grazing sheep on the grassy green continually rearrange their groupings into a million picture postcard images of countryside beauty and serenity.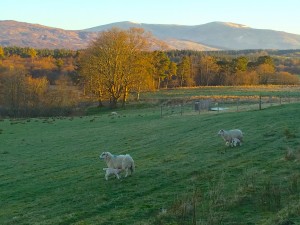 Queen Victoria, a guest at Inverlochy in 1873, said of the site, "I never saw a lovelier or more romantic spot." Jefferson Davis, President of the Confederate States of America, a guest in 1869, wrote "The scenery about here is the grandest of all the sublime spectacles I have met in Scotland."
The hotel's interior matches its rich surroundings. Registration takes place in an entry hall outfitted with oriental rug and antique furnishings.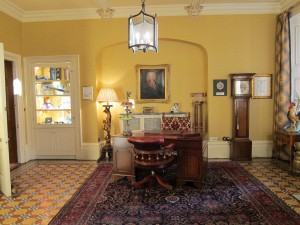 The Great Hall's impressive high ceiling frescos and crystal chandeliers, overlook intimate seating arrangements defined by groupings of upholstered easy chairs and couches. A whisky cabinet, antique French piano, and stack of boxed games add congenial homey touches as well as entertainment elements.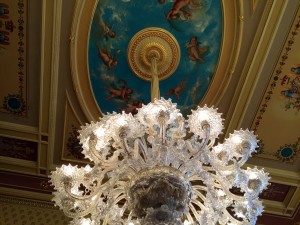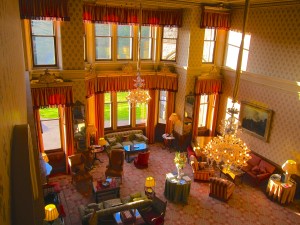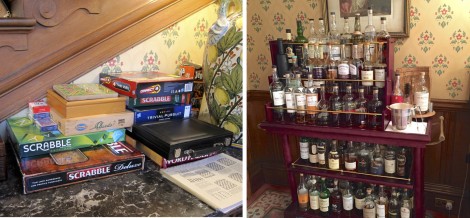 The next-door Drawing Room is just as hospitable and welcoming although lighter and brighter due to sparkling rococo mirrors and sunshine-colored walls and drapes gracing almost floor to ceiling windows.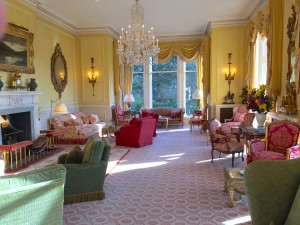 The Great Hall and Drawing Room provide relaxed and lovely locations for afternoon tea, pre-dinner Champagne and/or just reading in a quiet corner—then again, so does the terrace.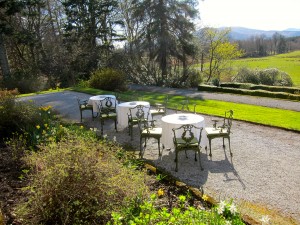 Inverlochy boasts three dining rooms if one counts the Library (practically hidden and outfitted for private parties). Decorated with furniture and table dressing reflecting the upscale style of bygone elegance, the dining rooms serve as tasteful frames for the castle's famed modern British cuisine.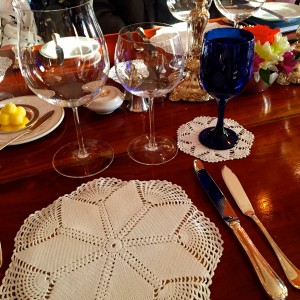 (Incidentally gentlemen…well all males, are required to wear coat and tie at dinner. The hotel provides a stash for those unprepared.)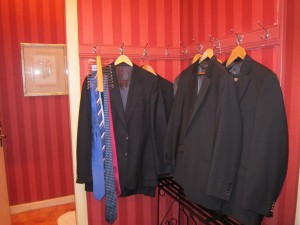 The 17 bedrooms in the main house vary in style and configuration. Some wear period Victorian wallpaper and floral-patterned fabrics on headboards and upholstery. Others sport four poster beds, with dark-colored striped and plaid spreads and drapes. All contain a treasure trove of antique furnishing and appointments. And all have ultra-modern flatscreen TVs, good views and dynamite bathrooms.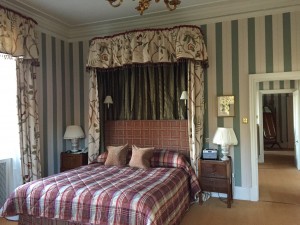 I stayed in the Mary Shaw room, which was named after the property's first cook. Although I am sure the other rooms, especially the King's and Queen's suites, are just as nice, I can't believe the cook's room was not the jewel in the crown as it was so incredibly comfortable and well appointed. I especially loved the huge bathroom with a green velvet chair, shower big enough for four, bathtub big enough for two, and luscious toiletries that lent fragrance to all.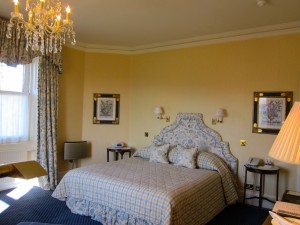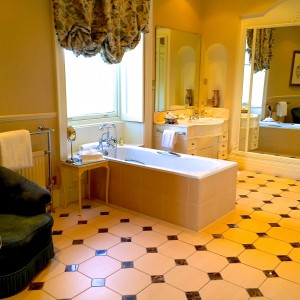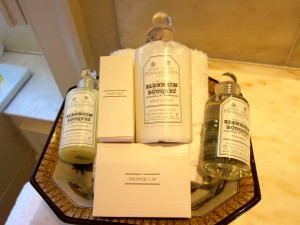 As to what to do at Inverlochy? Once one can pull themselves out of the deeply comfortable bed, and leave the beautiful room, the environment and surrounding countryside offer many activities. Skiing, biking, hiking, stalking in the mountains. Fishing in the lochs and river. And a variety of country-gentlemen sports such as clay pigeon shooting, falconry, tennis, tomahawk throwing, and snooker on the property itself.
For a hotel that racks up the accolades—including Best Hotel in Europe (Travel and Leisure magazine 2006), and a property that has hosted many of the world's elite, Inverlochy remains unpretentious and informally grand—no doubt due to the friendly staff and the property's attention to details that make every aspect of a stay enjoyable.


Services run the gamut from chauffeuring guests from any Scottish airport to the hotel in a Rolls Royce Phantom (the property also has it's own Helicopter landing site) to the simple amenity of bringing coffee to the room as a wake-up call.
Granted most luxury hotels have room service deliver coffee, but Inverlochy enhances their coffee delivery with plate of buttery, melt-in-the-mouth shortbread cookies—providing an extra sweet start to the day and stay.
SHORTBREAD
(Adapted from a recipe provided by Inverlochy Castle Hotel.)
Yield: 15 three-inch in diameter cookies.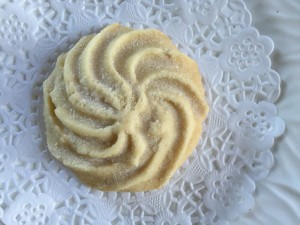 17 tablespoons butter
1/3 cup plus 1 tablespoon superfine sugar (see NOTE)
2 cups all-purpose flour
1/4 cup cornstarch
A little granulated sugar to sprinkle on top of cookies before baking
Preheat oven to 350°F. Line a large baking sheet with parchment paper.
Cream butter and sugar until light and fluffy. Fold in flour and cornstarch to form a dough. Either put dough in piping bag and pipe cookies into 3-inch circles or roll dough 1/4 inch thick between sheets of plastic wrap and cut into circles with a cookie cutter.
Put dough circles on parchment paper, leaving space between the rounds. Sprinkle tops of circles lightly with granulated sugar.
Bake until cookies are set and just barely beginning to brown, about 15 minutes.
NOTE: If you can't find superfine sugar (also called caster sugar), blend granulated sugar in a blender or food processor for a few seconds until it is in fine particles.