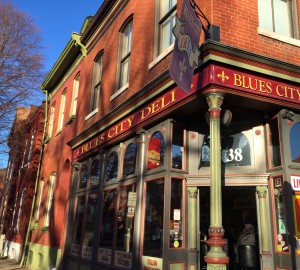 Doesn't matter when you show up for lunch, even minutes after the doors open at 11 a.m. you're apt to find long lines.
Blues City Deli, located in St. Louis's Benton Park neighborhood is a popular place. It's also casual, comfortable, and party friendly—no doubt reflecting the casual, comfortable and party-fun personality of its food-and blues-loving owner, Vince "Vinnie" Valenza.
Lines move quickly through the first floor of the old brick building to the counter of the sandwich shop where one places orders.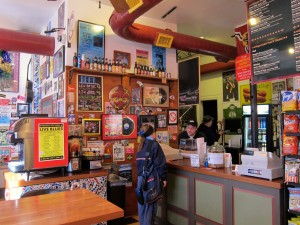 Vinyl flooring, wooden tables with assorted black chairs and banquette seating add to the aged urban decor, further enhanced by a spirited vibe radiating from old posters, record jackets, news clippings, paintings, photos and a mishmash of miscellaneous music memorabilia covering walls.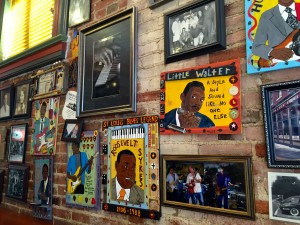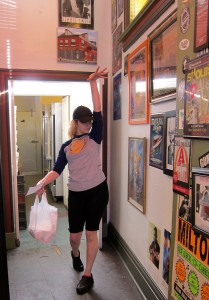 After ordering one tries to find a table—or maybe even just a spare chair at a shared table and waits while staff, in a backroom kitchen, constructs sandwiches. Wrapped in butcher paper, tuck into plastic bags, the sandwiches find their way to you by way of playful servers. 
A PA system sends background blues through the cafe, that is unless it is Thursday evening or Saturday afternoon when blues musicians show up to play live—sometimes inside, sometimes outside—always free of charge.
Blues City Deli keeps short hours, opening at 11 a.m. Monday through Saturday and closing every day at 4:00 p.m., except on Thursdays when blues bands sends soulful sounds into the cafe until 7:45 p.m.
Some say that the deli reminds them of a Greenwich Village hangout. Others claim it's totally New Orleans. All are partially right and somewhat wrong. Blues City Deli is a St. Louis original and has been for the last decade.
Vinnie says that he scored the menu to pay tribute to many of the blues music cities on the "Blues Highway." And indeed, the menu's play list includes such sandwiches as the Memphis Stax, Delta Bayou, and St. Louis Primo. Po' boys, New York-Style pastrami sandwiches, classic clubs, veggies, and a variety of good tastin' dogs make the scene, as do local beverages and simple sides in the form of a few salads, cole slaw, chili and bagged chips.


Items change from time to time, but the Muffuletta stays put on the menu, as it strikes a particularly popular cord with the Blues City population.
As Muffuletta fans know, olive salad is the keynote condiment adding flavor to the New Orleans speciality, but Vinnie spreads the joy and uses olive salad to jazz up other sandwiches as well.
He didn't miss a beat in sharing his recipe. And after testing and tasting, we can only say: Bravo, you make our heart sing!
BLUES CITY DELI OLIVE SALAD
Yield: about 4-1/2 cups.
2 cups pitted Sicilian olives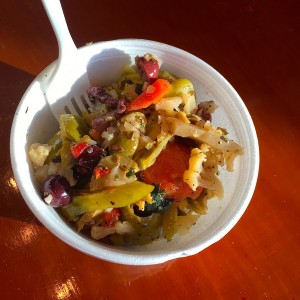 1 cup pitted kalamata olives
1 cup giardiniera (Italian-style pickled vegetables)
1 rib celery
1/4 cup chopped red onion
1/4 cup extra virgin olive oil
1 tablespoon dried oregano
Ground black pepper to taste
Additional seasonings to taste, optional (See NOTE)
Coarsely chop olives, giardiniera, and celery. Put chopped ingredients in a mixing bowl. Add olive oil, oregano and pepper.
Stir to mix well. Taste. Correct seasoning if desired.
Refrigerate in a covered container until ready to use.
Serve with roasted meats, sandwiches, or just as a snack on crackers.
NOTE: Much of the olive salad's flavor depends on the giardiniera used. Add additional seasoning to the salad if you like.