Travelers love Scotland for many reasons, among them the welcoming fun-loving residents, serene scenery, world-class golf, and delightful places to stay. But there is one Scottish lure that makes all of the others shine brighter. We're talking whisky here. (Notice the spelling differs from Irish whiskey. According to one Irish drinker, "the Scots are just too thrifty to add the e." )
Bars and pubs do their bit to train visitors to the pleasures of whisky, but those wanting to jump to the chase of understanding, should make their way to Glengoyne Distillery.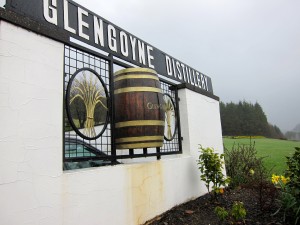 Located in Dumgoyne, near Glasgow, Glengoyne's property straddles the border road dividing the Scottish Lowlands (where the warehouses sit) from the Highlands (holding the distilling facilities).
Noted as the southern most of the Highland whiskies, Glengoyne (pronounced glen GOIN) receives accolades on many levels. First and foremost comes praise for Glengoyne's single malt Scotch, known around the world, beloved by many. In addition, tourists applaud Glengoyne's postcard-pretty setting, in a countryside green-glen at the foot of the Campsie Fells range of verdant hills.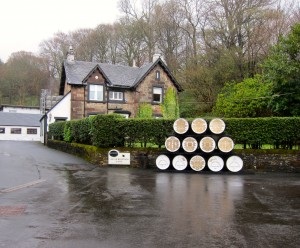 Visitors also rave about the distillery's outstanding tours.

Disclaimer and confession: I don't drink whisky. I loved my Glengoyne tour.
Glengoyne sells a variety of tours, among them the basic Wee Tasting tour; the No. 1 Warehouse Session (described as "Wield your dug. Dip two casks. Drink the drams. Bottle your favorite"); a Whisky and Chocolate Matching; and a five-hour, in-depth Masterclass.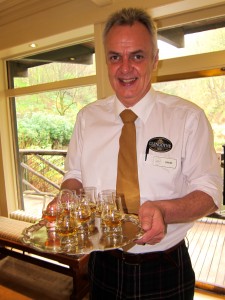 Most tours start in the visitor's center where a guide offers each person a dram, shows a short film on the distilling process and talks a bit about whisky making and labels. 
Next comes a guided walk through the facilities.
As we head out the Visitor Center's door, our guide, the smiling, super savvy David Dick, points to a picturesque waterfall from Campsie Fells pooling in a pond at the back of the property and tells us that the water is used, along with barley and yeast, to make Glengoyne whisky.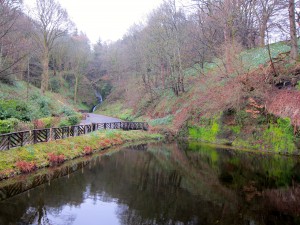 David continues to describe the processes of malting, milling and mashing, fermentation, distillation and maturation as we stroll through various buildings.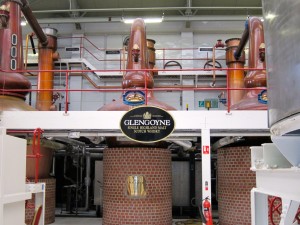 He tells us that Glengoyne first made whisky in 1833 and has followed pretty much the same techniques to this day; that the components contributing to Glengoyne's unique smooth flavor include a very slow distillation process, barley dried by warm air (not peat), and maturing in fine sherry-soaked oak casks.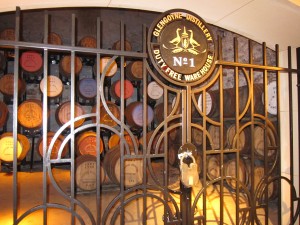 We learn that "Angel's Share" refers to the evaporation from casks as the whisky ages, and that the favorite whisky toast to good health, the Scottish Gaelic Slàinte mhath, rolls right off the tongue after downing a few sample drinks.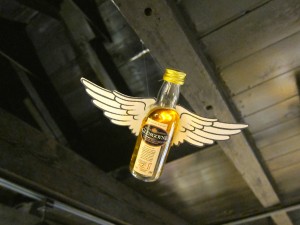 I am on the Malt Master Tour, so after the basics, my group settles into the Sample Room, which is set with bottles of different Glengoyne whiskies, small glasses, and all of the paraphernalia necessary to sample and then create a take-home bottle of our own blend.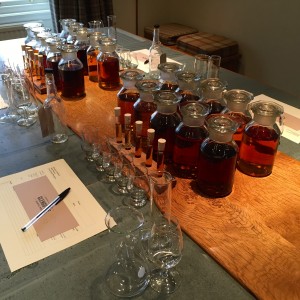 All tours end at the shop, which sells not only Glengoyne whisky, but also a variety of fine whisky merchandise.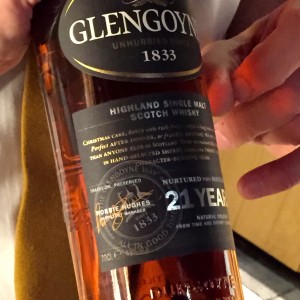 Before saying goodbye, David imparts a tidbit of wisdom concerning mixing whisky and water. 
A Scottish proverb says, "There are two things a Highlander likes naked, and one of them is whisky."  Winston Churchill said, "The water was not fit to drink. To make it palatable, we had to add whisky. By diligent effort, I learnt to like it." 
And David Dick says, "The only thing one should add to good whisky is, perhaps, a drop of water to release the subtle flavors, and, of course, more whisky."
For more about whiskey, click HERE.