I trace my love of houseboating to the 1958 film Houseboat. In the film Cary Grant lives on a houseboat with his motherless kids and Sophia Loren, a symphony-conductor's runaway daughter masquerading as a housekeeper. So romantic. So fun. Made me (and every woman and man in 1958 America) want to trade lifestyle—and spouse—for the houseboat experience.
As charming a picture as the movie paints, it can't capture the pleasure of the real thing. My two houseboat trips exceeded all movie expectations. But then, how could they miss. In both cases I traveled through some of the most remarkable scenery in all of the United States—on totally luxurious vessels—with 12 dearly beloveds (one of them a dog).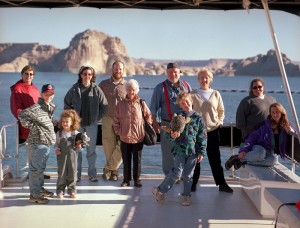 My family chose to houseboat on Lake Powell and Lake Mead for several reasons. Dramatically spectacular scenery topped the list.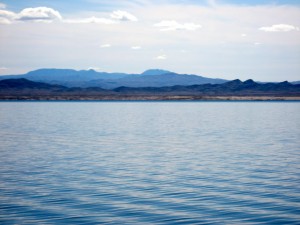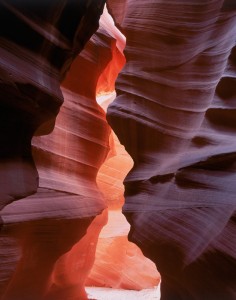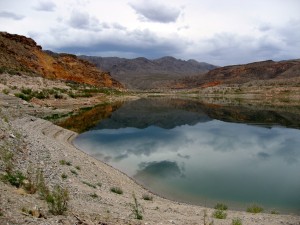 As you know, Lake Powell, straddling the border between Utah and Arizona, and Lake Mead, situated in Nevada and Arizona, are both reservoirs of different, but equally astonishing natural beauty—the full wonder appreciated only by water travel. These million-plus acre, man- and nature-made playgrounds of crystal water, desert, cliffs, twisting canyons and gnarled rock formations offer not only magical landscapes, but also land and water activities (boating, fishing, swimming, sun bathing, hiking, relaxing).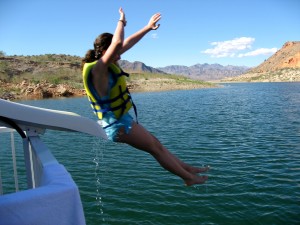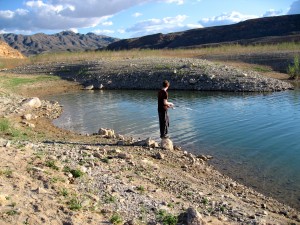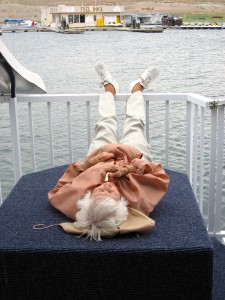 In addition, Lake Powell's 1900 miles of shoreline and Lake Mead's 759 are packed with secluded sandy coves surrounded by isolated rocky landscapes. We could moor the boat in pockets of primeval-like privacy, and hike in surroundings as if we had been first and only to explore and enjoy.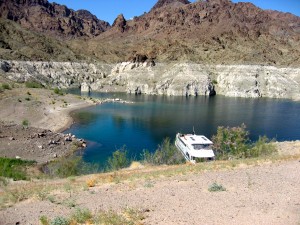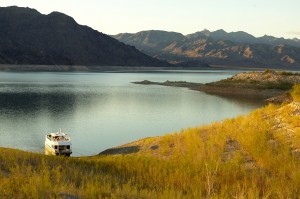 We rented houseboats for both trips from Forever Resorts. The company offers a variety of boats, ranging in size and amenities, at 12 marina properties around the country.
Some of the houseboats were too small for my family. Some were too big. But we found just the right ones, sleeping 12 and having a fully equipped kitchen, gas grill, air conditioning, sundeck and all of the comforts of home. (Well, even more comforts as our home lacks windows facing constantly changing natural vistas, water slides, and sundecks for sunbathing and star gazing under skies unencumbered by pollution and/or city lights.)
We also rented powerboats that we tethered to the houseboats and used for water sports and easy exploring, leaving the houseboats docked in their secluded coves for several nights in a row.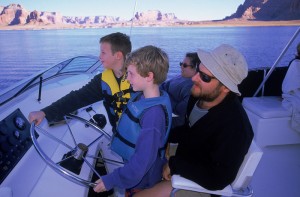 Well in advance of our first trip, Forever Resorts sent instructions on operating the houseboat, which we ignored, enabling us to show up at the marina totally clueless. But no problem, before staff hands over the keys, they require us to designate "captains" and "co-captains" to take a personalized-on-site course in operating both houseboats and powerboats.
I can't say it didn't take work at the git go. On the first trip, my family ranged in age from 4 to 87, and, on both trips—four years apart—each family member assumed a job.The youngest helped set the table. The next youngest and oldest fished for dinner and helped with dishes. I cooked. Everyone else took turns helping maneuver the boat through the twists and turns of the lakes and docking the boat at night (a procedure requiring strength and energy).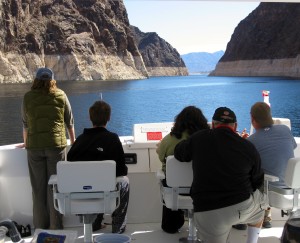 After a day learning the ropes, we could slip our water home in and out of secluded coves with the greatest of ease.
Operational mechanics in hand, we spent the days and nights of both trips enjoying sequestered family time. We ate, slept, played, hiked, and relaxed together, gaining new appreciation for each other. We loved and appreciated the natural beauty that encased us, paying special tribute to the desert flora and fauna—the sunrises, sunsets and skies full of bright-burning stars.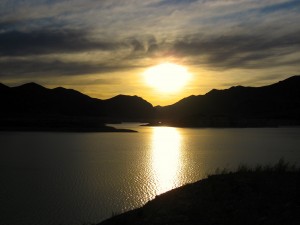 As to food, we took enough supplies onboard for all meals and our houseboat had all of the equipment needed for preparing, cooking and serving the food.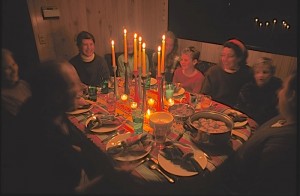 On the last morning, before disembarking and reluctantly relinquishing our water home, we gathered for one last breakfast, agreeing that the houseboat adventure was the best multi-generational family vacation possible.
We also agreed that we liked the breakfast, which was an egg strata. The casserole was perfect for several reasons: it is assembled the night before baking, utilizes leftovers, and like houseboating, greatly pleases both kids and adults.
BREAKFAST STRATA
Yield: 10 to 12 servings.
About 1/4 cup butter
1 large loaf French or Italian baguette, cut into 1-inch cubes (a little stale works fine)
Shredded cheese (Swiss, Cheddar, Monterey Jack or other or mixture)
Additions, optional (cooked sausage, bacon, ham, mushrooms, and/or onions; well-drained cooked spinach or other vegetables; and/or chopped fresh herbs.)
12 eggs
About 3 cups half and half or milk
Salt to taste
Black Pepper to taste.
Dash Dijion mustard
Dash Tabasco
Butter a large baking dish.
Line the bottom of dish with bread cubes.
Sprinkle a generous portion of cheese over top of cubes.
Dot with additions of choice.
Break eggs into a bowl, Beat in half and half or milk and season with salt, pepper, Dijon mustard and Tabasco. Pour egg mixture over ingredients in baking dish. Cover with plastic wrap or foil and refrigerate overnight.
Let stand at room temperature for 30 minutes before baking.
Bake, uncovered, in a preheated 350°F oven until well puffed and golden brown, 45 to 55 minutes. Serve immediately.