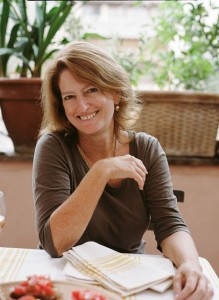 America's favorite guru of luscious Italy, Elizabeth Minchilli, is at it again. April 7 marks the debut of her seventh book, EATING ROME.
To say that Elizabeth has great taste and knows all of the great food places in Rome is to understate. She also knows the in and outs of Italian culture, style, art, architecture, interior design, ceramics, gardens, and travel.
Born in St. Louis, Missouri, Elizabeth first moved to Rome with her parents and sisters when she was 12 year old. She studied in Italy and settled happily ever after in Rome after marrying Roman architect Domenico Minchilli.
By all accounts Elizabeth lives the dream life. She has an adoring husband, two beautiful d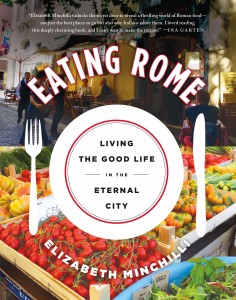 aughters, and two homes: one, a rooftop apartment in Rome, and the other, a country cottage complete with olive groves and roses in Umbria. There is probably no one more qualified to write a book on Roman food and subtitle it "Living the Good Life in the Eternal City" than Elizabeth. 
To say that she generosity shares her experiences and expertise through her writing, only skims the cream of her productivity. In addition to authoring books, designing apps and writing numerous articles for prestigious publications, she leads food tours, blogs (Elizabeth Minchilli in Rome); supplies Twitter, Instagram and Pinterest with copious material, and guests post on Sweet Leisure. (See Elizabeth Minchilli Picks: Ten Best Restaurants in Rome.)
You can tell that we are crazy about Elizabeth and her many endeavors—as are a slew of star-studded food-centric celebrities, including Ina Garten, David Lebovitz and Frank Bruni who join ranks to praise EATING ROME.
To say EATING ROME is useful to food lovers traveling to the city doesn't cover the range of the book's information and appeal.
Any traveler to Rome—even the armchair variety, and anyone interested in Italian food and cooking will gain from Elizabeth's insights.
She filled EATING ROME's 256 pages with photos and information, telling readers about not only her favorite restaurants, trattorias, and pizzerias, but also the way to order coffee at an Italian coffee bar,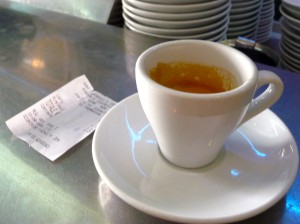 the difference between ice cream and gelato,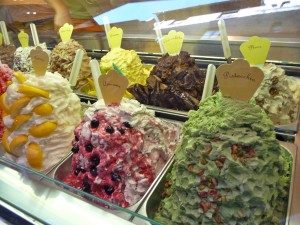 and how to shop in a Roman market. She telescopes on topics as diverse as cured pork products,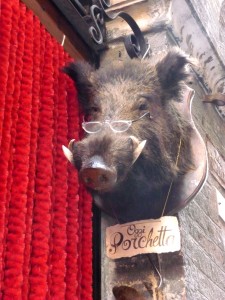 mama cooking, artichokes and grappa. And last but never least, she loads EATING ROME with easy to follow, authentic Italian recipes—some from restaurants and others from the Minchilli family's treasure trove, as is this meatball recipe from Elizabeth's mother-in-law, Rosa Minchilli.
MINCHILLI MEATBALLS
Yield: 4 to 5 main course servings.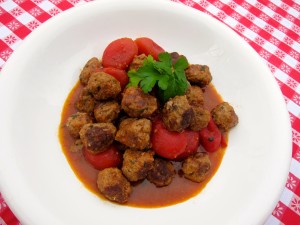 7 ounces ground pork
7 ounces ground beef
7 ounces ground veal or turkey
1/2 cup grated onion
1/2 cup bread crumbs
1/3 cup grated Parmesan cheese
1/4 cup chopped fresh flat-leaf parsley
2 garlic cloves, minced
3/4 teaspoon salt, plus more to season
1/2 teaspoon freshly ground black pepper
1 large egg
1/4 cup plus 2 tablespoons extra virgin olive oil
1 can (18-ounces) pelati (peeled whole San Marzano) tomatoes
In a large bowl, gently combine the pork, beef, veal, onion, bread crumbs, cheese, parsley, garlic, salt, pepper, egg, and the 1/4 cup olive oil. Form the mixture into about 30 small meatballs, 1-1/2 inches in diameter.
In a large heavy-bottomed skillet, heat the remaining 2 tablespoons of olive oil over medium heat. Add the meatballs to the skillet, about 10 at a time, so as not to overcrowd. Cook, using a spoon to turn the meatballs, until they are well browned all over. Remove from the pan, set aside, and repeat the procedure to cook the rest.
Add the tomatoes to the oil in the skillet and bring to a simmer, scraping up the bits of browned meat, and season with salt. Return the meatballs, and any juices that have formed on the plate, to the skillet. Bring back to a low simmer, cover, and cook until done, about 30 minutes.
"EATING ROME, Living the Good Life in the Eternal City," by Elizabeth Minchilli is published by St. Martin's Griffin in both paperback and eBook. Click HERE for more information.