It's sunny and bright, hip and happening, and loaded with celebrities. We could be describing Southern California and Los Angeles in general, but instead are telescoping in on Farmshop, an artisan market and restaurant that perfectly reflects the cool vibe of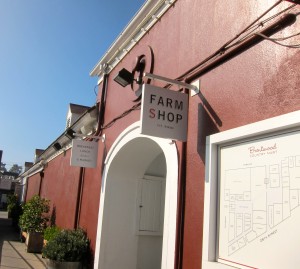 both the region and the city.
Actually, there are two Farmshop restaurants—one in L.A. and one in Marin County. The restaurants are brainchildren of Chef-Owner Jeff Cerciello of Thomas Keller Restaurant Group fame. Although both share similar DNA, like all siblings, each property claims it's own personality.
As the L.A. Farmshop came first (in 2010), serves as flagship, and has a speciality food market attached, we'll focus on it.
The L.A. Farmshop sits on the Westside of Los Angeles in the Brentwood Country Mart.
The Mart, itself, claims historic significance. When built in 1948, it was considered innovative, consolidating shops and useful services in one location. Compared with the mega-malls of today, the Mart feels positively intimate and super select—the perfect home for Farmshop.
Market and restaurant share the same space and are divided by function, rather than partition, into two areas that flow together.

The market offers a cornucopia of artisan-produced, local and regional products including cheeses, chocolates, charcuterie, coffees and wines. Talented bakers, butchers, farmers and chefs add speciality departments to the abundance. And a choice of housewares and gifts complete the bounty which is rich enough to fill a discriminating cook's pampered pantry and a food-lover's luxury larder.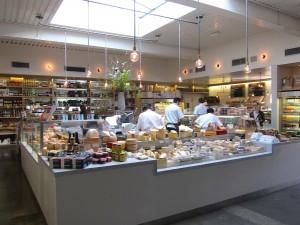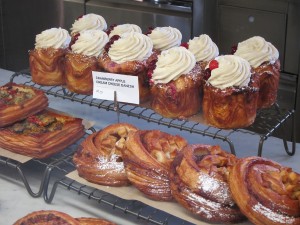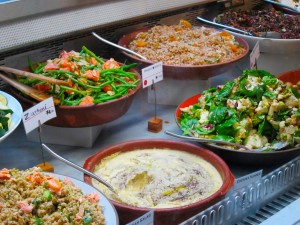 The restaurant space feels casual and comfortable in a super chic, Southern California kind of a way.
Design elements include white-tile walls, a busy see-into kitchen, abundant windows for natural lighting and a large farm-scene photo mural covering the back wall.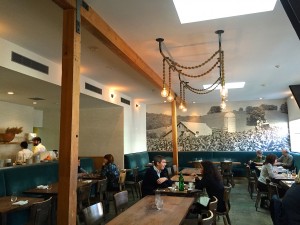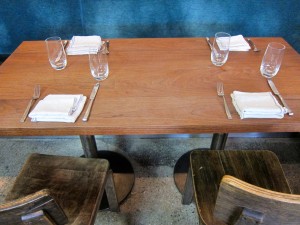 Counter service and some long tables for communal dining reinforce the laid-back atmosphere as does the informal bar and friendly knowledgeable staff.

 But design and fellowship take one so far—-it's the food, served with fabulous flair, that brings the most accolades and repeat guests. 
Open for breakfast, lunch, and dinner (when the lighting changes and becomes more mellow and romantic), Farmshop produces menus that change according to not only the meal and time of day, but also the day of week and the season.
Many dishes on assorted menus receive raves, but non are more popular than the Avocado Hummus with Pistachio Salsa Verde & Nigella Seeds. No ordinary hummus, the dish enjoys iconic status, and guess what. We scored the recipe for you! (Thank you Chef Brian Reimer.)
Farmshop serves the hummus with an assortment of colorful vegetables, but it is also luscious scooped onto crackers, a spoon or even a finger.
FARMSHOP AVOCADO HUMMUS WITH PISTACHIO SALSA VERDE & NIGELLA SEEDS
Yield: About 3-1/2 cups.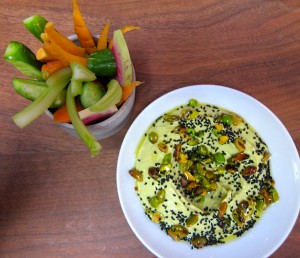 1 pound (about 3 cups) cooked chickpeas (see NOTE)
A little crushed ice
1/4 cup tahini
1/4 cup fresh lemon juice
3/4 cup extra virgin olive oil
2 ripe Haas avocados, peeled and seeded
Salt
1 recipe Pistachio Salsa Verde (Recipe follows)
Nigella seeds
Assorted cut vegetables
Pulse the cooked chickpeas with a little bit of crushed ice in a food processor until a smooth paste is formed. (The ice will facilitate the blending and produce a smooth texture.) Add tahini and pulse until smooth, then add the lemon juice. Continue pulsing, adding olive oil until texture is very smooth.
Peel and seed the avocados, then add to the processor, continuing to pulse to a smooth paste. Add salt to taste.
Put hummus in a serving bowl. Distribute Pistachio Salsa Verde over top. Sprinkle with Nigella seeds. Serve with assorted vegetables.
PISTACHIO SALSA VERDE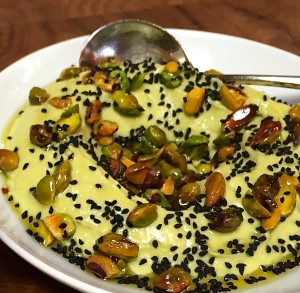 About 1/3 cup pistachios
1 lemon (zest only)
3 tablespoons sliced chives
3 tablespoons chopped parsley
Fleur de sel to taste
Olive oil
Spread the pistachios on a baking sheet and put them in a preheated 325°F oven until very lightly toasted. Remove pistachios from the oven and while they are still warm, put them on a cutting board and lightly chop.
Use a micro plane (very fine hole grater) to zest the lemon and add to the warm pistachios along with the chives and parsley. Mix well and season to taste with salt. Add just enough olive oil to make pistachios glisten. Toss well.
NOTE–TO COOK CHICKPEAS: Put good-quality, small dried chickpeas in a large strainer and wash under cold running water, removing any foreign matter or damaged chickpeas. Transfer chickpeas to a large bowl or pot, cover well with cold water, add a pinch of baking soda and let soak overnight.
Drain chickpeas from soaking liquid and, again, wash well under cold running water.
Put chickpeas in a large pot and generously cover with water. Add another pinch of baking soda. Set pot over moderate heat and bring water to a low boil. Skim any foam and/or skins from top of water. Boil until chickpeas are very soft and can be easily smashed when pressed between two fingers, 1-1/2 to 2 hours. Drain chickpeas and use as desired.
One pound dried chickpeas will yield about 2 pounds 4 ounces cooked.