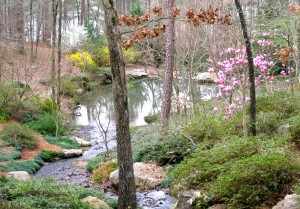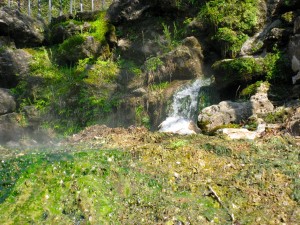 Mother Nature set the scene. This was back in the beginning of time, when she blessed a particular batch of water, heated it to about 143°F in the depths of the earth and bubbled it up to springs flowing along the lower slopes of what would be called Hot Springs Mountain (part of the Ouachita Mountain range). No doubt Native Americans stumbled on the springs and understood their magic powers. The first explorers, too, found the water, but it wasn't until after the 1803 Louisiana Purchase that settlers spread the word and America's first health resort rooted and blossomed.  
By 1832 the thermal mineral waters were so prized, that the United States government officially set aside 47 springs and surrounding land as a "reservation," the United States' first ever federally protected natural resource. (Hot Springs Reservation became Hot Springs National Park in 1921 and remains as such today.)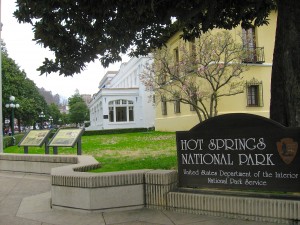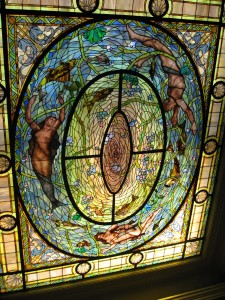 The first bathhouses in Hot Springs were simple wooden structures built over the streams and subject to rot and fire. But competition for the elite visitor's business spurred construction of bigger, better bathhouses outfitted with such extravagances as stained glass windows, patterned tile flooring and dramatic sculptures. At the town's peak of popularity, eight elegant bathhouses, surrounded by gardens and dotted with fountains, formed Bathhouse Row and both the rich and poor,  the famous and infamous (opera stars, presidents, gangsters ) showed up for the curative waters.
Then along came modern medicine, replacing Hot Springs as the hot panacea to cure health problems.
But all is not lost. Today Hot Springs still draws the tourists. The springs still flow. The National Park still protects the bounty. And eight elegant bathhouses, built between 1892 and 1923, still grace Bathhouse Row.
Quapaw Bathhouse is the latest to be renovated and opened to the public as a family friendly bathing facility.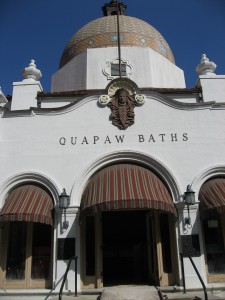 Lamar Bathhouse serves as offices for park employees and holds the National Park's store. Fordyce Bathhouse functions as the Park's visitor center and a museum.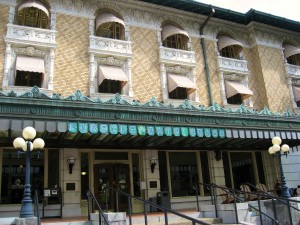 The Buckstaff Bathhouse continues to operate as it has since first opening in 1912, steeping the bather in history as well as thermal mineral water.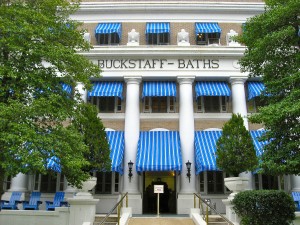 Several places around town offer traditional thermal mineral baths to the public, but because the government pools the water and sells it to the different bathhouses, the water is the same no matter where one goes and the bathing experience is similar with amenities varying only slightly.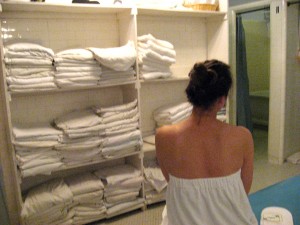 At the Buckstaff, plan on spending 1 to 1-1/2 hours and about $64 for "the works," which usually includes a tub soak, loofa rub, steam bath, sitz bath, hot packs, needle shower and a 20-minute, full-body Swedish massage. But word of warning, you won't find tinkling bells, scented candles and Buddha shrines. Buckstaff, gives an old-fashioned bathing experience in an aged environment that's void of frou frou, but loaded with authenticity. 
 

WHERE TO STAY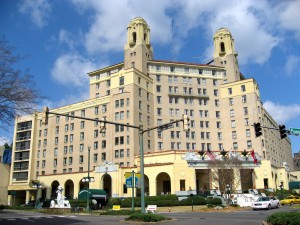 She may be a faded beauty, but the Arlington Resort Hotel & Spa still reigns as the grande dame hotel of Hot Springs. The first Arlington was built in 1875 and  razed in 1892 to make space for the second, bigger and better hotel, which burned to the ground in 1923.  The present Arlington dates to 1924 and is the grandest of all, built to please illustrious guests. With 11 floors, two towers, 478 rooms and suites (50 of them receiving the precious thermal water), a bathhouse, swimming pool and assorted public areas, the Arlington claims to be not only the largest hotel in Arkansas, but also one of the best and most historic.
Not much has changed through the years, which is both good and bad news. The bad is that age fades some of the glory. Despite Starbucks residing in the lobby, Internet in the rooms, and the hotel continuously renovating and updating, rooms and public areas show wear. 
On the other hand, original features remain, giving guests glimpses of the past grandeur and glory of Hot Springs when it was America's hottest spa city.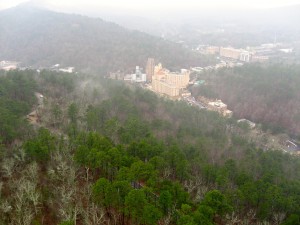 WHERE TO EAT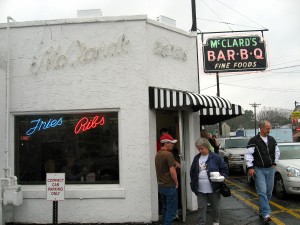 Like most wonderful aspects of Hot Springs, McClard's Bar-B-Q Restaurant has a rich history. The family-run operation opened in 1928 and still going strong, today managed by the fourth generation of McClards.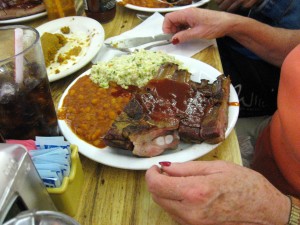 Noted for serving tender hickory smoked beef, pork and ribs, and tasty side dishes, McClard's attributes the secret of its success to a special house-made barbecue sauce and other made-from-scratch recipes.
Although the sauce recipe is tucked into a safety-deposit box and kept a staunch secret, McClard's shared its recipe for cole slaw. The restaurant serves so much of the slaw (about 250 gallons per week) that they make it in 7- to 14-gallon batches, but they broke down the recipe for Sweet Leisure into what they call a "family size" portion. Bit of warning: the slaw is super popular. Most folks are prone to take second and third helpings. 
MCCLARD'S COLE SLAW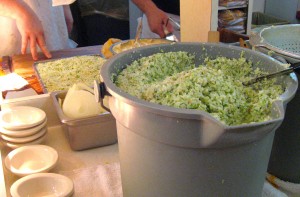 Yield: about 8 cups.
1 head green cabbage, finely chopped
1/2 medium yellow onion, finely chopped
1/2 medium-size green bell pepper, trimmed and finely chopped
2 ribs celery, finely chopped
1/2 medium carrot, finely chopped
Dressing (recipe follows)
Combine all ingredients and toss with dressing. Refrigerate several hours to let flavors blend.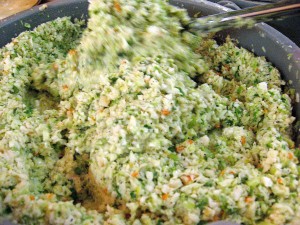 DRESSING
Yield: 2/3 cup. 
1/2 cup mayonnaise or salad dressing
Sugar to taste (Start with 3 tablespoons and add more as desired.)
1 tablespoon distilled white vinegar
Salt to taste
Black pepper to taste
Combine mayonnaise, sugar and vinegar. Stir until sugar dissolves. Sprinkle with salt and pepper and stir to combine all ingredients.