Although he was not the first European to discover Fiji (Abel Tasman was in 1642), Captain James Cook is literally and figuratively credited as the first to put the archipelago on the world's radar (such as the radar was in 1774). Therefore I thought it super symbolic to begin my exploration of Fiji on a Captain Cook cruise.
Not that I expected the contemporary cruise to channel the namesake's adventure. At least I hoped it wouldn't.
I was certain that with 75 cabins, a swimming pool, fitness center, two lounges, tiny spa, well-stocked bar and graceful dining room, my cruise ship, the MV Reef Endeavour, would have more comfort than the HMS Endeavour, the navel ship Cook commanded on his first voyage to the area.
Also the original Captain Cook described Fijians as ferocious cannibals, and, of course, I was eager not to follow in his footsteps and run into an old-timer who relished historical tradition.
Not to worry on either account.
As its captain Brian Larcombe is fond of saying, "The Reef Endeavour is a 3-1/2 star ship offering a 5-star experience." Although the ship showed a bit of wear, it was perfectly comfortable and the cruise was terrific, as the smallish ship took us to remote reefs, shallow bays and tiny islands inaccessible to larger ships.
As to the Fijians, as if to overcompensate for the bad cannibal rap, they were all exceedingly friendly, warm and welcoming (I am sure Kava had a lot to do with it, but more about Kava later).
Reaching the ship was the most difficult part of the journey. I left LAX with fellow travel writers on a Thursday night at 11:30 p.m. flying Air Pacific for 10-1/2 hours and landing at Nadi International Airport (on Viti Levu, the largest of the 330 Fiji islands and the gateway for air travelers) on a Saturday morning. You will note that Friday disappeared. Losing a day is disconcerting under any circumstances, but losing a day in gorgeous Fiji is almost unbearable. Blame it on crossing the International Date Line. Everyone said you'll make up a day on the way home. But I ask you, would you rather have an extra day in paradise or sitting on a plane returning from a heavenly trip? No contest.
From Nadi, we jumped on a tiny Pacific Sun plane for an hour's flight over emerald-colored islands and sapphire-tinted water to Matei Airport (recently upgraded from a gravel runway to a paved one—yippee) on Taveuni, the fourth largest island in the archipelago and so lush and green it is known as the Garden Island.
We were picked up in a van, driven to a small beach, where we took a glass bottom boat to the Reef Endeavor and settled into cabins.
From then on it was smooth sailing. We cruised making frequent excursions, reaching shore by glass-bottom boat and traveling through paved as well as unpaved roads on an open-air bus.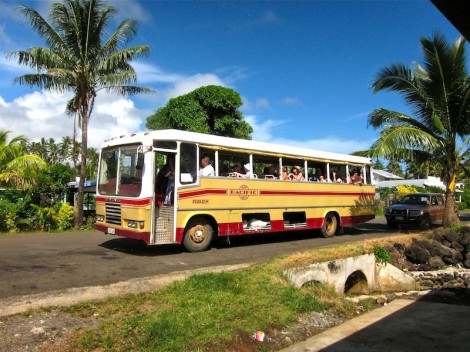 We drove to the Bouma National Heritage Park's waterfall for swimming and a picnic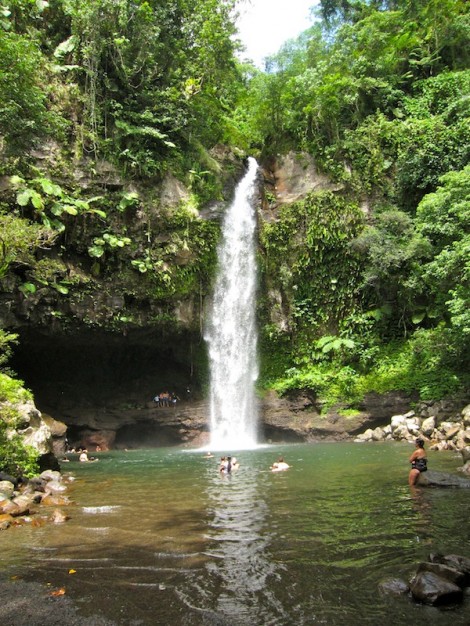 And joined locals for a service at the Wairiki Catholic Church on Taveuni.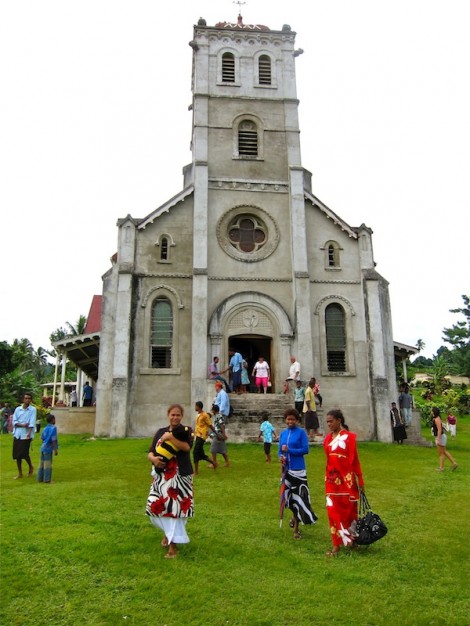 We stopped at the International Date Line (or where it used to be) for a photo op.
And visited a Village for a dinner feast.
Now I'll tell you about Kava
Kava, a drink the color of the Mississippi after a mudslide, is narcotic, not alcoholic, and said by Wikipedia to have "sedative" and "anesthetic"  properties. It is the ceremonial drink of Fiji, and guests to villages are expected to bring gifts of Kava root and participate in Kava-drinking ceremonies.
On board we drank, slept, had massages, read, attended  lectures, danced, mingled, took the glass bottom boat for snorkeling and diving, and watched the ever-changing scenery as we cruised by various islands.
We picked up new words, such as BULA, the most commonly heard word on the islands with a variety of meanings ranging from "good morning" to "have a wonderful happy life."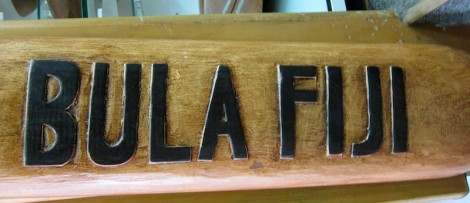 Ate the freshest of all possible seafood.
And learned that  Fiji Women dress modestly with knees and top of shoulders covered. Women do not wear pants. Visitors are expected to dress similarly in villages and frequently don sulus (sarongs) to meet the modesty requirements.
All too soon, the cruise was over leaving us with not only great memories, but also new friends of fellow passengers (mostly from Australia and New Zealand), sunburns, seashells and some super recipes.
Which brings me to a particularly delicious rice and fettuccini stuffed pumpkin. I first sampled the pumpkin at a village lovo dinner. As is the tradition, dishes at a lovo feast are wrapped in foil and native plant leaves and buried to bake in an earth-covered "oven."
Although villagers cooked the pumpkin, the recipe came from the Reef Endeavour's hospitality manager, Florian Haber. Florian  said that the dish could be baked in a regular oven as well as in an earth oven and that although pumpkins growing on Fiji differ from those in the United States, any edible pumpkin would work in the recipe.
STUFFED PUMPKIN
How to make rice and fettuccini stuffed pumpkin according to Florian Haber:
Get a smallish pumpkin and cut a star-shaped a hole in the top, but save the top as you'll want to bake the pumpkin
with the top on. Hollow the pumpkin, removing all seeds and fibers.
Combine an equal amount
(enough to almost fill the pumpkin) of cooked rice and cooked fettuccini (halve fettuccini strips). To boost flavor, add some cooked diced vegetables, such as cauliflower, red bell pepper, carrots and corn. Stir gently to combine ingredients. Put half of the mixture in the pumpkin. Pour a generous amount of coconut cream and dairy cream over mixture in pumpkin and stir gently to distribute the liquid. Add the remaining mixture to pumpkin and again pour in equal amounts of cream and coconut cream; stir gently. (The pumpkin should be filled to the top and ingredients should be quite moist but not soggy.)
Put the lid back on the pumpkin. Wrap the entire pumpkin in foil. Set pumpkin on a baking sheet and bake in a preheated 325°F until the pumpkin shell is soft and the rice/fettuccini mixture hot, 2 to 3 hours.
Yield depends on size of pumpkin, but plan on people having seconds and thirds—this dish is that good.
To learn more about Fiji see: http://www.fijime.tv/