Imagine sitting with a lover on the terrace of Merriman's Kapalua. Your table overlooks a small-boat harbor and the south Maui shoreline where Humpback whales frolic in shimmering waters. Sunshine kisses all. Could life be sweeter?
Well…yes…frankly it could, the moment you lift a fork and bring the velvety darkness of Merriman's Chocolate Lover's Torte to the tongue. Forget everything else. Chocolate Lover's Torte is perfection! It's as good as it gets—and more.
But what else would one expect from chef Peter Merriman, a Pittsburgh, Pennsylvania, native who settled in Hawaii
and opened three restaurants passionately dedicated to Hawaii Regional Cuisine.
"It's the flavor that counts with me," said Merriman, who, true to his name, punctuates sentences with joyful smiles and rousing laughs. "The best flavor comes from the best products, and we are committed to using the finest, freshest, local products available."
Chocolate Lover's Torte perfectly fits Merriman's philosophy, being a simple-to-make, intensely flavorful dessert based on high-quality island ingredients. Although the torte can be made with any fine-quality chocolate, Merriman uses a 100% Hawaiian bittersweet chocolate that is processed in Kailua-Kona from beans grown on the Big Island (see Note).
CHOCOLATE LOVER'S TORTE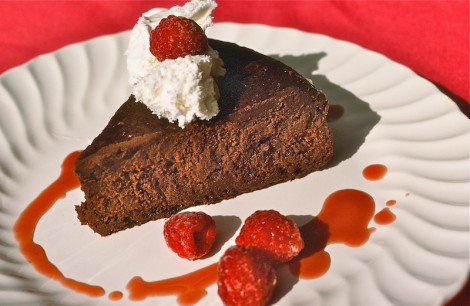 Yield: 8 to 10 servings.
Butter to grease cake pan
Cake flour to coat cake pan
8 ounces bittersweet chocolate, finely chopped (see Note)
8 ounces unsweetened chocolate, finely chopped
4 teaspoons instant coffee powder
1-1/3 cups plus 7 tablespoons granulated sugar, divided
2/3 cup water
1-1/3 cups unsalted butter, softened to room temperature
7 eggs
2 tablespoons sifted cake flour
Optional garnish: raspberry puree, raspberries, whipped cream and/or ice cream
Generously butter a 9-inch springform pan and lightly dust with flour. Wrap outside of pan tightly with aluminum foil, using several sheets of foil so that water will not seep into the pan's seams; set pan aside. Preheat oven to 375°F.
Put chocolates and coffee powder in a large mixing bowl; set aside.
Put 1-1/3 cups of the sugar and water in a medium saucepan. Bring to a boil over high heat, stirring often. Pour boiling mixture over reserved chocolate mixture; stir until chocolate completely melts and mixture is smooth. Gradually beat butter into chocolate mixture.
With electric mixer set on medium, beat eggs until they are well blended. Beating constantly, slowly add remaining 7 tablespoons sugar to eggs; continue beating 1 minute. Stir egg mixture into chocolate mixture. Fold flour into chocolate mixture.
Pour batter into prepared pan. Place pan in a larger pan (such as a roasting pan). Pour boiling water into the larger pan until it comes halfway up the side of the cake pan. Bake in a preheated 375°F oven until cake has risen slightly and is set, about 1 hour.
Remove cake pan from water bath and set on a rack to cool. Refrigerate cooled cake until it is well chilled. Remove sides from cake pan. Turn cake upside down on a serving platter and carefully remove bottom of cake pan.
Serve cake at room temperature or chilled, garnished with raspberry puree, raspberries, whipped cream and/or ice cream.
Note:
For bittersweet chocolate, Merriman uses pure Hawaiian chocolate from The Original Hawaiian Chocolate Factory in Kailua-Kona, Hawaii. This chocolate is sold at select stores throughout Hawaii and by mail, in bars labeled "dark" chocolate. For more information, call 1-888-447-2626.