Whoever sang, "Flying high in the sky with some guy is my idea of nothing to do," is guaranteed to change the tune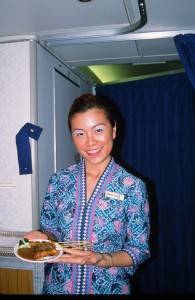 after one taste of Malaysia Airlines' satays. Served in the airline's business and first-class sections, on Los Angeles to Kuala Lumpur flights, these appetizers are in a class all their own.
Of course, business and first-class service includes perks, but bigger seats and attentive staff are not the only lures. Food counts. While food on most airlines is just one of those things, the satays on Malaysia Airlines are just too marvelous, too marvelous for words.
A classic dish of Malaysia, Thailand and Indonesia, satays consist of tiny bites of marinated meat threaded on skewers and grilled. What makes Malaysia Airlines' satays superior is the marinade for the meat and the sweet, spicy interaction of the peanut sauce served with the meat.
Passengers usually begin their meal with three beef satays and three chicken satays (along with a few chunks of cucumber). When the flight attendant asks, "May I serve you more?" the answer is always, "Yes, do it to me one more time."
To keep up with passenger desire for more, the airline commissary makes satays in such large quantities that their recipe can't be cut for home use. But don't worry, be happy. I created a recipe to copy the fine flavor of the airline's chicken satays and peanut sauce. Who could ask for anything more?
CHICKEN SATAY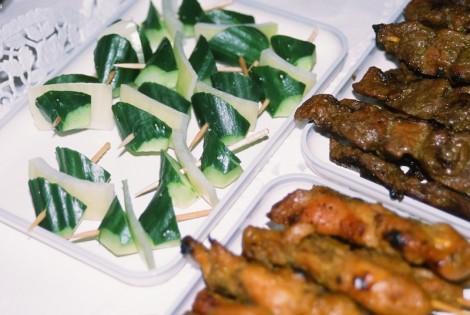 Yield:  4 to 6 servings as an appetizer or 4 servings as a main dish.
1-1/2 pounds skinned, boned chicken
1 teaspoon granulated sugar
3/4 teaspoon ground cumin
3/4 teaspoon ground coriander seeds
About 1/4 teaspoon salt
About 1/8 teaspoon cayenne pepper
2 large cloves garlic, peeled and crushed
1 tablespoon vegetable oil
1 tablespoon lemon juice
Peanut sauce (recipe follows)
Cut the chicken into 3/4-inch cubes. Put cubes in a glass or other non-reactive bowl. Sprinkle sugar, cumin, coriander seeds, salt and cayenne over chicken. Add garlic, oil and lemon juice. Stir until ingredients are well mixed. Cover bowl and refrigerate 1 to 24 hours.
Before grilling: Cover about 16 bamboo skewers with cold water; let soak about 1 hour. Bring chicken to room temperature. Preheat an oven broiler or charcoal grill.
When ready to cook: Thread chicken pieces onto bamboo skewers, covering about 3 inches of the skewer with meat. Place filled skewers on a rack and broil or grill, about 4 inches from the heat source, turning with tongs, until the chicken has browned on all sides, 7 to 12 minutes.
Serve with Peanut Sauce.
PEANUT SAUCE
Yield: about 1-1/2 cups.
1 cup roasted peanuts
1 stalk lemon grass (see Notes)
1 tablespoon vegetable oil
3 tablespoons diced onion
1-1/3 cups weak tamarind juice (see Notes)
1/3 cup granulated sugar
3/4 teaspoon grated fresh ginger
1/4 teaspoon Laos powder (see Notes)
1/4 teaspoon cayenne pepper
1/4 teaspoon salt
Blend peanuts in a blender or food processor until finely ground; set aside.
Discard the outer leaf of lemon grass and cut off and discard root end tip. With a meat mallet or hammer, hit the base of lemon grass several times to break the fibers; set lemon grass aside.
Heat oil in a medium saucepan over medium heat. Add onion and stir-fry until tender, about 2 minutes. Add tamarind juice, sugar, ginger, Laos powder, cayenne and salt. Stir mixture well with the hammered end of the lemon grass. Using lemon grass, stir in ground peanuts. Stirring with lemon grass, bring mixture to a boil, then immediately reduce heat so that mixture simmers. Remove lemon grass and simmer mixture, stirring often with a spoon, until the sauce thickens, 5 to 10 minutes. Taste and correct seasoning.
Notes:
Lemon grass is a woody, slender grass that imparts a subtle but pungent citrus flavor to dishes.
Tamarind is a bean-like fruit generally sold packaged in a block or as a liquid concentrate. To make tamarind juice from the block, break off about 2 tablespoons tamarind from the block, tear the tamarind into small pieces, and put pieces in a small saucepan. Cover pieces with about 1 cup hot water and bring to a boil over medium heat, stirring often. Reduce heat and simmer 10 minutes, stirring often. Pour mixture into a strainer over a mixing bowl and strain cooking liquid and as much tamarind as you can push through sieve with the back of the spoon. Put tamarind remaining in strainer back in the saucepan. Cover with water and stir well. Again strain. If necessary add enough water to tamarind juice to make 1-1/3 cups liquid.
Laos powder is dried powdered galangal, a highly aromatic rhizome greatly used in Malaysian cooking.