Hand-kneaded, elegant and dusted with cinnamon to resemble the color of fresh clay, bizcochitos are the perfect refreshment for Native American potters Diane Jenkins and Krieg Kalavaza to serve in their San Ildefonso Pueblo studio/gallery. After all bizcochito cookies and San Ildefonso pottery have much in common.
Bizcochitos (also spelled biscochitos) are so popular that they have been declared New Mexico's Official State Cookie. San Ildefonso pottery is revered around the world and represents the best of New Mexico's Native American art.  Recipes for both cookies and pottery are centuries old, with each generation adding their own enhancements. And both pottery and cookies are made in somewhat the same way (metaphorically speaking, of course).
To produce their famous polychrome pottery, siblings Jenkins and Kalavaza work as a team, both collecting clay for the pots, plants for paint and natural materials for firing. Jenkins hand forms the pots, which Kalavaza then refines. Both sand the pots, after which Jenkins polishes them and Kalavaza adds paints before they are fired.
To make bizcochitos, the brother/sister duo gather ingredients, mix and shape the dough by hand, adding their own refinements, before setting the cookies in the oven to bake.
The potters sent me their recipe (below), which I am truly delighted to have and to share, but in my heart of hearts (and I only tell you this), I wish they had also sent a pot.
BIZCOCHITO
S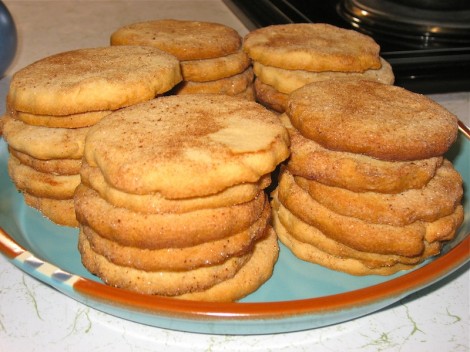 (Recipe used to bake cookies served in pottery workshops and demonstrations in the San Ildefonso Pueblo studio/gallery of Diane Jenkins and Krieg Kalavaza.)
Yield: 2 to 4 dozen cookies depending on how they are cut.
2 cups shortening (lard is used in traditional recipes)
1 cup granulated sugar, plus additional 1/4 cup sugar to coat cookies
2 teaspoons anise extract
2 egg yolks, slightly beaten
6 cups all-purpose flour
3 tablespoons baking powder
1 teaspoon salt
1/2 cup water
1 tablespoon cinnamon
Cream shortening with 1 cup sugar and anise extract; stir in egg yolks. Sift together flour, baking power and salt. Combine the two mixtures, adding water,  and knead until well blended.
Pat or roll the dough 1/3-inch thick and cut into desired shapes. (Jenkins and Kalavaza pat the dough into 2-inch rounds).  Combine 1/4 cup sugar with cinnamon and sprinkle over top of cookies.
Place cookies, cinnamon side up, on an ungreased baking sheet and bake in preheated 350°F oven until lightly browned, 8 to 10 minutes.