Kristine Kidd knows food. All aspects of food. Her many accomplishments include: owning a catering business in Los Angeles, working as a chef in Vermont, teaching cooking classes at UCLA, and writing cookbooks for Williams-Sonoma and Time-Life Inc. But that's not all making Kristine one of America's top food influencers. She spent 20 years as Food Editor of Bon Appétit magazine.
Although Kristine is now retired from the magazine, she is not resting on her laurels. She continues to teach, blog, lecture and write.
Her newest cookbook, Weeknights Fresh and Fast, is now available in Williams Sonoma stores, and, in March, will have broad distribution. You can also order this gem at Barnes & Noble and Amazon.com, where you can find Kristine's other books: Cookies and Biscotti, Gifts from the Kitchen (my favorite), Risotto, Thanksgiving and After Dinner.
As Kristine lives in Los Angeles and is about the most food-knowledgeable Angelino I know, I asked if she would give Sweet Leisure a list of good LA restaurants.
Of course, she did, but she cautioned that the restaurants she suggests are not necessarily the newest or trendiest, but rather her personal favorites.  In her own words:
Places I love to eat at in Los Angeles:
1014 Wilshire Blvd, Santa Monica
310-451-2311
After shopping at the Santa Monica farmer's market, I often meet a friend at this casual café for breakfast, brunch or lunch. Place your order at the counter for baked eggs with white beans and fire roasted tomatoes, green eggs and ham, brisket hash, or an inventive salad- all featuring farmers' market ingredients- and then find a table. It is difficult to leave without taking home one of chef Zoe Nathan's fresh baked fruit tarts or a wedge of the fruit topped cornmeal-ricotta cake.
1119 Wilshire Blvd, Santa Monica
310-393-7050
In the same neighborhood as Huckleberry, and run by the same team. The décor is minimalist, but the inspired yet down-to-earth seasonal menus feature local organic ingredients. Last time I was there, I feasted on a butternut squash soup with roasted apples; Branzino with artichoke, fennel, eggplant, and salsa verde; and a sublime plum crostata. Desserts are created by Huckleberry's pastry chef, and are as excellent as the savory dishes.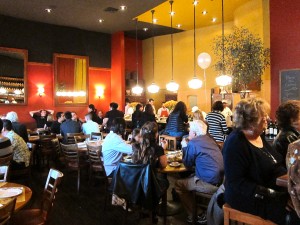 Pizzeria Mozza
641 N. Highland Ave, Hollywood
323-297-0101
Nancy Silverton and Mario Batali create astonishing pizzas with thin fully flavored crusts, and impeccable ingredients, perfectly baked in wood-fired ovens. Two favorites: egg, guanciale, escarole, and radicchio  pizza; and fennel sausage, red onion, and scallion pizza. The chicken liver bruschette is so outstanding; I always order it to start the meal.
Osteria Mozza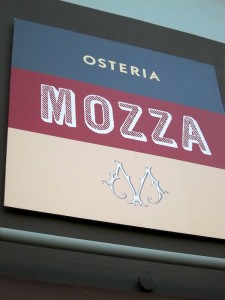 6602 Melrose Ave, Hollywood
323-297-0100
Another Silverton-Batali restaurant, this one specializes in stunning pasta, and creative cheese appetizers from Nancy Silverton's mozzarella bar. The food is rich, the room dramatic. Try the burrata with leek vinaigrette and mustard breadcrumbs or burricotta with braised artichokes, pine nuts, currants and mint pesto to start, and then tagliatelle with oxtail ragu, or light as air gnocchi with duck ragu, or braised beef short rib with porcini. The food is perfectly executed, and satisfying.
The SLS Hotel at Beverly Hills, 465 S. La Cienega
310-247-0400
The dramatic setting and theatrically presented Spanish tapas make for an entertaining evening. The menu offers both delectable traditional dishes and creative modern food. Items not to miss: sweet potato chips with yogurt, tamarind, and star anise; jamon iberico (dry cured ham made from acorn fed pigs), modern and traditional olives, salt wrinkled potatoes, not your everyday caprese; philly cheesesteak (air bread cheddar, wagyu beef). Request seating in the Red Room.
Loteria! Grill at the Farmers Market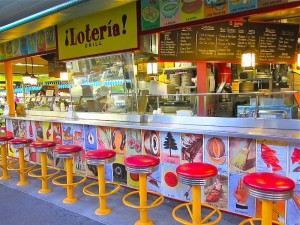 6333 W. Third St, Fairfax district
323-465-2500
Lots of fun for a casual after-work get-together. Find authentic Mexico city style tacos, enchiladas, chilaqueas cooked in a rich mole sauce, and a colorful chiles rellenos plate at this super casual taco bar in the historic Farmers Market.
5 Dudley Ave, Venice
310-314-3222
The name is appropriate for this tiny, casual Italian restaurant, ½ block off the Venice Beach boardwalk. I like it for Friday night dates, and usually order the duck prosciutto for a tasty starter, followed by handcrafted tender ravioli with nettle-hazelnut filling and Parmesan-butter-sage sauce, and tagliatelle with a succulent venison and red wine ragu.
Rivera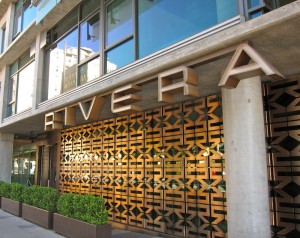 1050 S. Flower St, Downtown
213-749-1460
Elegant and inventive pan-Latin fare, created by John Sedlar. The warm tortillas pressed with flowers and herbs are as unforgettable as they are whimsical, banana leaf- braised pork shoulder is tender and fully flavored, and the black beans complex and satisfying. The setting is as gorgeous as the food.
235 North Canon Dr, Beverly Hills
310-271-9910
A visit to Thomas Keller's elegant bistro in Beverly Hills feels like an escape to Paris. The food is traditional, comforting, and prepared with exquisite care, the service is correct. For an outstanding meal try a simple mixed green salad with warm goat cheese, dressed with a classic red wine vinaigrette; or a lusty pate de champagne; followed by sautéed salmon with roasted beets, caramelized Brussels sprouts, parsnips and whole grain mustard beurre blanc. Finish the meal with a feather light ile flottante or memorable tarte au citron for dessert.
7313 Beverly Blvd,
323-297-0070
Dining at this small, causal spot, with excellent food, gives the impression of being in Italy. It is crowded and noisy in the evenings, and so lunch is a better bet. Fresh anchovies with artichokes and beets, the best spaghetti alla carbonara ever, and grilled branzino keep me coming back.
1104 Wilshire Blvd, Santa Monica
310-395-0881
My first choice for very special occasions. Chef Josiah Citrin's creative French food is superb, the setting elegant but not stuffy, and the service friendly. I want to celebrate with dishes like artichoke soup with parmesan fritters and white truffles; scallops with cauliflower, lemon confit, marcona almonds and uni; Dover sole with crushed purple Peruvian potatoes, broccoli, pine nuts, and brown butter Chardonnay sauce; and black bass with kabocha squash, radicchio, and matsutake mushrooms.
8022 W. Third St, Third Street district
323-653-6359
Suzanne Goin offers creative, California-French small plates, homemade charcuterie, and perfectly ripened cheeses. This is a stylish setting with great tasting food: wild salmon with beluga lentils and pancetta; duck confit, black rice, pomegranate, and walnuts; cauliflower flavored with curry and then roasted in the wood burning oven; brussels sprouts with pancetta and parsnip puree.