A loaf of bread, a jug of wine and French onion soup. Magnifique!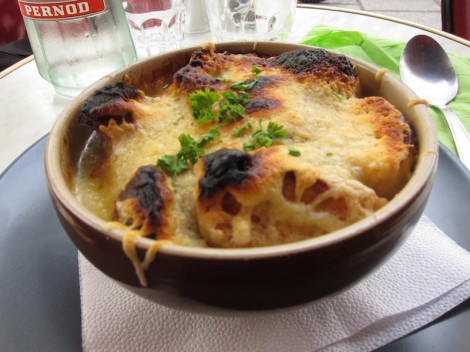 FRENCH ONION SOUP
Yield: 4 serving.
4 large yellow onions
2 large red onions
2 shallots
1 leek
4 tablespoons butter
Salt
1/2 teaspoon sugar
1-1/2 teaspoons dried thyme
1/2 teaspoon paprika
Big pinch allspice
1/4 cup Cognac
About 7 cups good rich beef broth
1 bay leaf
Coarsely ground black pepper
Peel onions. Halve onions, lengthwise, and then cut, crosswise, into thin slices.
Peel shallots and cut into thin slices.
Trim root end and top green part off leek. Halve white portion, lengthwise, and then cut, crosswise, into thin slices.
Melt butter in a large soup pot. Add sliced onions, shallots and leek; with two large spoons, toss onion mixture to coat with butter.
Cook over moderate heat, tossing often, until onions begin to soften, about 15 minutes. Sprinkle with salt and sugar. Continue cooking, tossing occasionally in the beginning and more as onions start to brown, until onions caramelize and turn rich golden brown, about 1 hour.
Sprinkle thyme, paprika and allspice over onions and stir. Cook, stirring, 1 minute.
Pour Cognac over onions and boil until liquid almost disappears.
Add broth and bay leaf; stir gently.
Gently simmer soup until flavors are well developed, 1 to 1-1/2 hours (add a little water or more broth if liquid reduces too much).
Season to taste with salt and pepper. Remove bay leaf.
If not serving immediately, cool soup at room temperature, and then refrigerate in a covered container.
ONION SOUP GRATINÉED
Yield: 4 servings.
1 recipe French Onion Soup
4 to 8 toasted rounds of French baguette (recipe follows)
4 to 6 ounces shredded Gruyère cheese
Preheat oven to 400°F.
Set four individual ovenproof soup bowls or crocks on a baking sheet.
If the soup is cold reheat it. Pour hot soup into each bowl, giving each an equal amount. Top soup with one or two toast rounds (do not layer or overlap the rounds). Cover top of soup in each bowl with a generous layer of shredded cheese.
Set baking sheet in oven and bake until cheese melts and soup is bubbly around the edges, 10 to 15 minutes.
Serve immediately.
TOASTED BAGUETTE ROUNDS
Good crusty French baguette
Olive oil
Preheat oven to 325°F.
Slice baguette into rounds about 3/4-inch thick.
Brush both sides of each round with a little olive oil.  Set rounds in one layer on a baking sheet.
Place baking sheet in oven and bake, turning once, until rounds are dry, crisp and golden brown, 20 to 30 minutes.