Kim Bayer knows Ann Arbor's food from the ground up, literally. She is a freelance writer, culinary researcher and has a little consulting business doing CSA Matchmaking, helping people find the CSA farm share that best matches their needs.
(As you probably know, but I didn't, CSA stands for Community Supported Agriculture. It's like a subscription to a farm, where members receive food directly from farmers and also share the farmer's risk by paying in advance for a portion of the farmer's crop. Pretty cool.)
In addition Kim serves as president of Slow Food Huron Valley, an organization responsible for energizing the area's "good food" movement and hosting food-focused events such as the annual HomeGrown Festival, Pie Lovers Unite! and Local Food Summit.  Kim also volunteers at the Janice Bluestein Longone Culinary Archive (utilizing the master's degree she earned in Library Science at the University of Michigan).
In her free time Kim blogs (check out The Farmer's Marketer); hosts radio shows; and works on a book showcasing Ann Arbor food.
Whew! It's a wonder she has time to eat—but she does and when asked to name her 10 favorite Ann Arbor places to eat, she found the time to generously comply.
As you can imagine, Kim is partial to the pure, organic, sustainable, and downright delicious foods grown and produced in her local area.  Here, in her own words are the Ann Arbor food outlets that please her:
ANN ARBOR FARMERS' MARKET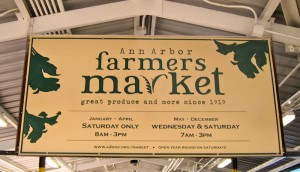 My number one place for food in Ann Arbor is our amazing year-round Farmers' Market.  With over 120 vendors (and a waiting list of 100 more), this historic 90-year-old market takes place weekly on Saturdays between the cobblestone streets of the Kerrytown historic district.  From April through December the market also runs on Wednesdays. And this summer it's testing out a nighttime market on Wednesday evenings starting in June!  With all the beautiful seasonal produce, along with eggs, meat, cheese, condiments and bread, it's not really necessary to go anywhere else for food supplies.
Some special items to look for at the Market include: Frog Holler Organic Farm's famous salad mix with herbs and flower petals; Cecilia Mercante's buttery pastries and authentic French macarons; Thomas' Creamery organic yogurt and ice cream; Snow's maple syrup; Garden Works pea shoots; Tasty Bakery's gluten-free chocolate chip cookies; Archie Jennings' heirloom, organic grains and stone-ground cornmeals; and The Folktory's Chai Latte Muffins.
And for a quick meal you can eat right there, check out some great food carts: Pilar's serves handmade Ecuadoran tamales, the Flint Creperie has nice made-to-order savory and sweet crepes, and EAT is a great place to get a Korean bbq sandwich with some delicious Brinery kimchi on top.  Or, go inside and pull up a chair for some of Monahan's seafood chowder of the day.  The options are legion!
GRANGE KITCHEN AND BAR The first restaurant in town to source 95% of its food from great local farms, Grange Kitchen and Bar is at the top of my list for dinner – especially with out of town guests who have yet to experience seasonal "farm-to-fork" dining.  I swoon for the roasted chicken with crispy skin and for the pillowy gnocchi with ramps. Anything with pork is sure to be wonderful. Don't miss the week of springtime dinners featuring morels!  I'm a big fan of happy hour in the cozy upstairs bar at Grange. From 5-7pm Monday-Friday all artisan drinks (including their fabulous "bacon" Manhattan) and all bar menu items (like fried green tomatoes served in the summertime with bacon jam) are $2 off.  Are you sensing a porcine theme? See if you can catch a glimpse of the pig tattooed on the forearm of Chef/Owner Brandon Johns.
ZINGERMAN'S DELI AND ROADHOUSE You can't say you've been in Ann Arbor until you've been to ZINGERMAN'S DELI and had a #2 Reuben sandwich that is what all other Rueben sandwiches wish they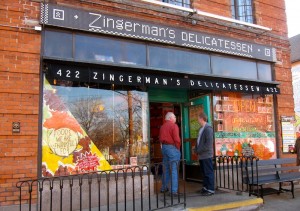 could be when they die and go to heaven. The corned beef is excellent, but be sure to order an extra dose of their super yummy homemade Russian dressing to go with. You might think $15 is expensive for a sandwich, but not only is it the best sandwich you've ever eaten, it's also so big there are at least 2 meals in that sandwich.  Although the friendly and frenetic energy at the Deli is great (and it's just across the street from the Ann Arbor Farmers' Market), locals know that if you don't want to stand in a line that snakes around the block on Saturday mornings, you should call and order ahead.
ZINGERMAN'S ROADHOUSE is also a key Ann Arbor experience featuring some of the best truly American food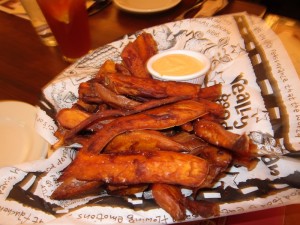 (smoky barbecue, great crabcakes, famous mac and cheese, fresh oysters) and the most excellent customer service you're likely to experience anywhere. Much of the seasonal, heirloom produce comes from their own Cornman Farms. I'm in love with the fries at the Roadhouse.The sweet potato fries are great, but the handcut regular fries are worth a trip on their own.  Anything with BBQ in the name is sure to be delicious – and is smoked in the big wood-fired drum smokers out back.  My favorite is to get the pulled pork with *all* the different sauces on the side.
SILVIO'S ORGANIC PIZZA Although the location in a tiny pedestrian mall off North University is obscure and student-dominated, a meal at Silvio's is reminiscent of a home-cooked meal with the Italian aunt and uncle you wish you had. With a focus on local and organic (as well as many gluten-free options), Silvio calls his food "cucina tradizionale." Whether you order the ever popular thin-crust pizza or creamy polenta or handmade pasta, a meal at Silvio's is home-style cooking as warm as a double kiss on the cheek.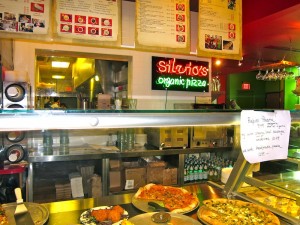 The appetizers are a great way to start – I love the crispy, cheesy arancini (basically fried risotto cakes) and the fresh-tasting grilled vegetable platter. I'm especially enamored of the fact that at Silvio's they make their own pastas. Don't miss the mushroom ravioli. And the manicotti is delicious.  If polenta is on the menu, order it; it's the creamiest polenta I've ever tasted. In terms of pizza, the truffle pizza with smoked mozzarella is their biggest seller, but my favorite is the potato pizza with gorgonzola and rosemary. Or maybe it's the zucchini and feta pizza.  And now they serve wine and beer too!
CAFE VERDE Cafe Verde next to the People's Food Co-op used to be a super low-key place to hang out with my laptop or with a friend, but these days it's always humming. And at lunchtime it's positively packed. Not only is their food inexpensive and delicious, it's also good for you. All their coffee is fair trade, their dairy products are organic, and the to-go cups are compostable. The extensive Cafe Verde salad bar (and hot bar with soup) is the freshest and best in town. One of my favorite lunches is a bowl of their chicken soup that comes with a slice of bread and butter.
EASTERN ACCENTS Eastern Accents on Fourth Ave. is one of my favorite spots downtown to stop for a snack and to catch my breath in the middle of a busy day. Usually quiet and serene, it's a good place to meet a friend for a cup of tea. My daughter calls this place the "Asian Bakery" because of their unique selection of house-made steamed and baked Chinese buns, pastries and desserts.  When she was younger we would sometimes stop in for a special treat on the way to school – at 7:30am they are taking warm stuffed veggie buns and egg tarts out of the oven.  Delicious with a cup of chai tea either morning or afternoon.  They also have a small menu of stir-fried items, house made soups, and be-bim-bop for a satisfying lunch.
BEWON Ann Arbor is fortunate that many of the cuisines of the world are represented here, including Ethiopian, Thai, Salvadoran, and Japanese, to name a few.  But perhaps the most numerous of the ethnic eateries, with more than a dozen, are the Korean restaurants.  One of the best is Bewon, in the northeast part of town.  For starters, their panchen (little shared dishes sent out in advance of the meal) are superior.  Including mild sweet and sour pickled radish, tender fried rice cakes, savory seaweed salad, and soy braised potatoes along with the ubiquitous kimchi, these 5 little dishes alone would be sufficient for a tasty meal.  But really you don't want to stop there.
So deliciously spicy and warming on a cold gray Michigan day, I love going out for Korean food in the wintertime.  One standard that I frequently crave is a fiery soup based on the Korean national dish: Kimchi Stew. At Bewon, the arrival of this dish envelopes you in a fragrant cloud of steam created by the furious boiling of the thick stew in its black stone bowl.  Red like the winter sun and filled with pungent, spicy cabbage, mild tofu and slices of pork, it's served with a side of unusual (but tasty) black rice.  I love how it warms you from the inside out.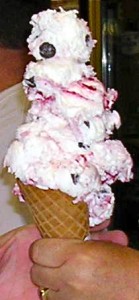 WASHTENAW DAIRY Although it's a bit more seasonal than others, the 75 year old Washtenaw Dairy is a local institution worth seeking out. Located in the picturesque Old West Side historic district, the WD (as it's known to residents) is a neighborhood gathering place on warm summer evenings when people line up to choose among more than 50 flavors of ice cream.  It's a happy sight to walk up in the twilight and see dozens of families and groups of friends enjoying enormous ice cream cones.  A throwback to an earlier time, the WD is also a gathering place mornings when a large group of octogenarians holds its regular kaffeeklatsch around formica tables. In addition to the ice cream, Washtenaw Dairy is known for its crispy cake-style donuts that start coming out of the fryer at 6:30am.
SUPPERCLUBS, BREAKFAST SALON, and GOURMET FOOD CARTS A final and quintessential Ann Arbor experience may require a little bit of advance planning, but is well worth the trouble.  Search out one of a number of "secret" and not-so-secret dining experiences including:  "clandestine dining" with the BONA SERA SUPPERCLUB and the pop-up restaurant at SATURDAYS AT THE JEFF , along with the SELMA CAFE, a local food breakfast salon hosted in a private home, and the new MARK'S CARTS, seven gourmet food carts in one downtown location.