Let's cut to the chase. Victoria Falls is certainly worth a visit. Called the world's largest sheet of falling water and deemed one of the Seven Natural Wonders of the World, this UNESCO World Heritage Site is a bucket-list must-see.
But to those who love distinctive hotels, resorts, and other accommodations, Victoria Falls is just a sideline to a stay at Tongabezi, a well-loved small and intimate luxury lodge located on the Zambezi River, about 15 miles upstream from the Falls in Zambia.
At first glance, Tongabezi so blends with nature that one doesn't catch the pizzazz of the place. But down the welcome drink and follow a staff member along the stone path graced with shady trees, song birds and playful monkeys to your cottage or house, open the door and magic starts to slip into your soul to reside forever more.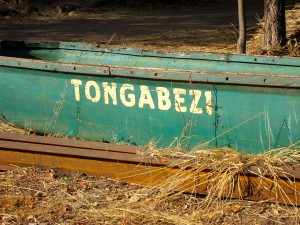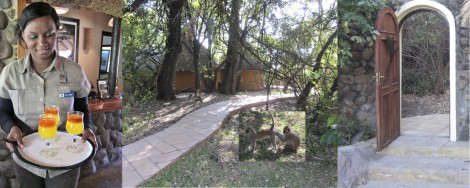 Guest accommodations thrill for what they don't have as much as what they do have.
They don't have cookie cutter configurations or intrusive neighbors or ho-hum décor. Some don't even have four walls.
What they do have is peaceful privacy, amazing views, and lovely design and decoration elements.
Guest houses and cottages string along the riverbank and up a hill. Each is a contained unit spaced apart from its neighbor. Although architecture is somewhat different, all accommodations sport thatched roofs and open-air designs, with most offering splendid river views. The amazing three-sided houses face the river, with nothing but vegetation to screen river sights and sounds.
All facilities feature decorative pieces hand-picked by owners Ben and Vanessa Parker to suit their personal tastes. Ben likes to decorate with vintage maps, postcards and photos slipped into picture frames recycled from old wooden boats. He sources (and so can you) the lodge's lovely beaded linens and textiles from Katundu, a workshop in Malawi that employs single mothers from a local orphan program.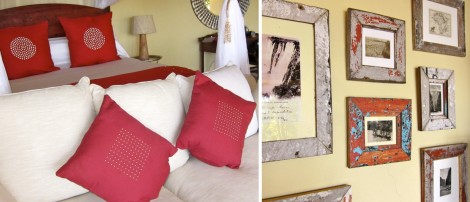 Perhaps the best feature of houses and cottages is that each comes with a personal valet—a wonderful, attentive, spoiling valet who will pamper as desired, doing such delightful tasks as bringing morning coffee or tea (and buttery shortbread cookies) as a wake-up call, filling the outdoor bathtub with bubbles for sunsets soaking, picking up laundry and offering insider information as to tours and local customs—in short, seeing to every need.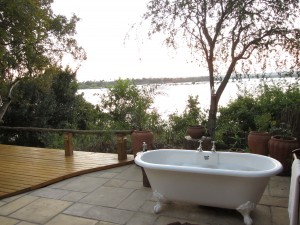 In addition to accommodations and service, Tongabezi gets high-five raves for:
1. UNIQUE AMBIANCE:  The lodge manages to combine the rustic with the luxurious, the natural with high style and the private and unregimented with pampering care.
2. ACTIVITIES: No need to contact an outside source for tours, Tongabezi provides a slew of activities, both inclusive and exclusive of room costs. Sunset and sunrise river cruises, tours to the Falls and trips to Livingstone's markets are complimentary.
Helicopter flights over the Falls, white water rafting and elephant-back safaris come with extra cost, as does a fabulous trip to Livingstone Island, the small island at edge of the rushing water where the Scottish explorer David Livingstone first sited the Falls and wrote, "No one can imagine the beauty of the view from anything witnessed in England. It had never been seen before by European eyes; but scenes so lovely must have been gazed upon by angels in their flight."
3. GOOD DEEDS:  In 1996, Vanessa Parker established a school to teach the children of Tongabezi's staff. Today, Tujatane (the Tongabezi Trust School) serves over 240 students, providing an education to not only families of staff, but also children in the surrounding community where educational opportunities and resources are scarce. The school operates completely on donations. To help, click HERE. 

4. INTANGIBLES THAT SATISFY THE SENSES:
The sight of sunset sending sparkling ripples of golden rays across the river.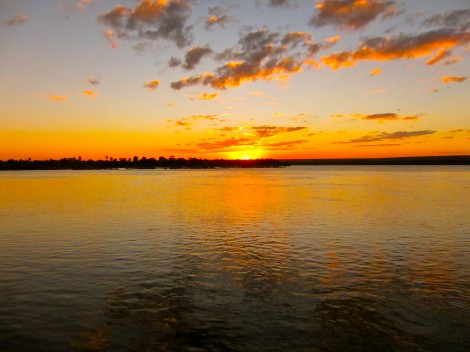 The sound of hippos making love (or war) in the dark night and bush birds singing to dawn's early light.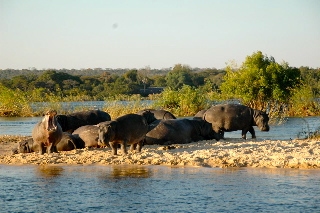 The touch of a deeply comfortable bed and sunshine spreading warmth as you nap on a lounge chair and the chill refreshment of cool water as you dive into the swimming pool.
The seductive scent that whiffs from the kitchen, awakening taste buds in anticipation.
The taste of that first cocktail, sipped around an open fire with other guests, waiting for the dinner call—discussing the awesome day.
5. DINING/FOOD AND VENUES:  Guests have a choice of  dining locations. In addition to both private and communal tables in the main building's dining areas, and in The Lookout—a riverside structure that the lodge calls "the ultimate chill out zone," guests can enjoy breakfast in bed, a picnic served on a private island and a romantic dinner on a Sampan floating on the Zambezi with each course delivered by canoe. 
As to food, it's billed as gourmet and organic, with menus showcasing local fish, farmed beef and produce grown in the lodge's own garden. Although international in scope, menus offer local specialties such as Sweet Potato Jam and Zambian Beans, favorite native dishes made from local commodities. Both dishes travel well to home tables, especially made with these recipes supplied from Tongabezi chefs.
SWEET POTATO JAM
Yield: About 7 cups.  (Recipe may be halved.)
3-1/2 cups granulated sugar
Juice from 4 large oranges
1 cup lemon juice (about 5 large lemons)
1 scant tablespoon grated fresh ginger
1/4 teaspoon nutmeg
1/2 vanilla bean, split
4 large sweet potatoes (2 to 2-1/2 pounds), peeled and grated
Put sugar, orange juice, lemon juice, ginger and nutmeg in a 3-1/2 quart saucepan. Split vanilla bean in half, lengthwise, and scrape seeds into mixture in saucepan. Add the vanilla bean shell. Set pan over medium heat and bring mixture to a boil, stirring constantly until sugar completely dissolves. Boil 1 minute.
Add grated sweet potatoes and cook over medium heat until potatoes are soft and infused with syrup, about 10 minutes. Remove vanilla bean.
Set aside to cool at room temperature. When cool, put in covered containers and refrigerate until ready to use. Use promptly.
Serve with all types of breakfast breads.
ZAMBIAN BEANS
Yield: 6 to 8 servings.
2 cups dried beans (See NOTE)
Water
3 tablespoons vegetable oil
4 to 5 large ripe tomatoes, peeled and diced (about 1-1/2 cups diced tomatoes)
1 onion, peeled and diced
Salt to taste
Rinse beans well, discarding any foreign matter or defective beans. Put beans in 4-quart saucepan. Add water to cover by 1 inch.  Set beans aside to soak overnight.
Drain and rinse beans. Put beans back in the 4-quart saucepan. Add water to cover by 1 inch. Set beans over medium heat and bring liquid to a simmer. Simmer beans for 45 minutes.
Drain and rinse beans and return to saucepan. Add water to cover, oil, tomatoes, onion and salt.
Gently boil beans until they are tender, but not disintegrating and tomato and onion have formed a thick sauce, 1 to 2 hours.
Serve as a main dish or side dish to all kinds of meats and poultry.
 NOTE: Zambians use Kabulangeti beans, but red kidney beans, white beans and other dried beans will also work.