Eat, drink—mainly drink—and be merry while you reduce your carbon footprint. Guzzle up and your efforts to save the planet get even better. Too good to be true? Au contraire.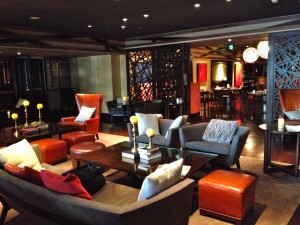 Especially if you are in Los Angeles. Especially if it is Tuesday. Especially if you are drinking at BLVD 16 Restaurant and Lounge at the Hotel Palomar Los Angeles/Westwood.
Hotel Palomar is part of the Kimpton chain, and we all know Kimpton hotels go green at every opportunity, so it is not surprising that the Hotel Palomar follows suit. But good as green gets in other areas of the hotel, it reaches new highs with the intoxicatingly creative Trees Tuesday promotion designed by BLVD 16's chef Richard Hodge and general manager Josh Porter.
Working in partnership with Greenbar Craft Distillery, http://www.greenbar.biz/ a Los Angeles company that produces and distributes the world's biggest portfolio of organic spirits and runs all of their business dealings with sustainability and flavor at the core, Hodge and Porter designed a program where Greenbar will plant a tree for every Sittin' Pretty, Barbados Winter and/or Herbal Remedy cocktail sold at BLVD 16 on a Tuesday from rush hour through the dinner service. That's right: one cocktail, one tree.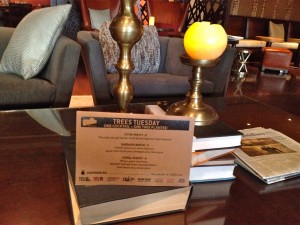 Poet Joyce Kilmer wrote, "I think that I shall never see, A poem as lovely as a tree." Well, Sweet Leisure thinks that it shall never see a promotion as lovely as Trees Tuesday. The cocktails rock! The planet is better off. And guests can drink to distraction without driving.
Named for the 16 miles of Wilshire Boulevard (a.k.a. "Main Street" L.A.), BLVD 16 is located at 10740 Wilshire Boulevard in upscale Westwood. Regulars come from condos in the neighborhood and can walk home. Hotel guests are already ensconced and indulgers reliant on driving can leave their car with valet parking and rent a room for the night.

Even homebodies can participate in bettering the world through booze—if they make cocktails from BLVD 16's recipes (see below). Each recipe calls for two ounces of Tru vodka, Tru gin or Crusoe rum—all Greenbar Distillery's brands and the company will plant a tree in the rainforests of Central America for every bottle of spirits sold.
So bottoms up! Here's to a beautiful world through blissful beverages and beneficial drinking.
SITTIN' PRETTY
Yield: 1 serving.
2 ounces Tru vodka
3/4 ounce Fair Goji Liqueur
1/2 ounce Marie Brizard Triple Sec
1/2 ounce fresh lime juice
1/4 ounce simple syrup
Ice
Lemon peel for garnish
Combine all ingredients except the garnish in a cocktail shaker and shake.
Double strain into a cocktail coupe. Garnish with lemon peel expressed over the top.
BARBADOS WINTER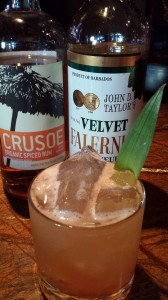 Yield: 1 serving.
2 ounces Crusoe Spiced Rum
3/4 ounce fresh lemon juice
1/2 ounce Velvet Falernum
1/2 ounce clove-flavored simple syrup
1/2 ounce pineapple juice
Ice
Aperol
Pineapple leaf for garnish
Put rum, lemon juice, Velvet Falernum and simple syrup into a cocktail shaker and shake.
Strain into an iced-filled large rocks glass. Drizzle a little (about 1 teaspoon) Aperol on top. Garnish with a pineapple leaf.
HERBAL REMEDY
Yield: 1 serving.
2 ounces Tru gin
1-1/2 ounces fresh lemon juice
3/4 ounce green Chartreuse
1/2 ounce simple syrup
5 dashes Bar Keep Lavender Bitters
Large pinch of dried lavender flowers
Ice
Sprig of sage for garnish
Put gin, lemon juice, Chartreuse, simple syrup, lavender bitters and lavender flowers into a shaker and shake to combine. Strain into an ice-filled large rocks glass. Garnish with a sprig of sage.