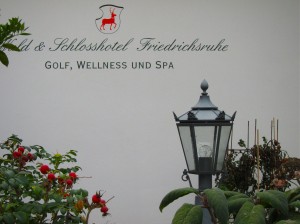 The Wald & Schlosshotel (Forest & Castle Hotel) Friedrichsruhe covers all bases. This award-winning, "five-star, superior" resort hotel is at once historic and contemporary, luxurious and casual, healthful and indulging. Its top-notch facilities provide ideal venues for both business and leisure travelers, gourmets and dieters, and active guests as well as those who just want to relax. Enjoy it all or focus on one delight—it doesn't matter as Wald & Schlosshotel Friedrichsruhe delivers a multidimensional, mega-pleasurable getaway that can be structured, as the individual desires.
Located in southern Germany's Hohenlohe region, about 70 kilometers from Stuttgart, Wald & Schlosshotel Friedrichsruhe maintains a-retreat-in-the-secluded-heart-of-nature ambience—as was its original function.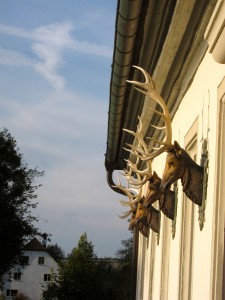 The resort dates to 1712 when Count Johann Friedrich II (later to become Prince of Hohenlohe) built a Renaissance-style hunting lodge and cleared the forest surrounding the lodge to create a majestic royal park. (The name of "Friedrichsruhe" basically means Friedrich's place of relaxation – the prince's retreat.)  The Hunting Lodge (with its stag antler façade) and park (with its ancient trees and songbirds) is much a part of today's resort, which was first opened as a small hotel in 1953 and has been added to and renovated happily ever after. The Würth Group took over in 2005, adding a majestic spa, expanding the golf course and enhancing guest rooms, conference facilities and culinary offerings.
Today's resort offers 66 rooms divided among four different buildings, the original Hunting Lodge among them.

Each building showcases specific style elements with rooms wearing décor that ranges from country-house charm to high-tech, minimalist sophistication and reservation staff tries to place guests in a room type they would most enjoy.


Although each room in each building is individually decorated, all rooms include a flat-screen television, mobile telephone, safe and fragrant toiletries from the resort's own specially designed SanVino line of products.
Guests also have a choice of where to eat on property.

Michelin starred Chef de Cuisine Boris Benecke brings refined seasonal dishes to the upscale Gourmet-

Restaurant. Regional delights show up on the menu of the charming and informal Jägerstube restaurant. Traditional and rustic Swabian meals can be had at the Forest Tavern. And the Spa Bistro serves light fare to spa guests.
But restaurants don't account for all of the dining delights. Breakfast, alone, is worth a stay. Served on white table clothes, with fine china, heavy cutlery, in the Conservatory, a graceful room lined with windows overlooking the park, the buffet breakfast features specialties from around the world and makes greeting the day a glorious pleasure.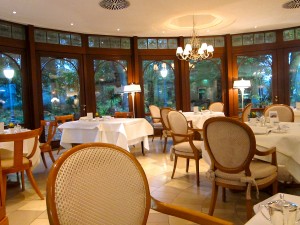 The Terrace in summer, the Fireplace Lounge in winter, and the Bar in all seasons provide lovely settings in which to enjoy afternoon tea or coffee and cake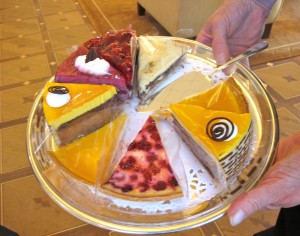 as well as cocktails and drinks. (As to drinks, don't miss the Pharmacy, an after-dinner, gin-based concoction said to cure all ills.)
Although the setting, the rooms and the restaurants shine, many consider the spa the most sparkling jewel in Wald & Schlosshotel Friedrichsruhe's crown.

Covering over 47,000 square feet the spa holds large indoor and outdoor pools and a KLAFS-sauna area and 13 treatment rooms where top-notch technicians pamper guests with an array of health and beauty treatments.
A fully equipped fitness center with personal trainers, a beauty salon, a 27-hole golf course with a golf academy, tennis court and an array of art and antiques from the owner's own collection round out the resort facilities.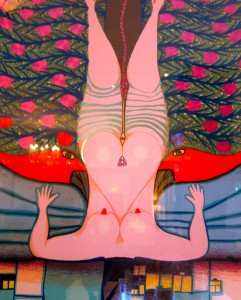 Add an attentive staff offering extraordinary service (hand-cleaning golf clubs, limousine shuttles, picnics in the park)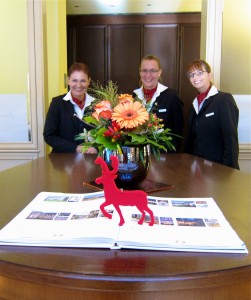 and it's easy to understand why guests consider Wald & Schlosshotel Friedrichsruhe one of the best retreats of pure peace and pleasure in all of Germany.