Once upon a time Caroline Hinchliff claims she was "a ridiculously picky eater." Although today she sports an immense love for all foods she previously considered inedible, Caroline is still picky in the sense that she likes the best and knows exactly where to find it.
As partner relations and event manager for Savor Seattle Food Tours, a much-lauded company providing culinary walking tours of Seattle and beyond, Caroline has a major role not only locating, but also introducing travelers to the fresh, local, organic, seasonal and sustainable culinary delights of the Pacific Northwest. In addition to knowing Seattle's top food purveyors and culinary artisans, Caroline knows the ins and outs of Seattle's restaurant scene, having worked in different capacities in the industry throughout the years.
Always generous, and in her own words, Caroline Hinchliff tells Sweet Leisure:
WHERE TO EAT IN SEATTLE
Seattle's restaurant scene is known for doing traditional (fill in the blank), Northwest style! This translates to an extremely diverse and authentic assortment of menus to choose from, each eatery utilizing the bounty of locally-produced fruits, vegetables, and meats as well as importing any regional spices or ingredients needed to define each dish. These are a few of my favorite fusion restaurants in the city.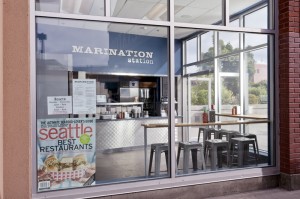 Marination Station: The food truck craze has taken the northwest by storm. Hawaiian-Korean fusion truck Marination Mobile was so successful that owners Kamala Saxton and Roz Edison opened a brick-and-mortar location in Seattle's vibrant Capitol Hill neighborhood. The menu is bright, sweet, tangy, savory, and spicy. If you've never tried SPAM, the Slider at the Station is the perfect introduction. Wedged in a fluffy sweet Hawaiian bun, topped with crispy slaw and dressed with house Nunya sauce, the salty meat ("Shoulder of Pork And Ham") is so expertly outfitted that you'd never guess it was SPAM if they didn't tell you! These days the Station is bottling and selling their incredible sauce, named for the secret nature of its ingredients, which frankly are "nunya" business. Don't do pork? Try the Sexy Tofu Taco or the Kimchee Rice Bowl.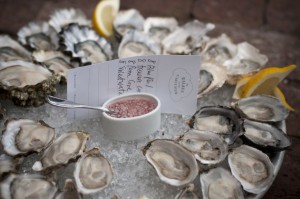 The Walrus & The Carpenter: Nestled in the historic neighborhood of Ballard, this cozy, bright space combines French-inspired menu elegance with the unbelievably fresh seafood Seattle is known for. The rustic restaurant is quite welcoming when you find it  (located behind a bike shop and another famous restaurant, Staple & Fancy). The menu changes daily and offers diners all kinds of delectable sea treats. Local oysters are always on the menu, and some seasonal favorites include: smoked trout on a bed of lentil, walnut, crème fraiche and pickled onion; mussel tartine with tomato, chorizo and spinach; and black rockfish ceviche with lime, pastis and curried apricot. The avocado tartine or the poached heirloom tomato salad will please the palate of any vegetarian or anti-ocean patron. The drink list has also made a name for itself in the cocktail community and features whimsically delicious concoctions like the Norwegian Wood, The Bearded Lady, Mustache Ride, and the Pamplemousse.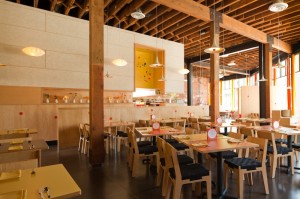 Poppy: If you're the type of diner who struggles to choose just one entrée every time you're out to eat, this is the perfect restaurant for you. Inspired by the Indian "thali" style of eating, your meal arrives as a platter with 7 or 10 small dishes, artfully arranged and deliciously designed to highlight the flavors of each other. Chef Jerry Traunfeld's menu changes daily and features herbs, spices, and veggies picked in the restaurant's backyard garden. A few highlights on the current menu include: quinoa cakes with goat cheese, lobster mushrooms and eggplant; sea scallops with pork belly and cider-saffron sauce; vanilla parsnips with black pepper; lavender-rubbed duck Muscovy duck leg with grilled peach and huckleberries; and corn basil spoonbread. The artisan cocktails embrace the popular farm-to-glass concept and entice you with names like Black Bramble, Rum Curry, Wild About Saffron, and Papi Delicious.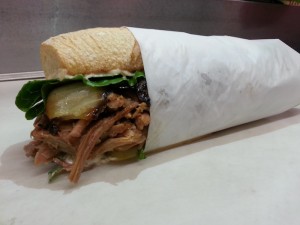 Paseo: To combat eight months of cloudy skies every year, Seattleites reach for sensory delights colorful, fragrant, decadent, and comforting enough to get us through the monotonous winter. This phenomenon explains our love affair with microbrews, mac 'n' cheese, locally-roasted coffee, ice cream, craft cocktails, chocolate, and Paseo's Caribbean sandwiches. Paseo is a staple in the Seattle dining – well, let's say eating – scene, not to be missed by anyone who appreciates a spicy, chewy, and extremely messy sandwich. Grilled pork, prawns, chicken or tofu is doused in smoky caramelized onions, then topped with cilantro and pickled jalapenos and situated in a lightly toasted aioli-slathered baguette. Seating is virtually non-existent, so expect to wait in line for your to-go order, bring cash, and don't forget to grab about five napkins.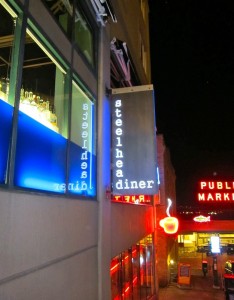 Steelhead Diner: Chef Kevin Davis began his restaurant career in New Orleans, Louisiana, and brings his soulful, spicy creativity to the world-famous Pike Place Market. Sourcing produce, meats, chocolate, fish, beer, cheese and even pickles from family-owned Market merchants, The Diner marries local, sustainable ingredients with satisfying southern favorites. The Chicken & Andouille Sausage Gumbo never disappoints, and try the Grilled Uli's Andouille Sausage "Rich-Boy" for a variation on the classic Po'Boy sandwich. If you're in the mood for seafood, the Crispy Idaho Stream-Raised Catfish Tacos are an excellent and unique choice. Side dishes like coleslaw, black-eyed peas & rice, and poutine round out the experience. And if you saved room for dessert, the Theo Chocolate Pecan Pie with bourbon Chantilly crème is a decadent finale.