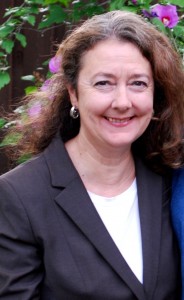 Nashville resident Nancy Vienneau describes herself as a self-trained chef and recovering caterer turned food writer and activist. Her background in fine arts included stained glass, painting and printmaking, but it is with good food that she made her mark in Nashville, running a full-service catering company. As she says, "twenty-five years and ten thousand cream cheese brownies" after opening A Matter of Taste, she sold the company, and today devotes her expertise to promoting local farmers, urban gardens, healthy affordable cooking and food security. She also writes about food for a variety of publications, produces a weekly restaurant column for The Tennessean and blogs (see the fabulous Good Food Matters). Her first cookbook, The Third Thursday Community Potluck Cookbook, is slated for spring 2014 publication by Thomas Nelson, a division of Harper Collins.
If anyone knows the ins and outs of the Nashville's food scene, it's Nancy, so it is with great pleasure that Sweet Leisure nabbed her to suggests a few of her favorite places to eat in the city. Here's Nancy on Nashville's best.
WHERE TO EAT IN NASHVILLE

   
by Nancy Vienneau 
Nashville, Tennessee, has long been the creative mecca of music, beckoning songwriters and musicians from around the world. But when it comes to food, it's been a sleepy two-chord town…until recently. The same kind of synergy that helped make us Music City has been coalescing in our local food scene. Entrepreneurial spirits, fueled with fine ingredients, and a love of cuisine—Southern or not– have converged, making their marks and putting Nashville on the culinary map. We have many great choices—too many to list here. I've assembled a round-up of some favorites you won't want to miss when you pay us a visit.
1888 Eastland Avenue
615-915-0757   
Chef Roderick Bailey just won best chef of the Southeast in Food and Wine's people's choice awards—richly deserved. He's well loved for his serious good food served with a light-hearted spirit. At lunchtime, customers flock to this East Nashville eatery for his delectable couscous and sandwich combinations. At dinner, their focus turns to his sophisticated plates, such as grilled steelhead trout on a bed of green bamboo rice infused with coconut and ginger, dotted with tiny pineapple cubes, guacamole, sesame vinaigrette.  Wow.
1200 Villa Place, #3
When she moved from Manhattan to Nashville, Terri-Ann Nichols missed this creamy-dreamy confection so much that she decided open her own gelateria. She studied with master gelato makers in Bologna Italy, imported some of the best machinery, and set to work. She uses fine local and organic ingredients, with milk from a family dairy as the foundation. Her myriad flavors of gelato and sorbetto are sublime–intense tastes and smooth textures. I especially love her affogatos—a scoop of gelato "drowned" in a cup of espresso. It is a sublime afternoon pick-me-up.
303 Demonbreun Street
615-522-6085
Set in the burgeoning SoBro part of downtown, this modern minimalist restaurant is the stunning backdrop for the food artistry of Chef Deb Paquette. Her plates of full of color, dimension, and flavor: sometimes startling, always gratifying. Consider her Ratatouille Crudo, or her Turkish spiced Cobia with brown buttered oranges, capers, olives, raisins, almond beignet, or Roasted Cauliflower with truffle pea pesto. Her pastry chef, Megan Williams, has amazing desserts to complement.
700 Taylor Street,
615-866-9897
The former boiler room of Werthan Factories has been repurposed into this cool, industrial space where Chef Philip Krajeck (a thrice nominated James Beard Best Chef) serves his self-proclaimed "modern peasant fare." That might undersell it. His housemade pastas are extraordinary: Farro gemelli with hen-of-the-woods mushrooms, Spaghetti carbonara, Squid ink canestri. Rustic bread , baked in house, is served with radishes and whipped seaweed butter.  Compelling cocktails, too. The Cumberland Sour gets its twang from sorghum and apple cider vinegar.
Arnold's
605 8th Avenue South
615-256-4455
Prince's Hot Chicken
123 Ewing Drive
615-226-9442
No Nashville tour would be complete without a visit to these two icons: Arnold's, a country-style "meat and three" lunch cafe (which won a James Beard America's Classics award in 2009) and Prince's Hot Chicken Shack—which is home to our city's now signature dish: Nashville Hot Chicken. What makes it Nashville Hot? It's in the combination of the addictive fiery paste painted onto crispy southern-fried chicken, served on a mattress of white bread, and crowned with a few crinkle-cut pickles. Oh, my. (Prince's will be presented a James Beard America's Classics award on May 6!)
A couple of caveats: the fare at Arnold's—carved to order roast beef, mashed potatoes, fried green tomatoes, collards, banana pudding— is rib-stickin' fare. Come hungry, and know it will power you through the remainder of the day. At Prince's, patience is a virtue. The chicken is fried to order. Approach the heat level with prudence: medium is supa-hot.
The Oak Bar in the Hermitage Hotel
231 6th Avenue North
615-345-7116  
If you can't bask in the Beaux Arts elegance, dining at the Capitol Grille in our downtown 5 Star Hermitage Hotel, then slip into The Oak Bar, its premium watering hole. Enjoy a cocktail and a plate of Chef Tyler Brown's cured meats, or a haute pimiento grilled cheese. Let the world pass by for a spell. Be sure to take a peek into the adjacent men's room—it is the ultimate in jade-and-black art deco design.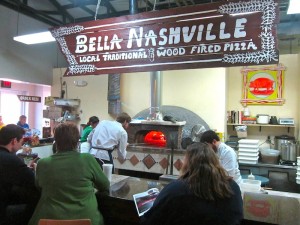 Bella Nashville artisan wood-fired pizza
900 Rosa Parks Blvd
615-457-3863  
Here, "Old World meets the New South" inside the food court of our Nashville Farmer's Market. Dave Cuomo and Emma Berkey have a concise menu of terrific pizzas that follow Neapolitan tradition but use fresh, seasonal ingredients from the market. The Margarita is perfection: housemade mozzarella on crushed San Marzano-style tomatoes, fresh basil, a drizzle of olive oil, but others, with turnips greens and country ham, are just as delectable. Friday through Sunday, they have their artisanal sourdough bread available for purchase too. Fragrant and tangy—it is the best in the city.