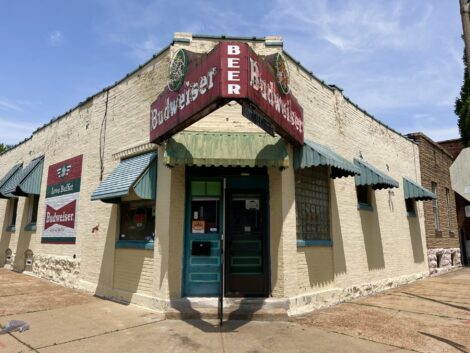 Talk about time travel. Carolyn McKinney's Iowa Buffet, is a thoroughly authentic, well-worn tavern–practically a leftover of bygone times–that sits on a quiet corner of an old St. Louis South Side neighborhood. Carolyn says that her building dates back "to forever" (actually the 1800s).
Despite being featured in newspapers, magazines and TV food shows, Iowa Buffet remains unpretentious and virtually the same as it has for decades.
Hollywood couldn't design a better dive-bar set. One bellies up to the bar counter sitting on high stools or gathers at the tables at the side and back of the dimly lit room. Walls sport neon beer signs, photos, a swimsuit calendar, various ads, and just fun sayings. TVs play overhead. Machines dispensing lottery scratchers offer patrons a chance to strike it rich. Music from a jukebox supplies an atmospheric vintage soundtrack ("I love Etta James, so we play her a lot," says Carolyn.)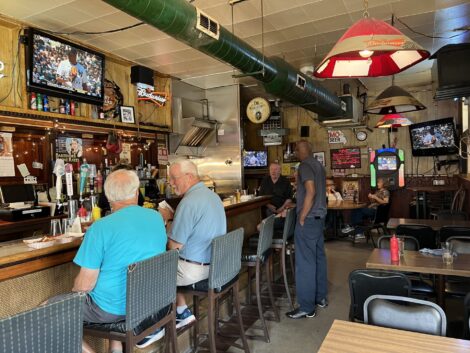 The backdoor leads to a family- and dog-friendly outdoor patio with tables and chairs edged by tidbits of garden greenery.
All is aged, casual, and congenial—thanks to Carolyn, a red-headed, dynamic octogenarian who claims to have been in the business since "the beginning of time," (actually she took over the bar in 1987).
Today, Carolyn's daughter and granddaughter help waitress and manage orders while Carolyn cooks and chats with customers—who all seem to be—or about to be– her best friend. Carolyn is the type who has never met a stranger.
As to food, don't expect a buffet at Iowa Buffet. The name came with the place.  The tavern has never been a buffet but does serve food that is down-home and comforting.
Diners rave about the hamburgers, cooked in a generations-old gas broiler behind the bar.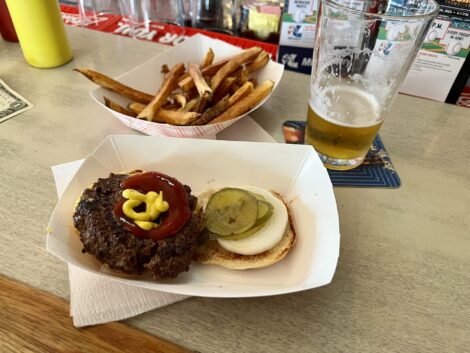 On Saturdays the menu features items barbecued on the outdoor grill.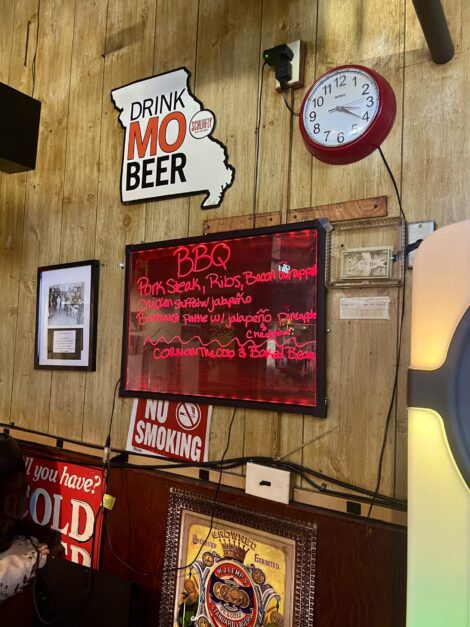 On weekdays, Carolyn offers specials that she makes from scratch. She says that people particularly like Iowa Buffet's Sweet Bourbon Glazed Meatloaf, which she makes from five pounds of ground beef, and/or a mixture of ground turkey and salsiccia. Carolyn warns that she never measures and that she adjusts ingredients to what she has on hand. She created a Sweet Bourbon Glaze recipe for Sweet Leisure, but we interpreted the meatloaf recipe from her instructions, cutting her recipe from five to two pounds and adding guessed-at measurements. Of course, this is a super flexible recipe just waiting for cooks to adjust. Thank you, Carolyn. Love it!
SWEET BOURBON GLAZED MEATLOAF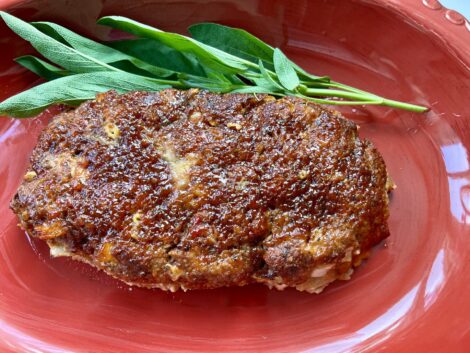 Yield: 4 to 6 servings.
1 pound ground beef or ground turkey
1 pound salsiccia (take out of casing if bought in links)
1 onion, cut into large dice (so people who don't like onions can pick them out)
2 eggs, beaten
About 1/3 cup breadcrumbs (Carolyn likes Italian seasoned)
About 2 tablespoons grated Parmesan cheese
1/4 cup ketchup (can substitute barbeque sauce, salsa, or spaghetti sauce)
2 cloves garlic, minced
About 1 teaspoon mustard
Seasoning mix (use your favorite and be generous)
Salt to taste
Black pepper to taste
Few dashes Tabasco
Sweet Bourbon Glaze (recipe follows)
Preheat oven to 350°F.
Break up meats and put in a large mixing bowl. Sprinkle onion pieces, eggs, breadcrumbs, cheese, ketchup or substitute, garlic, mustard and seasonings over top of meat.  Mix everything with your hands just until ingredients are well distributed. Form mixture into an evenly shaped loaf and set in a baking dish.
Spread top of loaf with a generous amount of glaze. Place in preheated oven and bake 30 minutes. Top loaf with more glaze and bake until meat is cooked through, another 30 minutes or more.  Remove from oven.
Reheat any remaining glaze and pour over meatloaf or put in a bowl to serve on the side.
Let meatloaf rest for a few minutes before serving.
SWEET BOURBON GLAZE
4 tablespoons butter
1/2 cup brown sugar
1 cup bourbon
2/3 cup ketchup
2 clove garlic cloves, minced
1/4 cup vinegar
1-1/2 tablespoons lemon juice
2 teaspoons Worcestershire sauce
1/4 teaspoon dry mustard
Fresh cracked black pepper to taste
Apple juice or water to thin sauce, if necessary
Put butter in a medium saucepan and set over moderate heat. Stir in sugar. When sugar is incorporated, stir in bourbon, bring to a boil and boil 1 minute. Add remaining ingredients and stir well. Gently cook, stirring often, until mixture is bubbly and thicken, 2 to 5 minutes.  If necessary, thin glaze with water or apple juice. Taste and correct seasoning.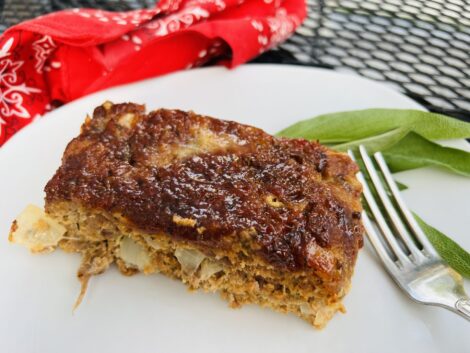 Iowa Buffet.  2727 Winnebago St.  St. Louis