To everything there is a season. And this season is the time for showers. Bridal Showers. Woo-hoo!
Our favorite bridal shower is a brunch. We like the old-fashioned variety, held in a home where all is lighthearted, lovely and lovingly personal.
Here are a few tips for keeping a bridal brunch shower sweet, simple and simply splendid:
Invite a compact list of guests—the honoree's nearest and dearest connected by family, friendship and love.
Fill the house with casual flowers. Put bouquets on tables, in the kitchen, even a small bouquet in the guest bathroom. We like flowers straight from the garden. Daffodils, hyacinths, peonies, tulips, irises, lilacs in the spring. Roses, hydrangeas, daisies, coneflowers, zinnias in the summer. Mix them. Add herbs and wildflowers for interest and greenery. Embrace the season. Nothing formal. Keep all easy—breezy.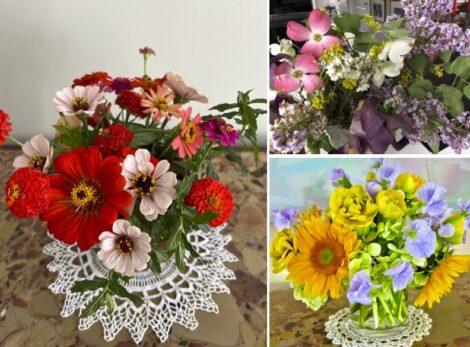 Choose invitations, linens and paper good to be morning fresh, light, bright and pretty–and as eco-friendly as possible.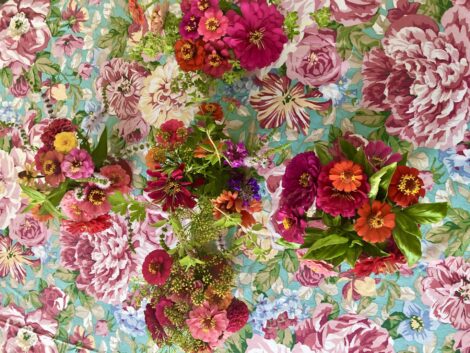 Design a menu to have something for everyone. Include gluten free, dairy free, and vegetarian dishes. Add tried and true favorites, such as a variety of cut vegetables garnished with basil,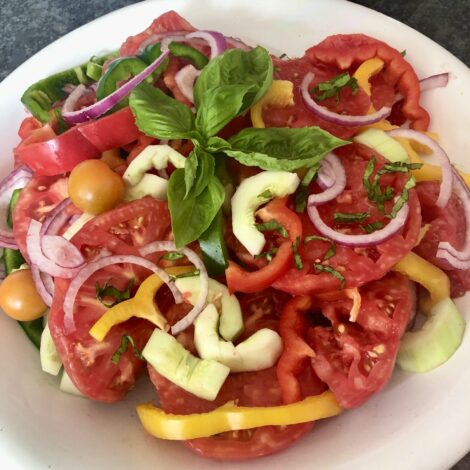 plus  a few surprises, such as Nutella Gooey Butter Cake, cut into small pieces.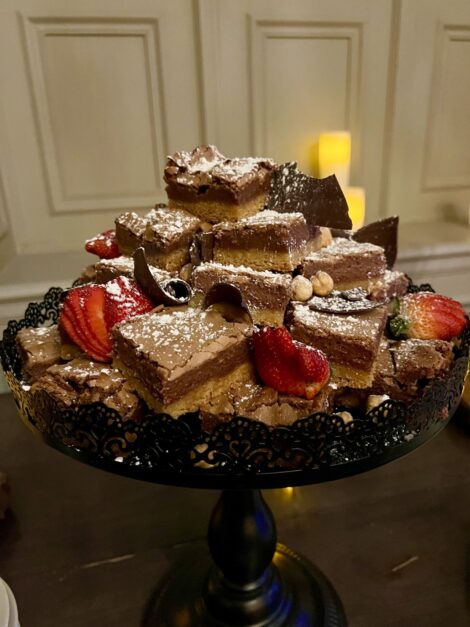 Keep beverages simple and refreshing. We suggest unsweetened iced tea accompanied by bowls of help-yourself sugar and sugar subs, fresh mint and cut lemon; a variety of bottled water—unflavored and flavored sparkling; and fresh orange juice. If you pop for Champagne or other bubbly, guests can make Mimosas. Adding a pretty pitcher of fruit-laden sangria adds both menu and décor pizzazz.
Here are some of our favorite recipes to spark a brunch celebration:

SMOKED SALMON PATE ROSES
SPINACH

EGG STRATA

CUCUMBER AND MINT SALAD

WHITE SANGRIA

RED SANGRIA

LEMON MINI LEMON BUNDT CAKES
and
GLUTEN FREE QUICHE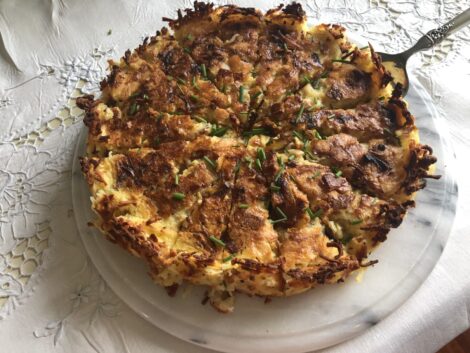 Yield: 8 to 16 servings depending on how cut.
Shortening to grease pan
20 ounces frozen hash brown potatoes, thawed and squeezed as dry as possible.
1/2 cup shredded white cheddar cheese
Salt
Black pepper
2 tablespoons butter
1 small onion, thinly sliced
6 large eggs
½ cup cream, half and half  or milk
1/3 cup cooked crumbled bacon or sausage (or substitute a diced cooked vegetable such as zucchini).
1 cup shredded white cheddar, fontina, or gruyere cheese—or a mixture of shredded white cheeses
1 tablespoons finely chopped chives
Lightly grease a 9-inch springform pan.  Put potatoes in a large bowl. Add 1/2 cup shredded cheddar cheese. Sprinkle with salt and pepper. Stir to mix ingredients and then transfer to the prepared pan. Press the potato mixture over the bottom and sides of the pan; made sure the potato mixture covers pan surfaces evenly (do not leave any holes—this is important).  Place pan in freezer until crust is frozen, 1 hour or more.
Preheat oven to 425°F. Place frozen crust in oven and bake 15 minutes. Remove from oven and set aside to cool slightly.
In the meantime, melt butter in a skillet over medium-low heat. Add onions and cook, stirring often, until onions caramelize, about 10 minutes. Set onions aside to cool.
Put eggs and cream in a large bowl and whisk until light and fluffy. Add bacon or sausage, 1 cup shredded cheese, and caramelized onions. Sprinkle with salt and pepper. Stir until ingredients are well mixed. Pour mixture into baked crust.
Lower oven temperature to 375°F and bake quiche until eggs have just set, 25 to 30 minutes.
Remove quiche from oven and run a paring knife around the perimeter of pan. Remove sides of springform pan. Place quiche back in the oven to crisp crust and brown surface, 10 to 15 minutes. Remove quiche from oven and cool for 10 minutes. Sprinkle with chives before cutting and serving.
This quiche may be fully cooked and frozen. Thaw before reheating. To reheat, place quiche on a lightly greased baking sheet and place in a preheated 425°F oven until warmed through and crust is crisp, 30 to 35 minutes.