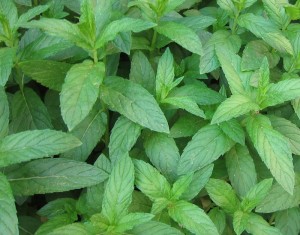 Once upon a time, in the realm of Greek mythology, there lived a lovely nymph named Mintha. Firm in form with a sweet disposition and exciting spirited charm, Mintha captured the heart of Hades, god of the underworld.
Before long Persephone, Hades wife, learned of the affair. Unlike contemporary wives who might put on a good-wife face in the same situation, Persephone flew into a jealous rage and stomped her rival into the ground.
Poor Hades. What a dilemma. On one hand was his angry wife; he couldn't risk restoring Mintha to her original form. On the other hand he couldn't let Mintha be lost and gone forever.
So what did he do?
Hades raised Mintha from the ground in the form of the herb we call mint. He gave mint a charming sweetness and exciting flavor that adds spirit to any dish. He made the herb strong, able to withstand much abuse. And (some say to annoy his wife) he gave the herb an enchanting fragrance that fills the air with seductive scent whenever the plant is stepped upon.
TWO FAVORITE MINT RECIPES

Mojito



Put 10 fresh mint leaves and 2 lime wedges in a tall glass. Smash with a muddler for 10 to 20 seconds. Add 2 ounces rum, 1/2 ounce fresh lime juice and 1/2 ounce simple syrup. Stir. Fill glass with ice and top off with club soda. Gently stir again. Garnish with a lime wheel, a sugar cane stick (optional) and additional mint.
Makes 1  serving.
Cucumber and Mint Salad

Peel 4 slender cucumbers. Cut off ends of each cucumber, cutting to beginning of seeds. Halve cucumber lengthwise and with a spoon, scrape out and discard seeds. Cut cucumbers, crosswise, into 1/4 inch-thick pieces. Put pieces in a large bowl. Add 1 small peeled and thinly sliced red onion, 1/3 cup chopped fresh mint leaves, 1/4 cup chopped fresh cilantro leaves and 2 to 4 whole, dried red chilies. Combine 1-1/2 cups cold water, 1-1/2 cups rice vinegar, 3/4 cup granulated sugar and 1 teaspoon salt; stir to dissolve sugar. Pour liquid over cucumber mixture and stir lightly. Refrigerate for several hours or overnight. Serve well chilled.
Makes 6 servings.