The Boudin Trail
Those in search of the culinary esoteric, the best of the best, and/or the unique food creations that any region has to offer, should head to South Louisiana and all things boudin.
Not just a sausage, boudin is an icon of culinary heritage in this part of the world, sold in restaurants, grocery stores, butcher shops, roadside stands and even filling stations.
As locals well know, not all Boudin is created equal. The sausages come in a variety of forms (links and round balls), flavors (mild, hot-as-hell and in between), and fillings (pork, shrimp, crawfish, chicken and even alligator).
Those wanting to sample and savor the ultimate boudin (of which there are many candidates) need only drive along the Southwest Louisiana Boudin Trail (as outlined in a brochure published by the Lake Charles Southwest Louisiana Convention and Visitors Bureau) and the Southern Boudin Trail (as described at  southernboudintrail.com ).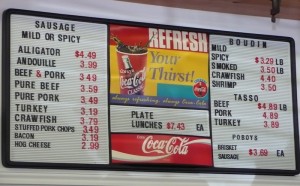 Trailblazers will need a car, some cash, an appetite, napkins and the ability to remember how to pronounce boudin (which is  "boudan" or "boodeh" delivered with a Cajun accent).