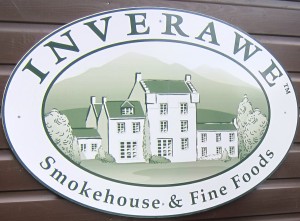 Anyone hooked on smoked salmon has probably heard of Inverawe and Robert & Rosie Campbell-Preston.
Robert & Rosie opened Inverawe Smokehouse in Argyll, on the West Coast of Scotland, in 1980. Robert was the fish smoker, an art he learned growing up on the banks of the Awe. Rosie tackled the marketing, a talent she developed after marrying Robert in the early 60s, moving to Scotland, raising a family and helping promote the fish farm that the couple created in 1974.
As expected with a fine artisan product, Inverawe's smoked salmon caught on with the locals.
Knowing she could reel in more business, Rosie started a smoked salmon mail order business in 1982. The move spawned more attention. Soon the back-yard smokery developed a widespread reputation and its smoked salmon became a smokin' hot product not only in the Scottish Highlands, but also throughout the UK and beyond.
Today the family-owned and operated enterprise, Inverawe Smokery and Fisheries, includes a range of endeavors.
Stretched over the property (which is situated 80 miles north of Glasgow, 15 miles inland from Oban, between Loch Awe village and Taynuilt) visitors will find:
Inverawe House, the family's 300 year old home and the Smokery—where all sorts of fish are infused with the full-bodied, robust and oak-log flavor so favored by connoisseurs. The living quarters and Smokery are not open to the public.
Visitors are cheerfully welcomed at Inverawe's Exhibition Center (a homemade, folksy and informative display of the fish smoking process), and at the Smokery Shop and Cafe.

The shop sells a variety of smoked fish and accompanying accoutrements, gift items, luxury food hampers and books, including, of course, Rosie's INVERAWE SEASONS COOKBOOK (also available on Amazon).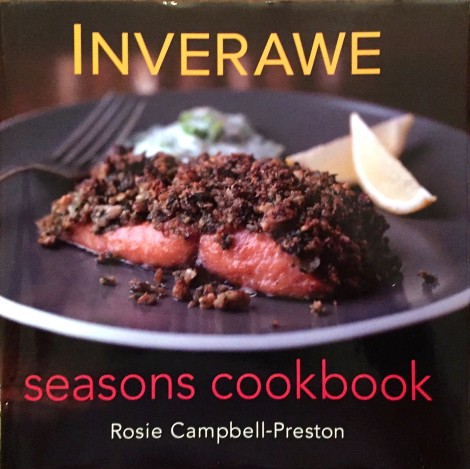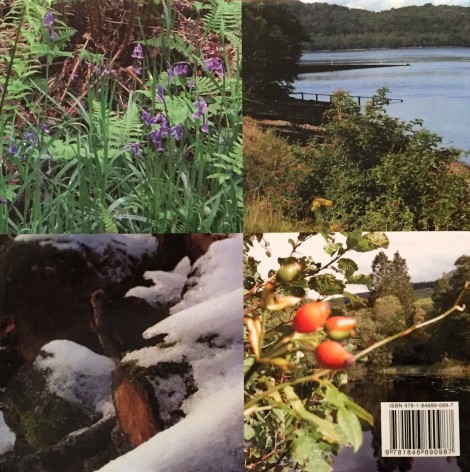 Inverawe's cafe serves a feast of smoked fish as well as a catch of non-fishy dishes and home-baked specialities.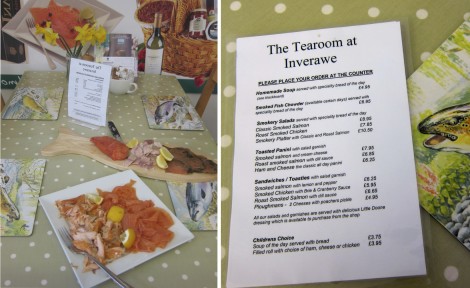 Tourist facilities on the estate include: four self-catering cottages (where well-behaved dogs are welcome); fly fishing on three trout lakes and a salmon river, with fly fishing lessons available for beginners; a children's play area; and nature trails and tracks.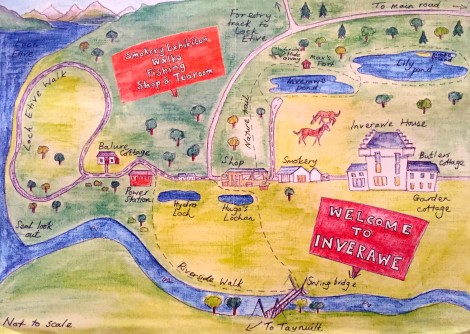 To learn more about Inverawe, see www.inverawe-fisheries.co.uk.
To sample a favorite dish served in Inverawe's Cafe, check out the following: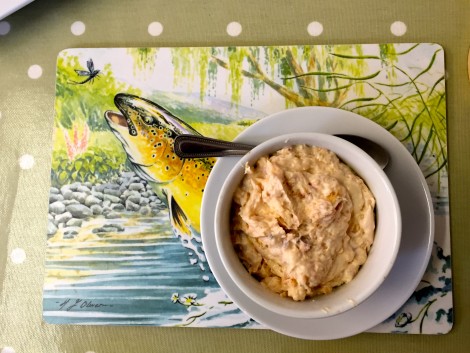 INVERAWE SMOKED SALMON PATE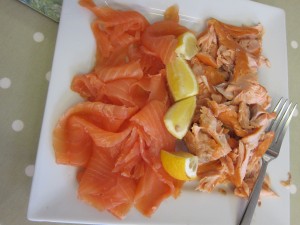 (Basic smoked salmon pate recipe by Rosie Campbell-Preston. Serving suggestions by Sweet Leisure.)
Yield: About 4 cups.
1 pound cream cheese, room temperature
1/3 cup low fat plain yogurt
About 14 ounces smoked salmon, minced
About 3.5 ounces roasted smoked salmon, minced
Juice from 1/2 lemon
Pepper to taste
TO SERVE (all optional)
Crackers
Crudités
Thinly sliced bread
Endive leaves
Baked miniature tart shells
Salmon "roses" (made by rolling small strips of salmon into rose shape) Parsley leaves
Chopped scallions and additional diced salmon.
Put cream cheese and yogurt in a mixing bowl and beat until smooth and well blended. Add minced salmon and lemon juice. Beat until blended. Season to taste with pepper.
To serve as a spread, put salmon pate in a bowl and serve with crackers, crudités or bread.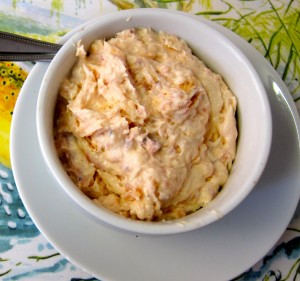 To serve as a canapé, pipe small dabs of salmon pate into the hollows of endive leaves and garnish with smoke salmon "roses" and parsley leaves;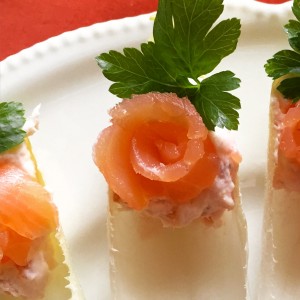 To serve as a tea time treat (as they do at Cameron House on Loch Lomond) pipe pate into small baked tart shells and garnish with chopped scallions and diced salmon.