Making a list? Checking it twice? Want to give something much better than nice for Christmas or Valentine's day or that special birthday or anniversary? Then consider that the most splendid, all-occasion, glory gift that one can give is a trip on the S.S. Catherine.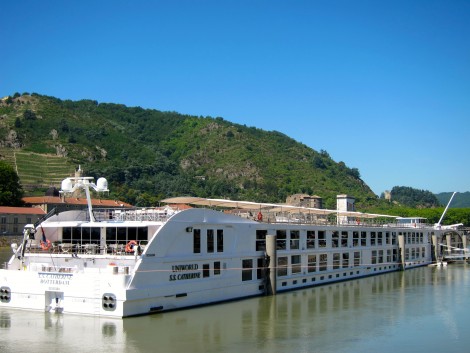 Not a nautical term, S.S. in front of Catherine stands for "Super Ship." The letters could also mean "Sensational" and "Sumptuous," as everything about the river cruise ship is spectacular, including the itinerary, the decor, the food, and the general sweet sybaritic style of just being aboard.
The 159-passenger Catherine joined Uniworld's fleet in 2014 to cruise on the Rhône and Saône Rivers in France. Most river cruise ships traveling the Rhône and Saône follow similar itineraries, and most are similar-size vessels built with widths to move through locks and heights to fit under bridges. But the S. S. Catherine is the fairest of them all, distinguishing herself with both lavish decor and luscious cuisine.
If laid end to end the amount of Murano glass decorating the Catherine would stretch 6.21 miles.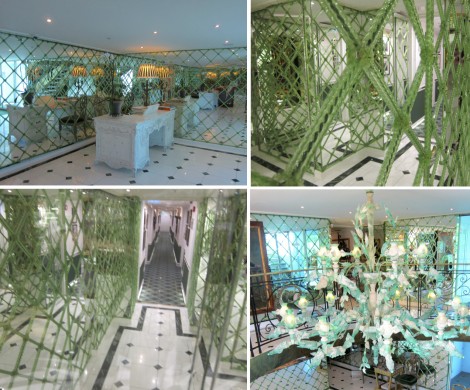 Framed art (mostly purchased at auction houses) fills hallways.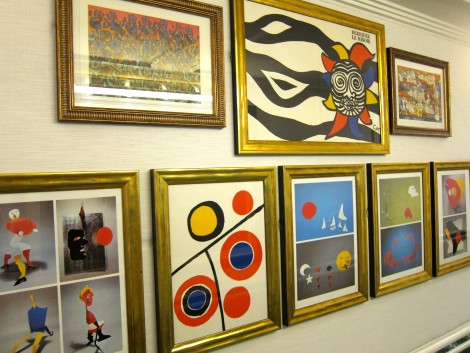 And stunning commissioned pieces, such as a white porcelain mural backing the reception desk, a wildly colorful glass and porcelain jungle scene framing the swimming pool, and a life-size glass horse sitting on the main landing, enrich public areas.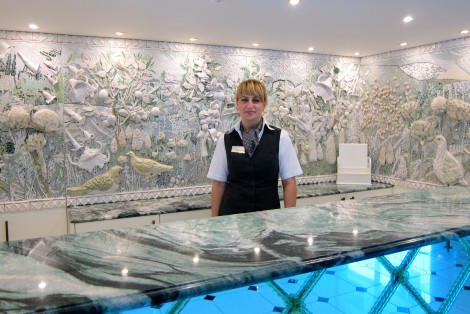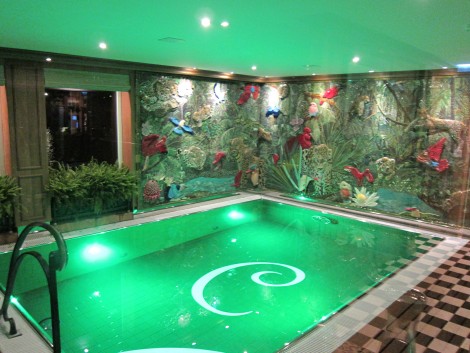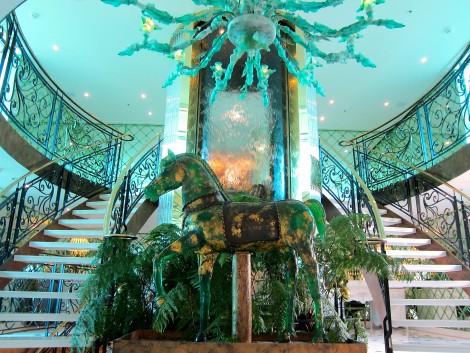 In addition to an assortment of lounges, bars, and dining areas, the Catherine sports a sun deck, laundry area, spa, fitness center, and boutique.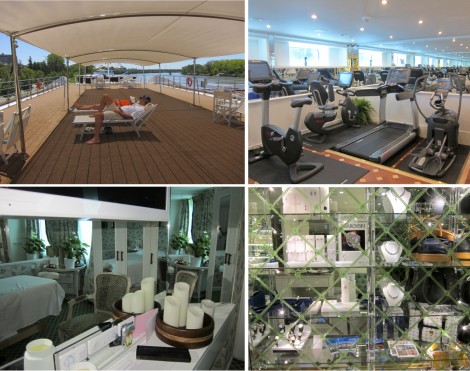 The 74 guest rooms and six suites spread over each of the three main decks and offer assorted amenities according to category (determined by location, size and configuration), but even cabins in the least-expensive category are decked out with rich fabrics, Savoir of England beds, flat-screen TVs and marble bathrooms complete with L'Occitane en Provence products.
And if setting was not enough glory, the Catherine's food equals her decor. Chefs prepare a dazzling array of familiar international foods intermixed with local specialties for both breakfast and lunch buffets and lean to classic French-accented dishes for the more formally served dinners.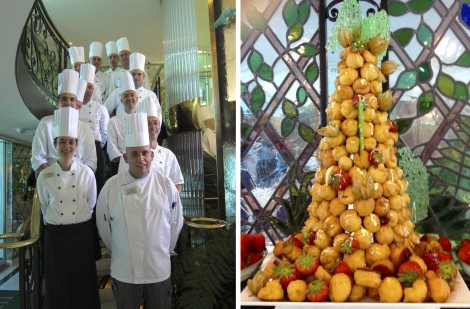 Between meals, guests can raid the two large containers filled with the most delectable cookies that always grace the Leopard Bar's counter top.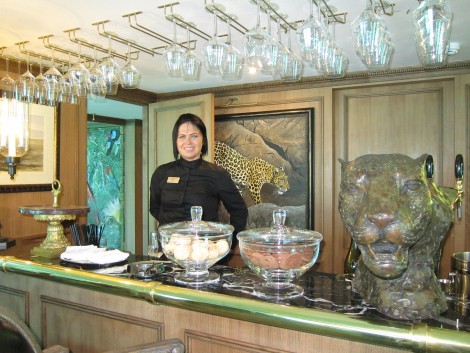 Wine matches the food, and the ship could be viewed as a luscious laboratory for sampling delights of the region, often only available locally.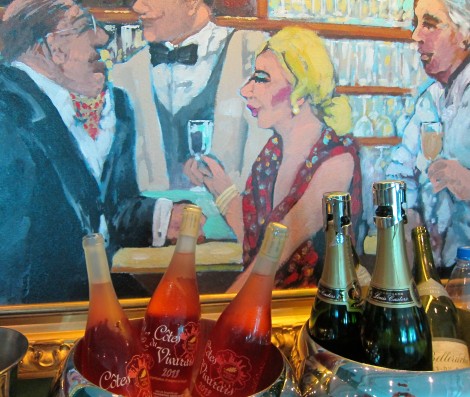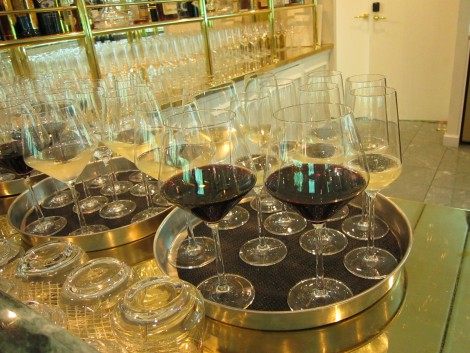 The Catherine's eight day/seven night cruise titled "Burgundy & Provence" stops almost daily for sight-seeing excursions,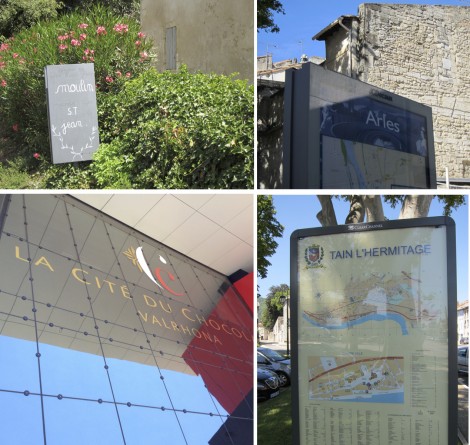 but the spirit that elevates Catherine's cruises to a luxurious art form is best captured by sitting onboard, watching the changing scenery as the ship glides through French landscapes celebrated by painters and poets, oenophiles and gourmets.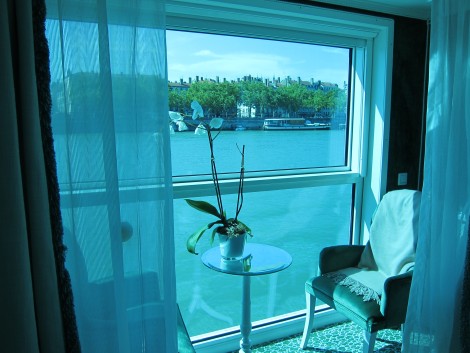 Yes, indeed for a superb gift filled with joie de vivre, one couldn't do better than giving a trip on the S. S. Catherine. On the other hand, if you are making a list and checking it twice, and want to give something simply homemade and nice, go for the Catherine's double chocolate chip cookies:
DOUBLE CHOCOLATE CHIP COOKIES Á LA the S.S. CATHERINE
Yield: 5-1/2 dozen.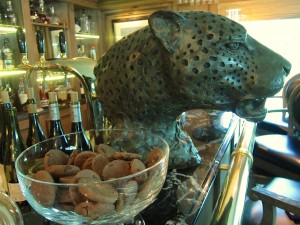 4 cups all-purpose flour
1/4 cup unsweetened cocoa powder
1 teaspoon salt
2 cups butter, softened
2 cups confectioner's sugar
4 teaspoons vanilla
2 cups semi-sweet chocolate chips
Heat oven to 350°F.
Sift together flour, cocoa and salt.
Cream butter with confectioner's sugar and vanilla until light. Slowly beat in flour mixture and chocolate chips. Dough will be very stiff (use your hands to knead dough together, if necessary).
Roll dough into balls about 1 inch in diameter. Put balls on ungreased baking sheet. Press each ball with your finger tips to flatten to about 1/2 inch.
Place baking sheets in the center of the 350°F preheat oven and bake until cookies are slightly browned around the edges, 12 to 15 minutes.
Transfer hot cookies to a rack and let cool completely.