Chef Quincy Johnson brings magic to Robies's on 8th, a casual, classy restaurant/lounge tucked into the Magnolia Hotel St. Louis.
The Magnolia enjoys a heritage famous for hospitality and food. Originally open in 1925 as the Mayfair Hotel, the property housed Missouri's first five-star restaurant and boasted a registry of famous guests, including several U.S. presidents and celebrities such as Irving Berlin and Cary Grant.
It was the Mayfair that initiated the world-wide practice of hotels putting chocolates on pillows. Seems that in the early 1950s, the married Cary Grant requested the Mayfair to leave a path of chocolate candies in his suite, marking the destination for a secret lover soon to arrive. The candy trail started in Grant's sitting room, ran across the bedroom, up over the bed and ended with a single chocolate on the pillow. The Mayfair's manager was so turned on by the gesture, that he began imbedding a pillow chocolate in the hotel's turndown service–a practice copied by other properties around the world.

Listed on the National Register of Historic Places, the hotel passed through several owners and renovations before opening as the Magnolia in 2014.
The Magnolia's décor sports original sparkling chandeliers and treasured stained glass windows, with new renovations adding a lobby "game room," and sleek reception area.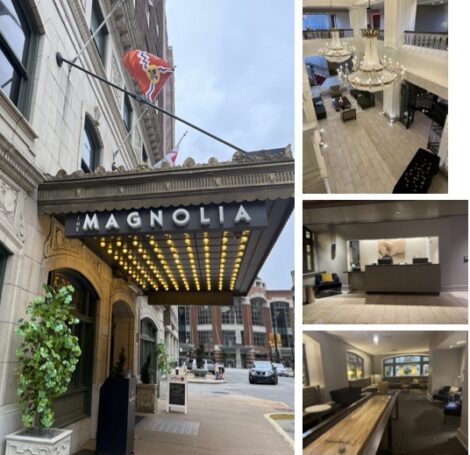 But true gem of the property is Robie's, the hotel's dining area that includes an attractive bar with live music (perfect for happy hours); cosy lounge seating, candle-soft lighting, well-spaced tables and food made by jewel in the hotel's crown Chef Quincy Johnson.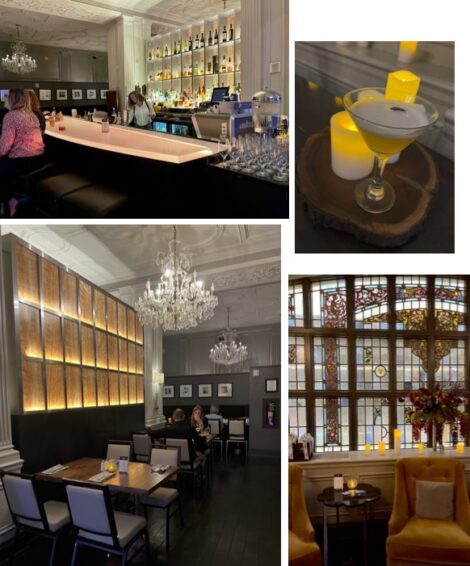 Quincy's describes Robie's menu as classical American with unique twists. The fare rest on popular appetizers, entrees, salads and sandwiches, but the twists elevate the well-loved to new levels.
For example, Quincy adds Nutella to his version of St. Louis' iconic dessert, gooey butter cake, to create a rich as sin, soft as silk, cheesy, caramelly, extravagant delight worthy of adoration.
QUINCY'S NUTELLA GOOEY BUTTER CAKE
Yield: 16 to 20  pieces depending how the cake is cut
For crust: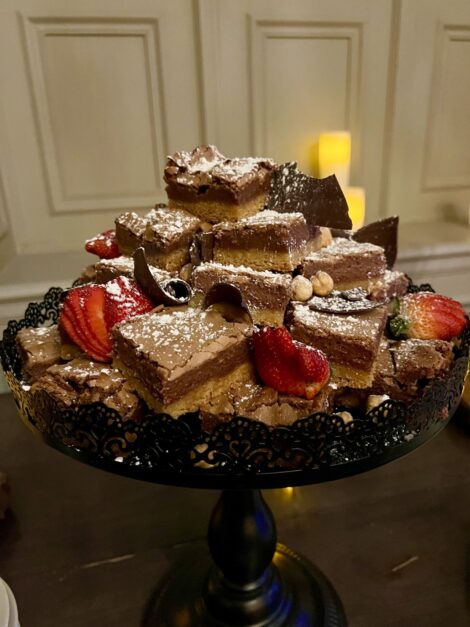 Shortening to grease pan
1 box (18.25 ounces) yellow cake mix (see NOTE)
1 egg
8 tablespoons butter, melted
For filling:
8 ounces cream cheese, softened
4 ounces Nutella
2 eggs
1 box (16 ounces) powdered sugar
1 teaspoon vanilla
8 tablespoons butter, melted
For garnish (if desired):
Toasted hazelnuts
Fresh strawberries
Chocolate shavings
Preheat oven to 350°F. Lightly grease a 13 X 9-inch baking pan.
Make crust: put cake mix, egg and butter in a medium size bowl and beat with electric mixer until well blended. Pat mixture over the bottom of the prepared pan.
Make filling: Put cream cheese, Nutella, eggs, sugar, vanilla, and melted butter in a medium-size mixing bowl. Beat with electric mixer on low speed until ingredients are well blended. Turn speed to medium and beat until mixture is a custard-like consistency.
Spread filling over crust. Bake in the preheated 350°F oven 40 to 45 minutes, until cake is "set" with center still a little gooey. Do not overbake.
Cool at room temperature and refrigerate until chilled enough to cut. Garnish as desired.
NOTE: To save money, many cake mixes have reduced their box size to 15.25 ounces. We suggest that if you can't find an 18.25-ounce box of yellow cake mix that you buy two smaller boxes and add 6 tablespoons of mix from one box to the other 15.25-ounce box to make 18.25 ounces of mix.
For more information about the Magnolia St. Louis, click HERE.
For more information about Robie's, click HERE.
For more about gooey butter cake and St. Louis click HERE.