By now you probably know about City Winery, an urban winery, restaurant, performance venue and private event space. The first facility opened in New York City in 2008. Today there are City Winerys in Chicago, Nashville, Atlanta, Boston, Washington DC, Philadelphia, the Hudson valley, and, the newest, St. Louis (opened 2023 in City Foundry STL).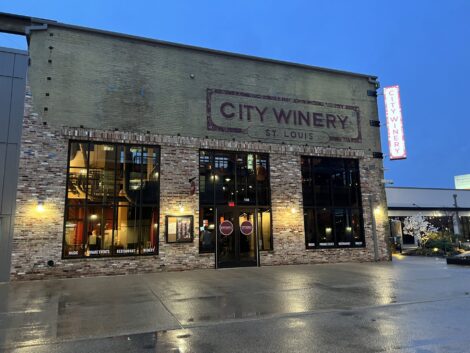 Chris Graziose joined City Winery's team as executive chef in 2021. He said the job fits as he shares a passion forfood, music, and wine.
Working from a home base in Long Island, Chris oversees each facility's food, which he describes as modern American with a wine component. His is no easy job. Chris not only designs menus and creates recipes for each establishment, but also trains and works with local chefs, who add their own specialties to menus.
Ever generous, Chris shared the recipes for a burrata dish we sampled at the St. Louis City Winery. This extravagant and utterly delicious concoction consist of a mound of soft and melt-in-the mouth burrata placed on a smear of cranberry cabernet relish and cilantro pesto. It's topped with slivers of roasted fennel, a touch of orange zest, and a sprig of dill. City Winery serves this whole beautiful bundle with a thick slice of toasted sourdough, but other breads, crackers and even a fork will do for getting this work of art into your mouth.
Chris's recipes follow, with some adaptations. We cut the recipe from restaurant proportions to home-cook size. The results should be enough to plate four large servings of burrata. Be aware that the cranberry cabernet relish is so thick, sticky and sweet that it should be called a jam, so we changed its name.
Here you go:
CRANBERRY JAM (AKA RELISH)
Yield: 2 cups.
1-1/2 teaspoon blended oil (or use vegetable oil of your choice)
1clove garlic, minced
4 ounces (about 1 cup) dried cranberries
1/2 cup sugar
1/2 cup red wine
6 tablespoons red wine vinegar
About 3/4 cup cranberry sauce
1 teaspoon vanilla
1/2 teaspoon nutmeg
Put oil in a medium saucepan and set over medium-low heat. When oil is hot add garlic, reduce heat and cook garlic for a few moments until it is soft, but not brown. Add cranberries and stir well. Add sugar and stir well. Cook, stirring often, until mixture starts to get sticky and sugar starts to caramelize. Add wine and vinegar and stir well. Add cranberry sauce, vanilla, and nutmeg. Bring to a simmer. Gently simmer mixture, stirring very often, until liquid is reduced and mixture is a jam consistency, about 1 hour.
Cool and refrigerate in a covered container.
CILANTRO PESTO
Yield: About ½ cup.
1 big bunch cilantro, coarsely chopped leaves and tender stems
1/4 cup slivered or chopped skinned almonds
1/2 cup extra virgin olive oil
1 tablespoon fresh lime juice
Salt
Pepper
Put cilantro and almonds in the jar of a blender or food processor and puree until mixture is well-blended and forms a paste. With blender on high, slowly drizzle in oil to form an emulsion. Add lime juice. Mix well. Add salt and pepper to taste.
Refrigerate in a covered container until ready to use.
ROASTED FENNEL
Yield: About ¾ cup.
1 large fennel bulb
Salt
Pepper
About 1 tablespoon extra virgin olive oil
Preheat oven to 350°F.
Julienne fennel and put in a mixing bowl. Sprinkle fennel with salt, pepper, and olive oil. Toss well to distribute all ingredients. Spread fennel on a baking sheet and bake in at 325°F until golden brown, 20 to 40 minutes.
Cool before using.
Serve with:
Wine and music.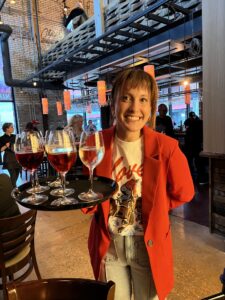 Music by Steven Woolley
For more information about City Winery click HERE and HERE.
For more about Steven Woolley click HERE.