Baseball fans headed to St. Louis will strike out if they devote 24/7 to baseball alone. Although baseball is the city's heart and soul—it is not its total being. America's quintessential baseball city sports a series of other world-class, major-league attractions and even visitors who put baseball first and foremost can score the most from a city visit by including short stops at any or all of the following.
ST LOUIS HIGH FIVES
The majestic Eero Saarinen designed, steel clad Gateway Arch serves not only as an icon of the city, but also a monument to westward expansion. Rising 630 feet, the Arch claims the title of the tallest national monument in the United States. Visitors can ride a tram to the top for views of downtown, the Mississippi River and well into Illinois.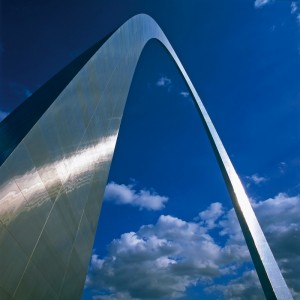 St. Louis has more free attractions than any city outside of the Nation's capital—and many of the attractions are found in the glorious 1,371-acre Forest Park.
Acclaimed as one of the world's most beautiful city parks, Forest Park contains the St. Louis Zoo, History Museum, Science Center and Art Museum. In addition, the park enchants the active visitor and lover of the great outdoors with a series of walking and biking paths, golf courses, gardens, nature sites, water features and lovely landscapes.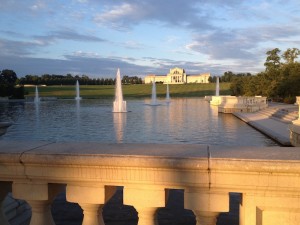 Perhaps the only garden missing from this 79-acre, mid-city oasis is the original Garden of Eden—as every other type garden is represented. Founded in 1859 and considered the United State's oldest botanical garden in continuous operation, this National Historic Landmark keeps adding to the magic. Today visitors can stroll through such earthly delights as a Japanese Garden, Children's Garden, Ottoman Garden and garden for the blind. In addition, a slew of special-interest gardens and displays, including those devoted to herbs, roses and orchids add to the pleasure.
What has to be the world's most weird, wacky and joyfully wonderful intuitions wearing the name "museum, " the City Museum, offers a playground of recycled items guaranteed to delight children of all ages as well as adults who can free the wild inner child within.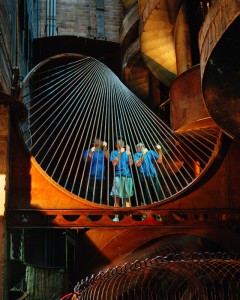 Dating from 1914, the city's "new" cathedral holds one of the largest, most heavenly collection of mosaic art in the world. Trust us, the mosaics are glory-be awesome and not to be missed.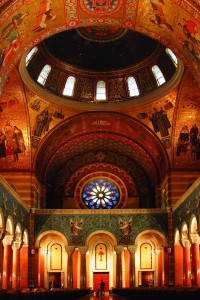 And while in St. Louis, be sure to sample the city's triple plays: TOASTED RAVIOLI, TED DREWS FROZEN CUSTARD and GOOEY BUTTER CAKE. No need to say more. See any one of these items on a restaurant menu, order it. Not on a menu, seek it out.
Most restaurants and bars serve the ravioli. Supermarkets and drug stores stock basic vanilla Ted Drewes, but you'll have to join the crowds lining up at the stand (6727 Chippewa) to order famed concretes and sundaes.  As to gooey butter cake, some restaurants, some supermarkets and most bakeries sell versions, but the best is found on home plates when make like this:
GOOEY BUTTER CAKE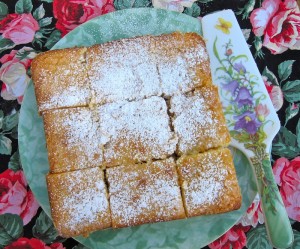 Yield: one 9-inch cake.
Crust:
Shortening to grease cake pan
1 cup flour
3 tablespoons sugar
6 tablespoons butter
Filling:
1-1/4 cups sugar
3/4 cup butter, softened
1 egg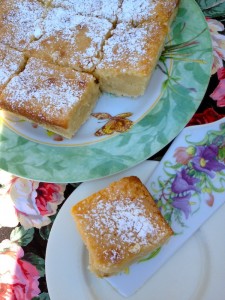 1 cup flour
2/3 cup undiluted evaporated milk
1/4 cup light corn syrup
1 teaspoon vanilla
Powdered sugar
Heat oven to 350°F degrees. Grease a 9-by-9-by-2-inch pan.
Make crust: Mix flour and sugar in a small bowl. Cut butter into pieces and distribute over top of flour mixture. With fingers, work butter into flour until mixture resembles fine crumbs and starts to hold together.
Pat dough over the bottom and partially up the sides of the greased pan.
Make filling: In a large bowl, with an electric beater, beat sugar with butter until light and fluffy. Add egg and beat until well blended. Alternately add flour and milk to mixture, adding a little at a time and beating after each addition. Add corn syrup and vanilla and beat on medium speed until blended.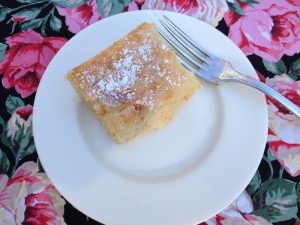 Pour filling into crust-lined pan.  Place pan in preheated 350°F degree oven and bake until cake's top is slightly browned and center is almost, but not quite set, 25 to 35 minutes. (Don't overcook.)
Set pan on a rack and let cake cool.  Sprinkle with powdered sugar before cutting and serving.