Today is my birthday.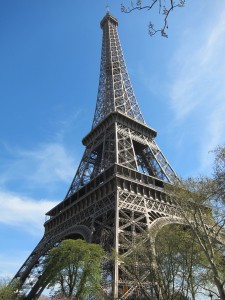 I wish I were in Paris.
More precisely, I wish I were in Paris staying at the Mandarin Oriental Paris—a celebration hotel if ever there was one.
Unlike other Paris five stars, which can be elegant to the point of stuffy, the Mandarin creates an atmosphere of luxury gift wrapped with carefree glamour and high-style fun.
The soirée starts at the entrance of the beautifully restored 1930s Art Deco building as roses line the walkway, sending guests to the front door through a corridor of fragrance and pastel loveliness.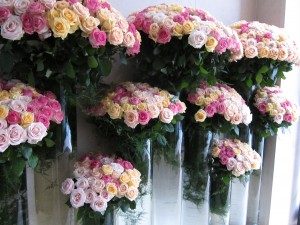 As is the custom, once inside, guests are greeted by name (no doubt scored by the bellmen who whisk away luggage at the curb) and invited to take a seat in the lobby, where chairs and lounge are party dressed in dark velvet with confetti-color accessories. A figure in circles hangs overhead; I am told the sculpture represents "suspending fragile liberty from a thread," but to me, it's a trapeze artist about to spin cartwheels in excitement of my arrival.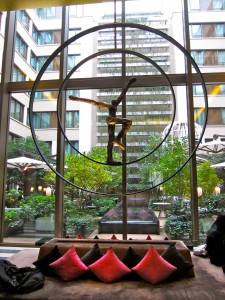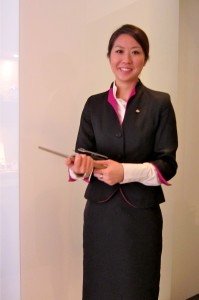 One of the hotel's 350 staff members, looking superb in tailored business suits, will check me in from my lobby seat and then walk me to one of the 99 guest rooms or 39 sweet suites, where cake, roses and bubbling bubbly await my arrival like sparkling guests at a surprise party.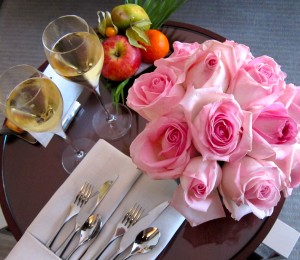 What to do first? Should I check out the subterranean spa pool, one of the largest in Paris, graced with private cabanas—or should I check into the spa, one of the largest in Paris, graced with rich and fragrant Guerlaine products?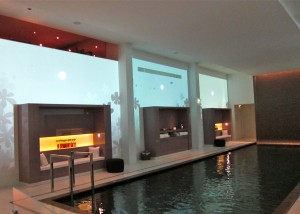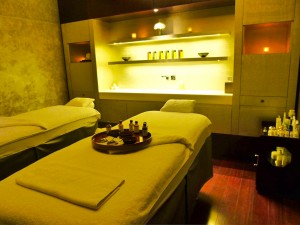 While I'm wiling away the early hours of my new age, I will send my husband to shop for a birthday present. Located at 251 Rue Saint-Honoré, in the 1st Arrondissement, one of Paris' most fashionable neighborhoods, the Mandarin Oriental Paris is barely a Chanel's whiff away from the city's finest shops and boutiques. He won't have far to go to find a cornucopia of glory gifts.
Talk about glory—for déjeuner we'll head to Camélia, the hotel's restaurant named for the flowers in the garden lining the sunny side of the room. We'll claim a table near the "central cooking counter" so that I can oooh and ahhh at the oh là là dishes carried past. We'll order a foie gras terrine plus a citrus lentil salad with salmon and smoked eel to start—and quite a bit more to follow.

After luncheon, we'll rest in the hotel's interior garden where horizontal and vertical greenery, flowering plants and discreet water features add Eden elements of tranquility and peace.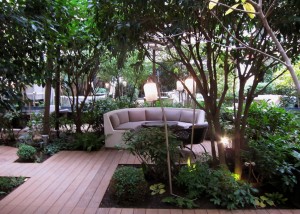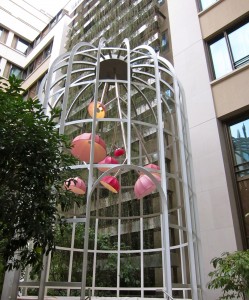 La Table du Jardin, a dining table topped by a cage-like structure, sits in a corner of the courtyard garden like a weird and wonderful hat on Mother Nature at a garden party. This could be the hotel's best celebratory table as it even floats pink balloons overhead…no. wait…my mistake, it's a balloon-like light fixture—but festive nevertheless. 
Before heading to our guestroom's big beautiful bed (dressed by Frette) for some sybaritic napping—we will stop at Cake Shop, the hotel's pâtisserie, where we buy jewel box bites of pleasure for sybaritic snacking.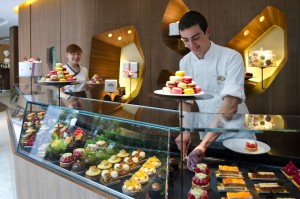 Let me tell you a little about the art, décor and design motifs that repeat throughout the Mandarin Oriental Paris. Butterflies flit here, there and everywhere—embroidered on pillows, projected on walls, embedded in sculpture, woven into carpets and printed and painted on furnishings and wall coverings.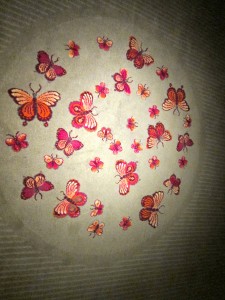 Blooms, fresh and man-made, add pizzazz throughout the hotel. Roses cluster not only in guest rooms, but also in public areas on coffee tables, service counters and floor displays. White camellias grow in the garden and hundreds of man made origami look alikes create a fairytale cover for select walls.
Suggestive of a prelude to pleasure, and relegated to bedrooms, reproduced and enlarged images of Man Ray's "The Kiss," enhance alcoves and headboards.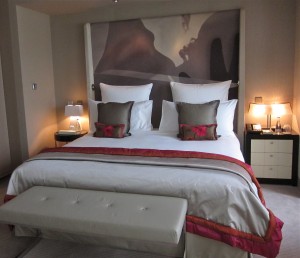 Butterflies, flowers and kisses—the Mandarin Oriental Paris epitomizes joie de vivre. And while on the subject of la belle vie, notice the bathtub big enough for two. Notice the Diptyque toiletries. Notice the flat screen TV and remote control on the bath side table. Notice the fluffy Frette bathrobe waiting.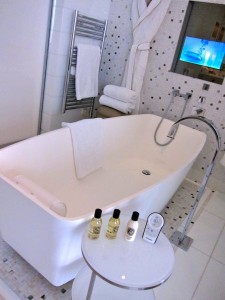 The Mandarin Oriental's Bar 8 adds it's own brand of glimmer, shimmer and shine to the City of Lights. Lalique crystals set into dark wood walls glitter like tiny stars. A Murano-glass chandelier radiates like moonbeams. And enough of the specialty drinks made at the nine-ton block of marble forming the one-piece bar, give guests the inner glow of sparklers on a birthday cake.

The Mandarin Oriental Paris had me at the rose packed entrance. Public and guest room decor just added to the magic, but frankly, the dramatically designed white on white restaurant Sur Mesure, staged to spotlight the molecular gastronomy infused with Asian serenity dishes of superstar chef Thierry Marx, is THE pièce de résistance of celebratory dining.

As it would be difficult to pick a more perfect party venue, I am blowing out my birthday candles and wishing that next year at this time, I will say, "It's my birthday. I am in Paris, staying at the Mandarin Oriental Paris…