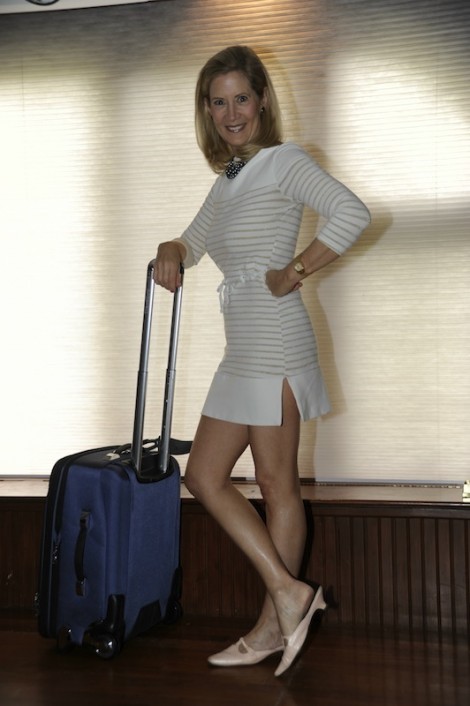 Debbi Karpowicz Kickham knows all about the good and beautiful life. As a travel journalist she crisscrosses the globe writing about fabulous places for top-drawer publications.
Debbi racks up more credits than most accomplished women, but not content to rest on her list of achievements, she keeps adding to the mix. For example, she founded Maxima Marketing , a full service boutique marketing/public relations firm where she serves a number of special clients, by writing everything from news releases to newsletters and blog posts. She is also the co-author of a bestselling business book,
"Off the Wall Marketing Ideas."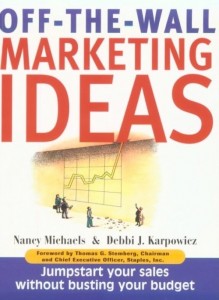 Her newest book, "The Globetrotter's Get-Gorgeous Guide: Diet and Beauty Secrets of Travel and Beauty Pros, Traveling Executives and Celebrity Traveler," not only revels the secret tips of the rich and famous, but also names products to help the traveler zero in on the best of the best.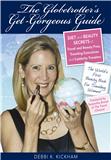 Debbi claims her "Gorgeous Globetrotter" book is the ultimate beauty book for traveling women. Sweet Leisure thinks men would also benefit from her tips and advice as illustrated in the tips she wrote for Sweet Leisure (read on).
Eight  "Off-The-Radar" Tips For Air Travel Success
By Debbi K. Kickham
For some people, travel is a four-letter word. But if you plan ahead—and go armed with my insider advice (culled from my 30 years as a professional travel journalist)—you can make your bon voyage even better. This way, you can look and feel first-class fabulous – even if you travel in coach. Ready for takeoff? Tote these in your carry-on.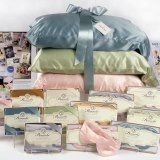 1. Satin or Silk Pillowcase and Eye Shades
Why silk?  Because silk is softer on your skin and hair than cotton, and doesn't cause creases and wrinkles. Bring your own pillow on the plane, and top it with a silk  — or even a satin –pillowcase. Don't forget eyeshades, which are ideal for keeping out the light and getting a great nap when you're up in the air.
2. Earplugs
Drown out your noisy seatmate with earplugs or noise-reducing headphones too. 
3.  Scented Towelettes
Many companies make scented towelettes that smell divine—they're usually fragranced with real essential oils—and have a million-and-one uses.  Use the orange ones on the plane to disinfect your surroundings (including the tray table). Use the lavender type to tuck into your pillow at night, to induce sleep, or to relieve bug bites and remove makeup. And try the lemon variety as an aftershave on your legs, to clean your computer keyboard, or as a pick-me-up after exercising.
4. Flavored Water Packets
Your local supermarket has a wealth of flavored water packets which can add zing to that plain old bottled water you receive from the flight attendant.
5. Low-Fat Snacks
When I travel by plane, I always bring special snacks, so I never fall off the diet wagon. These include dried prunes, which at 20 calories per plum, are filled with antioxidants and potassium, and put a tiger in my tank. I also never leave on a trip without my preferred low-calorie snack and breakfast of champions – puffed rice, raisins, and powdered nonfat milk, packed in a clear plastic bag. Just add water for a great snack. Almonds, low fat cheese, and diet bread are also healthy choices (and after you land, provide more slimming options than the hotel minibar). If you're like me, when you travel you do not want to take a detour on the Road to Sveltesville!
6. Facial Moisturizer
Up at 35,000 feet, the air is not only stale – it is dry.  And if you don't do something about it, you'll disembark with a dry dermis. To obviate a parched complexion, bring moisturizer or skin serum, to apply – and reapply – to your face while in flight.
7. Products From www.minimus.biz
Most airports won't let you board with any liquids or gels that are larger than 3 fluid ounces.  The website www.minimus.biz offers a wealth of cosmetics and goodies from prestige brands in small sizes—everything from cosmetics to duct tape to packets of fat-free salad dressing—which you can take on board. This website is a one-stop travel wonder.
8. Lastly, here's one more thing that you should always travel with: a sense of humor. It doesn't cost a thing or weigh you down. It easily goes through customs, and it's your passport to the best trip ever!