This is not an advertisement. Or maybe it sort of is.
I just had a wonderful prime rib Sunday night supper at Flemings Steakhouse and Wine Bar in St. Louis—taking advantage of a summer promotion that offered three courses (plus a side dish rich enough to feed a family of four) for $29.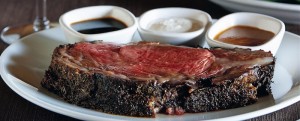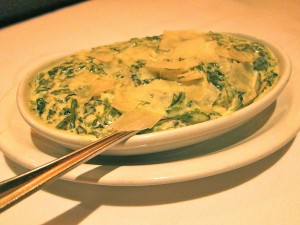 My chosen three courses (and side dish) included The Wedge salad, a slab of prime rib perfectly cooked to my taste, creamed spinach (the greens force-fed heavy cream and Parmesan) and a Walnut Turtle Pie (caramel, walnuts and chocolate, Sigh!). I also devoured the loaf of bread set on the table with two tubs of flavored butters and, unable to choose from the 100 wines by the glass offered, I drank a flight of flights.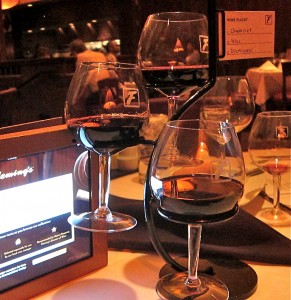 I don't usually fancy chain restaurants—-and, swallowing all the health reports, I avoid red meat and super caloric meals, but on this warm August evening, temptation grabbed me and set me on the path of glorious gluttony. Retribution came the next day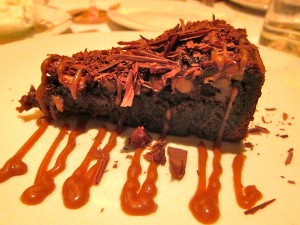 with my scale weighing in heaven high.
From now on, until I recover from the diet downfall, I'm sticking with salads.
Luckily I scored the recipe for Fleming's The Wedge.
I don't usually adore iceberg, but Flemings Wedge hid the lettuce under coat of mayonnaise, blue cheese, fried onions and bacon that was so lusty, luscious and satisfying, that I plan to wedge The Wedge into my new salad binge at every opportunity.
FLEMING'S WEDGE SALAD 
Yield: 1 serving.
1 large (6 to 7 ounces) wedge iceberg lettuce
About 1/3 cup Fleming's Blue Cheese Dressing (recipe follows)
2 tablespoons crisp fried onion (see note)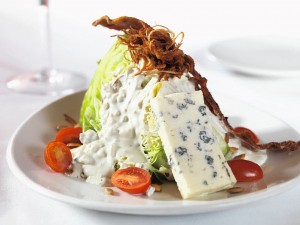 About 7 grape tomatoes, halved
1 tablespoon toasted pine nuts
1 thick strip bacon, cooked extra crispy
1 ounce block of blue cheese
Put lettuce wedge in the center of a serving plate.  Spoon dressing over center of wedge. Top with fried onion. Sprinkle tomato halves and pine nuts around base. Garnish with strip of bacon and blue cheese wedge. Serve immediately.
FLEMING'S BLUE CHEESE DRESSING
Yield: 2 to 2-1/2 cups
1 cup mayonnaise
1/2 cup buttermilk
5 tablespoons sour cream
1 tablespoon granulated sugar
1 tablespoon red wine vinegar
1 tablespoon olive oil
1-1/2 teaspoons lemon juice
1/4 teaspoon kosher salt
1/8 teaspoon freshly ground black pepper
1/2 pound blue cheese
Put all ingredients except cheese in the bowl of an electric mixer and beat on medium high speed until smooth and well blended, about 1 minute.
Crumble blue cheese and add to bowl, beat until cheese is distributed, but dressing is still chunky, about 1 seconds.
Refrigerate in a covered container until ready to use.
NOTE: To crisp fry onions: Remove peel from onion and cut in half, through ends. Put cut side down on cutting board and cut onion into slivers (about 1/32-inch thick.) Separate slivers. Deep fry slivers in 275°F vegetable oil until golden brown, about 2 minutes (don't burn). Spread onions (in one layer) on paper towels to drain, cool and crisp. One medium onion yields about 1/2 cup crisp fried onion.