It's a travelogue, a history book, a memoir of sorts. But most of all Judith McLoughlin's A Return to Ireland, A culinary journey from America to Ireland, is a cookbook filled with great recipes and alluring photos.
Judith's first book, The Shamrock and Peach,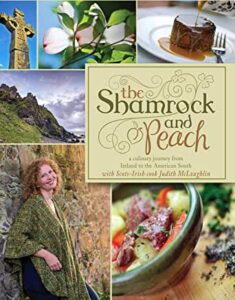 fulfilled her dream of telling "the Scots-Irish immigrant story through the language of really good food." Her new book continues the adventure and "dives into the culture of Ireland expressed through some amazing food."
Food is the essences of A Return to Ireland. Food is the joy. Food is the medium that Judith uses to convey her love of the Celtic lands and people who inhabit them. But food isn't all that is special about this  256-page book. Personal stories fill each chapter. Interesting information accompanies each recipe. And gorgeous photography, taken by Judith's high-school-sweetheart husband, Gary McLoughlin, spark the appetite and stimulate wanderlust.
Judith and Gary moved to the United States in 1996. The couple landed in Boston and eventually moved to Atlanta for Gary's work. Judith started catering and teaching about Irish cooking. Before long, she earned the reputation of the unofficial ambassador/cheerleader of all things Irish.
She says that growing up on a farm in the County Armagh in Northern Ireland gave her great appreciate for fresh Irish ingredients and Scot-Irish cooking handed down from generation to generation.
Today Judith fuses Irish cooking with that of the deep South, and not only writes cookbooks, but also caters, teaches cooking classes and leads fun food tours to Ireland—sometimes adding Scotland to the itinerary.
Because all of the recipes in A Return to Ireland look so appealing, I couldn't choose one to print for you. Top contenders were the Southern-influenced Soft Sweet Potato Biscuits with Country Ham Spread; and the purely Irish, Aged Gaelic Steaks with an Irish Whiskey Cream Sauce; and the updated classic fusion dish, White Chocolate Buttermilk Waffle Berry Pudding. Undecided, I left it up to Judith. She chose Colcannon Potatoes, one of the national dishes spotlighting her chapter on "Legendary Ireland Dishes."Glad she did. Colcannon is remarkably easy and inexpensive to make and goes with all sorts of entrees—Irish or not. Here straight from the pages of her book
COLCANNON POTATOES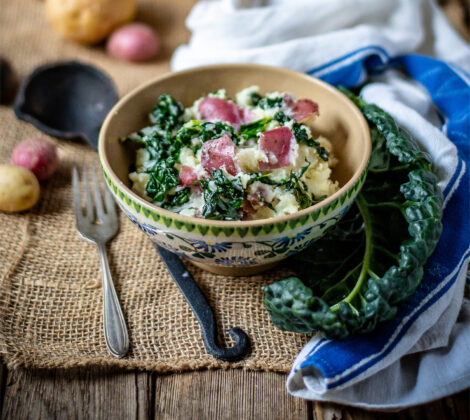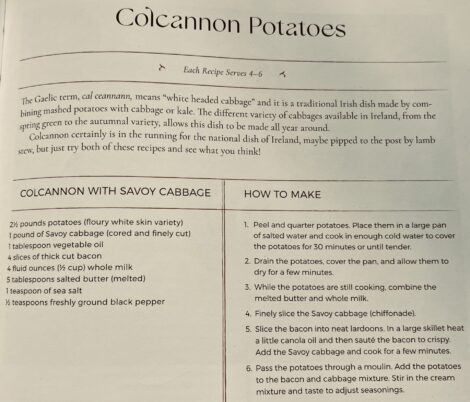 For more about Judith McLoughlin click HERE.
To buy A Return to Ireland, see ShamrockandPeach.com
or click HERE to visit Amazon.com (where I might get a commission.)

To know more about Irish Whiskey, click HERE.

For sleeping around Ireland in great style, click HERE.

And to top off the whole shebang, click HERE.