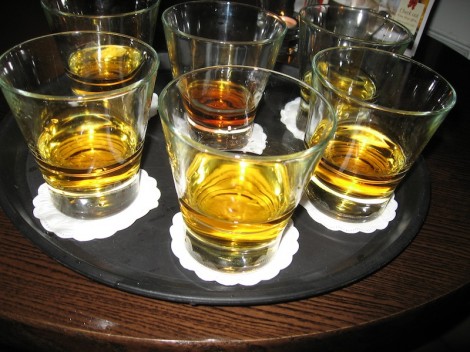 Not everyone came with a pure palate.  In fact, some had…well…how should I say it…some had been training all afternoon, so approached the whiskey tasting fueled by not only enthusiasm, but also experience.
We met in the lounge of the No. 1 Pery Square Hotel in Limerick–ten American writers and four Irishmen (one of them a woman). Our Irish tour guide, the witty Will Collins, took lead position, admitting that he had never led a formal tasting, but not to worry—he knew a great deal about the pleasure of drinking.
Things got off to a reasonable start. A waitress brought in a tray of whiskey filled glasses. Will picked up one glass, added a splash of water and spouted his first bit of whiskey wisdom: "A touch of water releases the flavor of whiskey."
As he passed the first glass, which we were all expected to share, Will offered his second bit of wisdom: "Sip don't gulp. Take a tiny taste into your mouth; let the liquid linger on your tongue before swallowing."
"What do you think?" he asked about the first passed glass. When someone reported that the sip left a bit of a burn in the mouth, a delighted Will said, "that's because it's a scotch from Scotland," after which the formality of the tasting went to hell, killed by jokes at the Scots' expense, which segued into stories, limericks and songs interspersed with more tasting and tidbits of real information.
I tried to keep up, but my own personal Guinness infused afternoon was taking a toll, so I only managed to capture glimmers about Irish whiskey—which may or may not be true and may or may not be recorded properly. According to Will (direct quotes in parenthesis):
The Irish spell whiskey with an "e" ("unlike the Scots who are so thrifty they drop the "e" in their spelling").
Americans do it once, the Scots twice and the Irish three times—I think they were talking distilling—or sex—or both…
Law requires Irish whiskey to be aged a minimum of three years—although most are aged much longer.
The age of a whiskey is determined by the time between distillation and bottling, as whiskies do not mature in bottles.
The type of wood for the casks and amount of charring of that wood greatly impacts flavor.
Will's favorite Whiskeys are Middleton Rare ("possibly our finest!"), Jameson 17 ("smooth and gentle") and Cooley, a lesser-known whiskey from the Cooley peninsula ("this one has a little zing to it, but yet it's smooth as silk").
What did participants said about the tasting the morning after?
All agreed that any whiskey tasting is a good whiskey tasting and that enjoying Irish whiskies in the land of their birth is no less than a peak experience. See for yourself with help from the following: www.discoverireland.com and www.aerlingus.com.