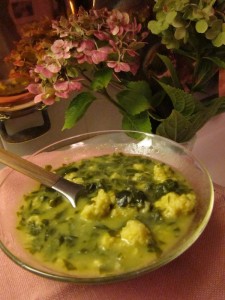 It's an ugly duckling soup—dreary looking in the bowl, turning absolutely gorgeous in the mouth. Dora Kemol, a famed St. Louis Italian restaurateur gave me the recipe back in the 60s. Mrs. Kemol called the soup Paparot. I call it spinach and polenta-dumpling soup. You'll call it wonderful. Trust me.
PAPAROT
(Spinach and Polenta-Dumpling Soup)
1 pound fresh spinach
4 tablespoons butter
2 cloves garlic, peeled and finely chopped
2 tablespoons plus 1/4 cup all-purpose flour, divided
6 cups chicken broth
2 eggs
1/2 cup polenta (or yellow corn meal)
1/2 cup grated parmesan cheese
Salt to taste
Wash spinach and remove coarse stems. Finely chop spinach and set aside.
Melt butter in a large saucepan and set over medium heat. When butter is hot, add garlic and sauté until fragrant, but not brown, about 1 minute. Sprinkle 2 tablespoon flour over butter and stir until well blended. Cook flour/butter mixture 1 minute, stirring constantly. Gradually stir in broth. Add spinach and stir lightly. Simmer mixture 20 minutes, stirring occasionally.
Make dumplings: Beat eggs in medium mixing bowl until whites and yolks are well blended. Add polenta, cheese and remaining 1/4 cup flour and mix well. Break off pea-size pieces of dumpling mixture and drop into simmering soup. When all dumplings have been added, stir soup gently. Simmer until dumplings are set, about 10 minutes. Season as desired with salt.
Yield: 6 to 8  servings.