This has to be the pie that inspired the phrase "easy as pie." All you do is measure and mix five ingredients, pour into a pie shell and bake. What more can I say ?  Oh, yes, it's wonderful!
EASY AS PIE PIE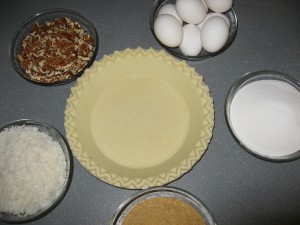 (a.k.a. SAWDUST PIE)
8 egg whites
1-1/2 cups chopped pecans
1-1/2 cups flaked coconut
1-1/2 cups granulated sugar
1-1/2 cups graham cracker crumbs
1 nine-inch unbaked pie shell
Put egg whites in a mixing bowl and beat lightly with a fork. Add pecans, coconut, sugar and graham cracker crumbs. Mix well. Pour mixture into pie shell. Place in preheated 350 degree oven and bake until just set, about 30 minutes (do not over bake). Cool before serving. Serves 6 to 8. That's it. Easy as pie!