Belgium is a country of great diversity. Tucked between Holland and France, this small (about the size of Maryland) strip of a country sports a population of over 10 million and hosts not only the European Union, but also NATO and a slew of the world's top international trade and finance companies. As one would expect from a multicultural, multilingual cosmopolitan center, Belgium's food is terrific, but rather than being super-sophisticated and sorta snooty, specialties are unpretentious and loaded with mass appeal (as well as calories). Gotta love it!  Travelers headed to Belgium should not miss the top favorite foods, which include:
CHOCOLATE okay, so I misled about the sophisticated bit; Belgian chocolates are as divine as they come (expensive too). Belgium makes over 172,000 tons of chocolate each year and sells hand-made goodies in over 2000 shops.
Christian Vanderkerken, Le Chocolatier Manon, makes quintessential Belgian chocolates
WAFFLES—some like them plain, other prefer waffels topped with sweet sauces, fresh fruits and whipped cream. My advice—try them all.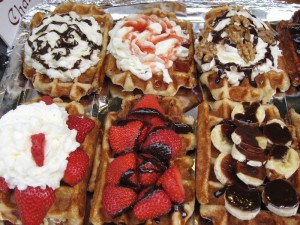 MUSSELS—so very very good, especially consumed with frites and beer. MMmmmmmm!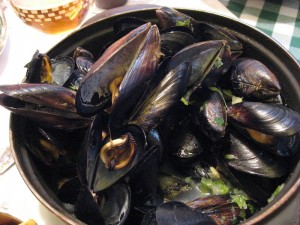 BEER—over 450 varieties, many served in their own uniquely designed glasses.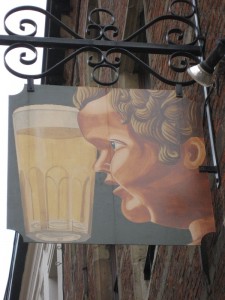 SPECULOOS/SPECULAAS— crunchy, buttery, spice cookies, often sold shaped as, or stamped with, images and figures. Try to find speculass ice cream—a vanilla treat enhanced with the cookie.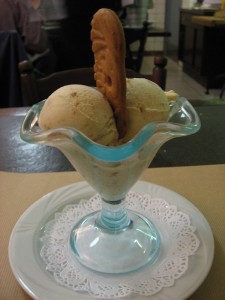 FRITES—served with mayonnaise—yes, rich, thick, calorie-packed mayonnaise.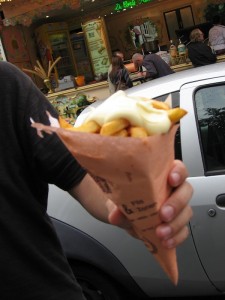 The secret to making extra crispy fries such as those served in Belgium is to fry the potatoes twice. Here's how to make Belgian frites at home:
CRISPY FRIES
1.     Peel potatoes and cut into sticks.
2.    Soak potatoes in ice water for about 30 minutes, drain and pat really dry with paper towels.
3.    Heat oil in a deep-fryer to 325 degrees, add potatoes and fry until cooked through, but not brown. Drain well and put in a paper bag or a paper-towel lined dish –close top of bag or cover dish with foil. At this point you can let the potatoes sit for 10 minutes to several hours before the next frying.
4.    Before serving, heat oil in the deep fryer to 365 to 375 degrees, add cooked potatoes and fry until they are nicely browned. Drain well on paper towels, sprinkle with salt and serve immediately.
For more information on Belgium, see: www.visitbelgium.com