Jane Helms' recipe for caramel corn could be the best recipe for popcorn on the planet. But I'm jumping ahead. Before we get to the recipe, let me tell you about her son Matt Helms and his new popping hot business venture.
Matt says that he loves family, farming, business, agriculture and marketing—passions that he ties together in one crackerjack product—popcorn.
He grew up on a 2200-acre farm located in Southwest Illinois that has been in his family since 1852. With farming in his heart, Matt studied plant sciences at the University of Illinois and earn an MBA from Washington University in St. Louis. For the past 22 years he has worked in different capacities for various companies, mostly related to some form of agriculture. But it's Matt's sideline blockbuster business that fascinates Sweet Leisure.
Along with his wife, Michelle, and daughter, Lily Ella, Matt decided to create a product and start a business that people relate to fun and nice experiences.
The farm was there. The trio needed a crop beloved by the multitudes. Popcorn was it.

Popcorn differs from other corn grown to feed people and livestock. And different types of popcorn serve different functions. To find the best, 13-year-old Lily Ella conducted family taste tests, coming up with an heirloom favorite. Matt contacted popcorn breeders for seed. And the Helmses planted the first two acres of their popcorn in 2017.
With the first harvest, the business burst into being, heated up and expanded greatly.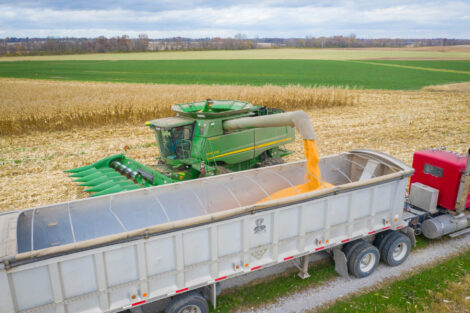 They named the company for daughter Lily Ella and Matt's grandfather Ollie. Michelle designed the packaging and helped develop a line of popcorn products (seasonings, equipment, oils).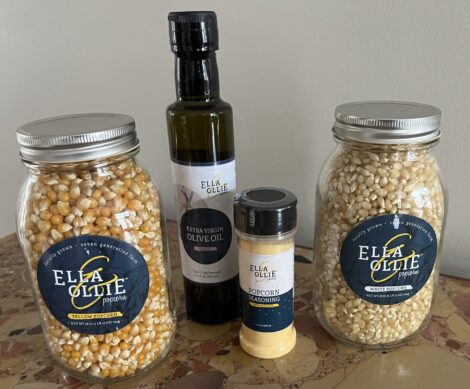 Today, the Helms devote 100 acres of the farm to popcorn and Ollie & Ellie popcorn kernels are popping up in St. Louis gourmet popcorn stores, movie theatres, kettle corn stands, specialty shops and grocery stores. One can also order Ella &Ollie popcorn and assorted related items online.
Matt said that he loves a good handful of popcorn with a touch of seasoning salt,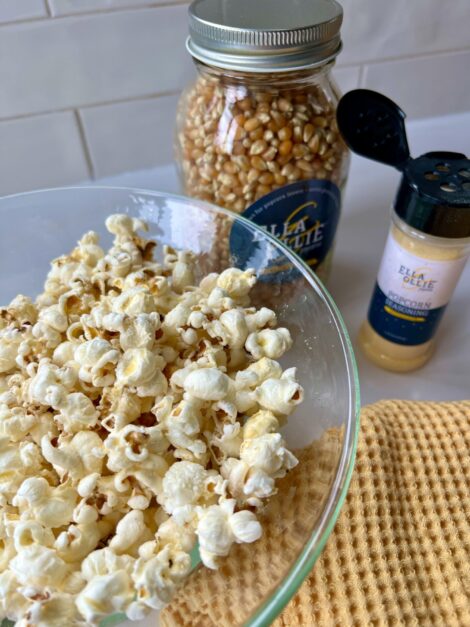 but that his mom's caramel corn remains his favorite dressed-up version, which brings us to the best recipe ever!  Jane's caramel corn makes a great gift—that is if you can bear to share. Please forgive the phrase stealing, but when it comes to Jane's caramel corn confection, the whole is better than the sum of its buttery sugary parts; it makes hungry where it most satisfies; and too much is never enough!
JANE HELMS' CARAMEL CORN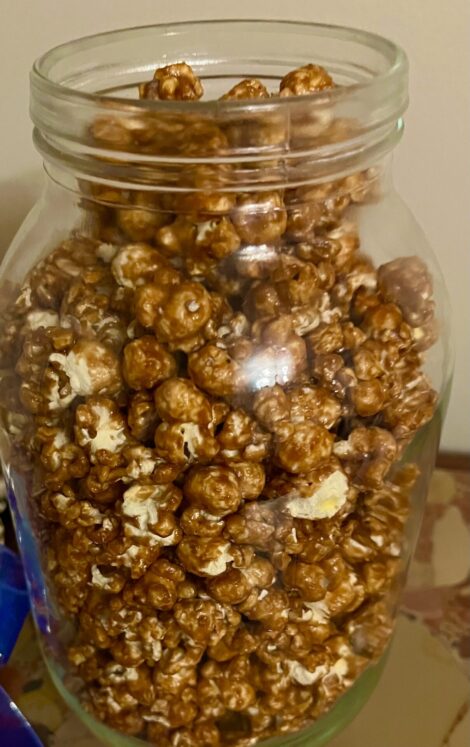 Yield: About 5 cups caramel corn.
5 quarts freshly popped Ella & Ollie popcorn
½ pound butter
2 packed cups light brown sugar
½ cup white corn syrup
1 teaspoon salt
1 teaspoon vanilla
1 teaspoon baking soda
Put popped corn in a large roasting pan and set aside. Preheat oven to 250°F.
Melt butter in a large saucepan. Stir in sugar and corn syrup and bring to a boil over medium/high heat, stirring constantly. Stir and boil for 1 minute, then continue to boil syrup gently for 4 minutes without stirring. (The syrup gets really hot; be careful.)
Remove pan from heat and stir in salt, vanilla and baking soda (the syrup will foam). Pour the hot syrup over the popped corn and stir to coat kernels with syrup.
Set roasting pan in preheated oven and bake 40 minutes, stirring about every 10 minutes.
Spread popcorn on wax paper and cool before packaging.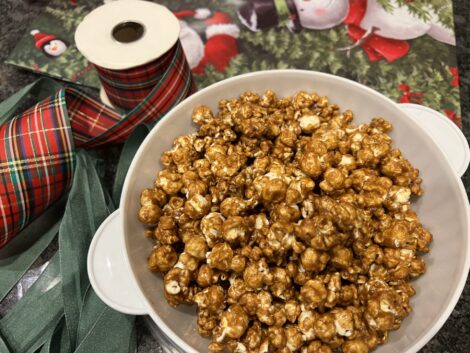 For more information, click HERE.
To order online, click HERE.
For more wonderful recipes to give as gifts, click HERE.