It's as if Santa, on a pre-Christmas reconnaissance, took a rest stop at Union Station in St. Louis, wandered into The Train Shed and decided to stay. The popular restaurant renamed "The Sleigh Shed" for the holiday season, brims with spirit. Lights twinkle. Ornaments shine.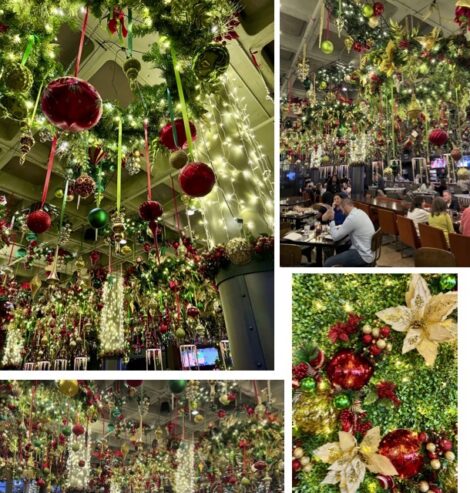 The staff radiates good will towards man and woman and kids and each other.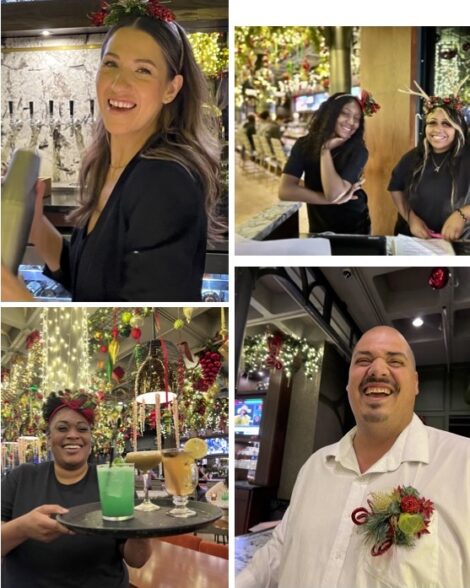 Everything feels merry and bright, especially after one or two of the specialty cocktails the pop-up bar designed for yuletide indulging.
The Sleigh Shed comes gift-wrapped in good tidings.
The restaurant/bar opens at 11 a.m. for lunch and dinner, closing at 9 p.m. on Sunday through Thursdays and 10 p.m. on Friday and Saturday.

The menu lists a wide array of family favorites. (The Stuffed Tots bring joy to the world.)

Union station offers a winter wonderland of attractions including a magical ride on the St. Louis Wheel.
But it's The Sleigh Shed's cocktails that so capture the spirt of the holidays. Here is just a sampling of delights that prove 'Tis the season to be jolly."
SANTA'S RED-EYE FIX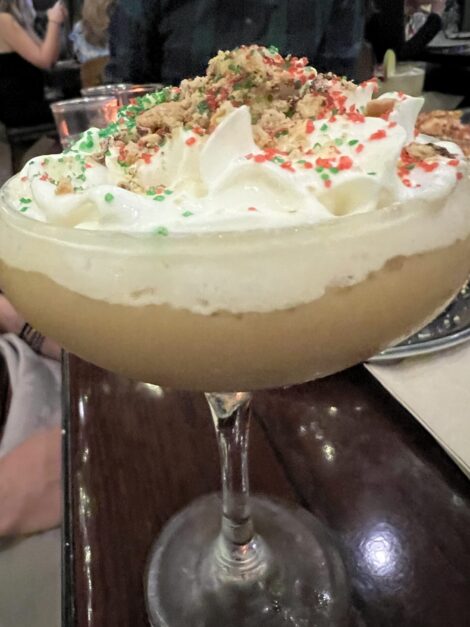 You might leave cookies and milk for Santa on Christmas Eve, but we are quite sure he would much prefer the ingredients popped into this Sleigh Shed cocktail.
Yield: 1 serving.
1 ounce chilled espresso
1-1/2 ounces 1220 Vodka
¾ ounce Vanille de Madagascar (vanilla liqueur)
½ ounce simple syrup
½ ounce heavy cream
Whipped cream
Crumbled chocolate chip cookies
Red and green sprinkles.
Put espresso, vodka, vanilla liqueur, syrup and cream in a cocktail shaker. Add ice and shake shaker vigorously for 10 seconds.
Strain into a frosted martini glass.
Top with whipped cream, cookie crumbles and sprinkles
RESTING GRINCH FACE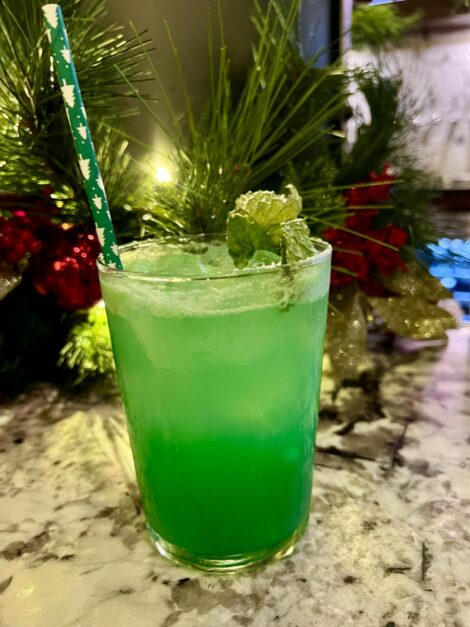 You can tell why the Grinch steals Christmas cocktail excitement with this Sleigh Shed special.
Yield: 1 serving.
6 mint leaves
½ ounce toasted coconut syrup
2-1/4 ounces Cachaça
½ ounce lime juice
¼ ounce Ruby Red Grapefruit Cordial
2 drops green food color
Club soda
Sprig of fresh mint
Powdered sugar
Put mint leaves and syrup in a cocktail shaker and muddle lightly.  Add Cachaça, lime juice, grapefruit cordial and food color. Add ice to shaker and lightly shake. Double strain into a highball glass over fresh ice. Add club soda to top. Garnish with mint sprig. Sprinkle sugar over top. Add green straw.
SLEIGH ALL DAY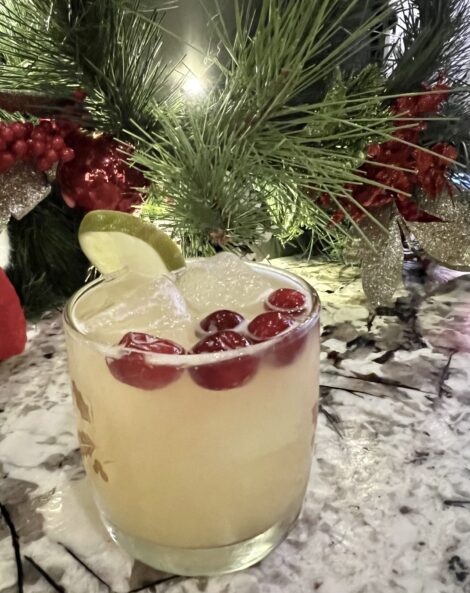 Comfort and joy comes with this Sleigh Shed treat.
Yield: 1 serving.
1-1/2 ounces Cava de Oro Blanco Tequila
¾ ounce Bruzco Mezcal
½ ounce Suau Orange Brandy
¾ ounce pineapple gum syrup
¾ ounce lime juice
5 drops Cocktail Punk Peach Bitters
Cranberries
Lime wheel
Put tequila, mezcal, brandy, syrup, juice and bitters in a cocktail shaker. Add ice and shake vigorously for 15 seconds. Strain and pour over ice in a double old-fashioned glass. Garnish with cranberries and lime wheel.
HOCOCOA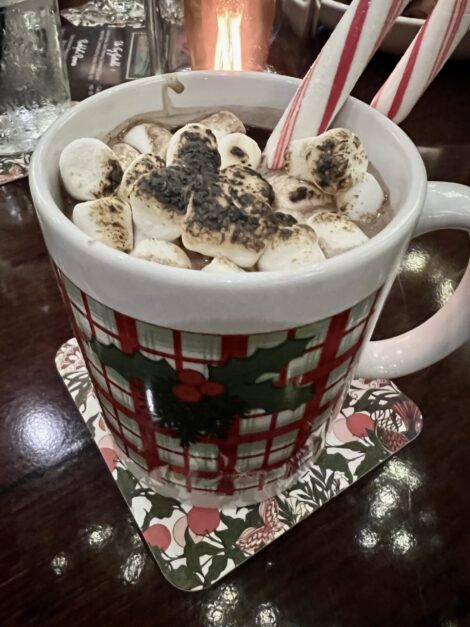 Here's a bit of naughty fun for adults that transforms, when you leave out the booze, into something super nice for the kiddies.
Yield: 1 serving.
4 ounces hot chocolate
1 ounce Dora Double Chocolate Liqueur
1 ounce Peppermint Bark Cream Liqueur
Toasted mini marshmallows
Peppermint stick
Pour hot chocolate into a mug. Add the liqueurs and stir gently. Top with marshmallows and add a peppermint stick.
To help ensure a happy holiday season DO NOT DRINK AND DRIVE—but keep in mind that if you do overindulge you could check into the historic St. Louis Union Station Hotel without even leaving the Union Station complex.
Click HERE for more information on the Train Shed/Sleigh Shed.
Click HERE For more information on Union Station's hotel and attractions.