Tourists like Ireland for many reasons, including Guinness, golf and the easy-going graciousness of the Irish people. I fancy the country for the accommodations and love to sleep around, savoring townhouses, boutique hotels, country manors and ancient castles. I choose properties that not only sport distinguishing factors reflecting Ireland's rich history and/or culture, but also combine extraordinary comfort with unpretentious charm. The following are favorite Emerald Isle gems:
Upper Merrion Street, Dublin
One would think that 142 well-appointed guest rooms, a spa, swimming pool and fitness center, an impressive collection of Irish art, two gardens, two bars, two restaurants (one being Restaurant Patrick Guilbaud, a Michelin two-star), and a superb location in Dublin's city center would be enough attributes for The Merrion Hotel, but the list doesn't begin to touch the magic of this five-star property.
Dublin is considered one of the greatest Georgian cities in the world, and The Merrion occupies four historic, red-brick Georgian townhouses dating from 1760.  Scrupulous restoration preserves the original integrity of the architecture and  thoughtful interior design helps the hotel radiate an ambiance of gracious gentility. Peat fires burn in drawing room fireplaces. Antique chandeliers light public rooms. Period furniture provides a feel of ancestral hominess.

But don't think the Merrion is wedded to the past. The lovely guest rooms include every contemporary toy, such as Wi-Fi, flat screen TVs and multi-line phones with voicemail.
Located opposite from Government buildings and an easy stroll to restaurants, pubs, shopping, museums and a variety of sight seeing options, The Merrion provides top quality stays along with an opportunity to experience the best of Georgian Dublin from the inside out.
Wallpark, Dublin Road, Galway
Perhaps the "g" in the g Hotel stands for Galway, the city of its location, or maybe g refers to glamour, glitz and glitter, as this five-star boutique hotel bursts with pumped-up, star-studded style.
Design director Philip Treacy used supermodels and Hollywood divas for inspiration when creating the hotel. Public rooms positively compete with each other for the spotlight. The hotel's three themed lounges—the Grand Salon, a silver-and-cream-movie-fantasy set with a 300 dazzling mirrored balls hanging from the ceiling; the Pink Salon, a flamboyant maze of hot-flash pink and dizzy black and white stripes; and the darkly dramatic Blue Lounge—totter on the edge of kitsch. And the hotel's restaurant is only a tad more subdued with mood lighting bringing out the brilliance of white tablecloths and neon-colored seating.

Restraint and tranquility comes into play with the spa (an oasis of quiet) and the 101 guest rooms.
Designed with a nod to Mother Nature,  guest rooms feature restful neutral colors and seaside decorations as well as all of the amenities expected in a five-star hotel.
Located overlooking Lough Atalia, and a few minutes drive from Galway's city center, the hotel offers easy access to both city and regional exploring. The g will please those seeking both extravagant style and extraordinary substance.
Cong
Co Mayo
"A man's home is his castle," is not just a proverb.  In Ireland it's a literal truth. Ashford Castle has been a home since the Anglo-Norman de Burgo family laid the first stones in 1228. Other notables calling Ashford home include Sir Benjamin Lee Guinness, who bought the estate in 1852, adding acreage, roads and two large Victoria-styled extensions and his son, Lord Ardilaun, who took over in 1868, extending the gardens and rebuilding the entire west wing.
The property has traded owners happily ever after, being turned into a luxury hotel in 1939 as it remains to this day (under several different owners).
As one would expect from a true-blue castle, public rooms are no less than baronial, reflecting centuries of care in the rich oak paneling, period pieces and treasured objects de art.

In addition to the 83 classy and classic guest rooms , which differ greatly in size and configuration, Ashford Castle hosts a variety of places to eat and drink, a business center, a boutique and a health centre.
Bordered by Lough Corrib and the River Cong, and isolated on 350 acres filled with gardens, forests and glorious green land (where much of The Quiet Man was filmed), the grounds of Ashford Castle provide opportunity for a number of outdoor pursuits, including golf, fishing, archery, horse-back riding, clay-pigeon shooting and the darling of Medieval European nobles, falconry.
Navan, Co. Meath
Staying at Bellinter House is like staying with a quirky friend who owns a baronial country estate, employs a wonderful chef, and welcomes you to share the bounty.
The Palladian style-mansion, originally built in 1750, was renovated in 2004 and opened as a four-star spa hotel. Guest rooms fill various buildings over the rambling property and differ greatly as to size and décor, yet all contain plasma screen TV, WiFi, and an individually controlled "mood" lighting system.
By far the most fun and dramatic guests rooms are located in the Main House, as are the public rooms, which include the well-known Eden Restaurant (recipe follows), a bar, a games room and a library stocked not only

with books, but also wellingtons (boots) for guests to borrow when tramping through the countryside. Well-worn wood floors, retro lighting, vintage and hand-made furniture, and some odd decorating touches (cow motifs—go figure) add to the Main House's casual, lived-in character.
Bellinter House sits on the bank of river Boyne, in the lushly green parkland sweeps of County Meath and activities include hiking, biking, fishing, horseback riding, golf and sightseeing (important prehistoric sites as well as Trim castle, where Mel Gibson filmed Braveheart, are nearby).
BEEF AND GUINNESS STEW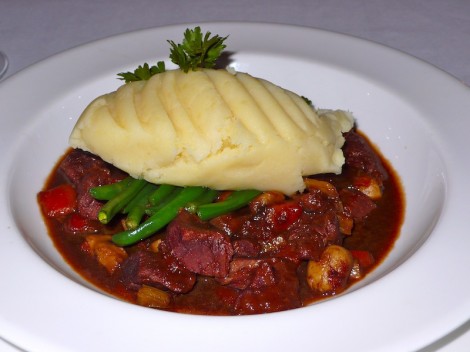 (Adapted from a recipe supplied by Eden Restaurant, Bellinter house.)
Yield: 4 to 6 servings.
About 2 pounds beef stew meat, cut into large chucks
4 cloves garlic, peeled and thinly sliced
1 teaspoon paprika
About 2 cups Guinness, divided
2 sprigs rosemary, divided
2 sprigs thyme, divided
Oil
1 large onion, peeled and cubed
3 carrots, peeled and cubed
3 stalks celery, cubed
About 4-1/4 cups jus (see note) or very rich flavorful beef stock
1-1/2 tablespoons butter
8 ounces mushrooms, halved or quartered
Cooked green beans
Mashed potatoes
Marinate beef for one or two days before making the stew.
TO MARINATE THE BEEF: Put beef in a glass bowl (or a plastic bag). Sprinkle garlic and paprika over beef and toss well. Add about 3/4 cup Guinness, one sprig thyme and one sprig rosemary; stir gently. Cover bowl or secure bag and refrigerate overnight or up to 2 days, adjusting ingredients occasionally, if necessary to redistribute marinade.
TO COOK
Preheat oven to 400°F.
Drain and discard marinade from beef. Dry beef with paper towels. Heat a little oil in a Dutch oven or large heavy ovenproof pan and brown beef cubes on all sides. Remove beef from pan and set aside.
Add onion, carrot and celery to pan and sauté until onion just begins to brown. Add jus to pan and stir. Add beef, remaining Guinness, rosemary and thyme. Stir gently. Bring liquid just to a boil.
Cover pan and place in a preheated 400°F oven until beef is very tender, 1 to 1-1/2 hours.
Meanwhile, heat butter in a skillet and sauté mushrooms until brown. Just before serving, add mushrooms to stew.
Serve stew in bowls, topped with green beans and mashed potatoes.
NOTE: Eden Restaurant makes jus by slowly simmering rich beef stock with red wine until the liquid is reduced significantly.  For this recipe you can simmer 2 quarts of rich flavorful beef stock with about 1 cup red wine until liquid is reduced to about 4 cups.