I don't want to talk about this too much; it might make the Gods jealous. On the other hand, the  whole  SiamJunk   experience is so wonderful that it deserves sharing.
Imagine being in Phuket (Southern Thailand), boarding a yacht equipped with six luxury en-suit cabins and an attentive staff that includes a gifted cook.
Perhaps you will head off to the clear waters of the Andaman Sea—or the Indian Ocean—or the Gulf of Thailand; whatever the itinerary, it will be tailored as you desire, as will your activities. You might ask to stop for swimming, diving, snorkeling, fishing, or beachcombing on a slew of virtually virginal tropical islands, or perhaps you prefer to lounge on one of the decks and soak up the sun and then chase the sunset, always surrounded by ever-changing, spectacular scenery.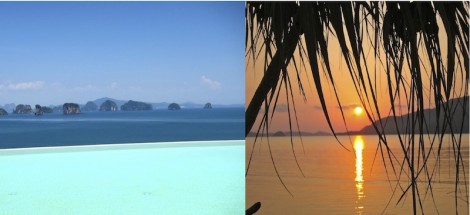 Too good to be true? No, indeed. The Siam Junk is yours for the charter.
Built in 2007, of Burmese teak and ironwood, The Siam Junk is designed to resemble the ancient sailing vessels used for centuries to carry goods between Thailand and Myanmar. The Junk's Asian decor reinforces the ships exotic exterior providing a perfect marriage of function and style. At 113-feet long and 23-feet wide, the Junk is large enough to accommodate 12 to 18 overnight guests or up to 60 day trippers in comfort—and it is small enough to squeeze into tight passages unavailable to larger ships.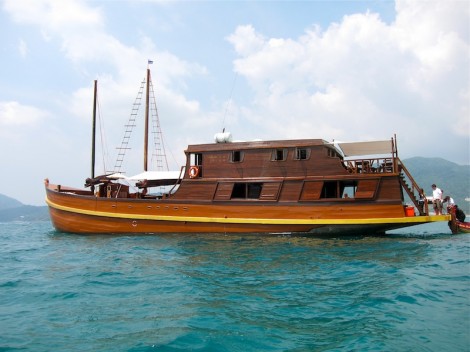 Charter The Siam Junk for the day, a week, a month or two—but once you taste the food, you will want to stay forever (that's a promise—see sample recipe below).
In addition to charters, The Junk offers a few set cruises, many designed for photography groups and all satisfying to food lovers.
Unique, delightful, relaxing, fun—oops, as I said, I really shouldn't talk about it too much.
THE SIAM JUNK'S
YELLOW CURRY WITH CHICKEN AND SQUASH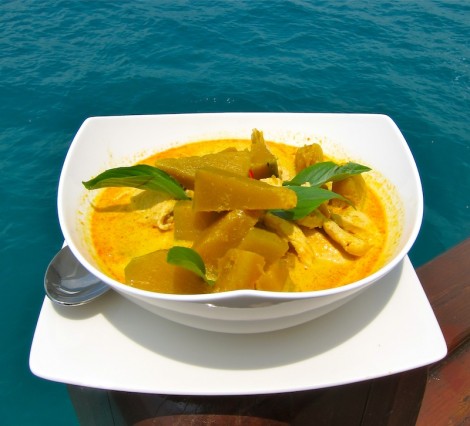 Yield 2 to 4 servings.
13 to 14 ounces coconut milk
2 tablespoons yellow Thai curry paste
10 ounces skinned, boned chicken breast, cut into bite-size pieces
10 ounces butternut, acorn or pumpkin squash flesh, cut into bite-size pieces
1 tablespoon or more sugar
1 tablespoon or more of good quality fish sauce
Thai basil or mint leaves, optional garnish
Put coconut milk in a heavy wok or frying pan, set wok over moderate heat and bring milk to a simmer.  Add the curry paste and stir well. Once the curry paste has been thoroughly incorporated, bring mixture back to the simmer. Add the chicken and squash and stir well.
Cover and simmer, stirring occasionally, until chicken is cooked through and squash is tender, about 30 minutes.
Add sugar and fish sauce until the taste is good to you.
Serve immediately garnished with basil or mint leaves if desired.