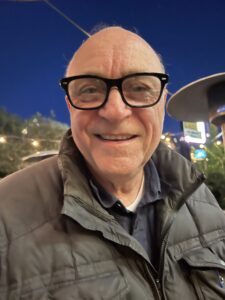 I'm crazy about Stephen Kalt. At least I love his L.A. restaurant, Spartina, especially at happy hour when the prices are discounted. Apparently, I'm not the one and only. Critics rave. Influencers gush. Stephen and his restaurants have been called the best by such prestigious publications as Esquire, Food & Wine, Travel + Leisure. He is an undeniable chef/restaurateur super-star who learned as he lived, trained with the best and danced to his own tune.
Born and bred in New York with Eastern European Jewish parents who expected him to be a doctor, Stephen studied chemistry in college, but segued from the physician path when traveling in Gatlinburg, Tennessee, on vacation with his brother. The brothers saw a pizza place for sale and bought it. One thing led to another. The pizza place grew to a chain, which eventually sold. Stephen moved back to New York, learned about fine dining by working for several famous restaurants and eventually became a consultant. In the mid 1990s Stephen opened his own restaurant, Spartina, in New York's Tribeca neighborhood.
Between the New York Spartina closing and the one I love in Los Angeles opening in 2015, Stephen developed and managed numerous food-related projects in Las Vegas, Atlantic City, and Beverly Hills.
Today he has hands in many enterprises, but it's Spartina on Melrose in L. A. that makes chic foodies swoon.
With polished concrete floors, wood-trimmed tables, industrial piping and open kitchen, the indoor dining space sends a casual, comfortable, contemporary L.A. vibe.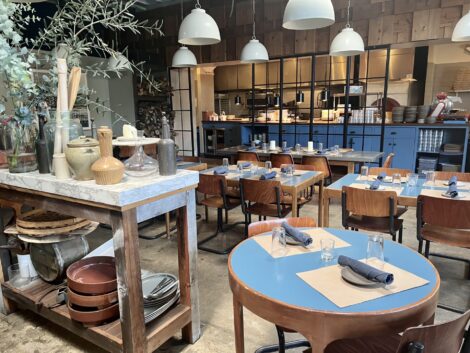 The patio, surrounded by potted plants and overhead string lights, feels romantic and private, despite being right on Melrose.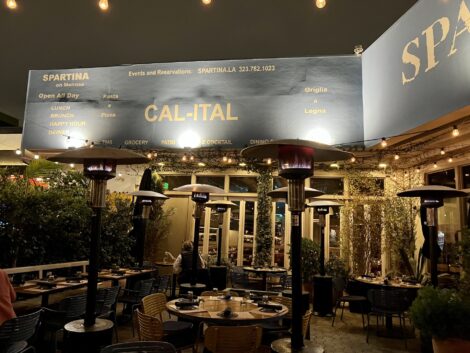 Spartina's menu runs to tasty combinations of creative Southern California, Mediterranean and market-driven seasonal specialties. Whereas unique dishes such as trenette with Spanish octopus, bone marrow, and Parmigiano send hearts aflutter, I'm hooked on some familiar favorites that Spartina makes extraordinary. Don't know why they are so special, but Spartina's French fries, fried chicken sandwich and bread pudding are unbeatable—at any restaurant–anywhere.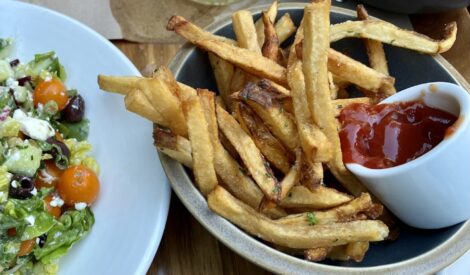 SPARTINA'S BLACKBERRY BREAD PUDDING
Yield: about 12 servings.
1 loaf artisan white bread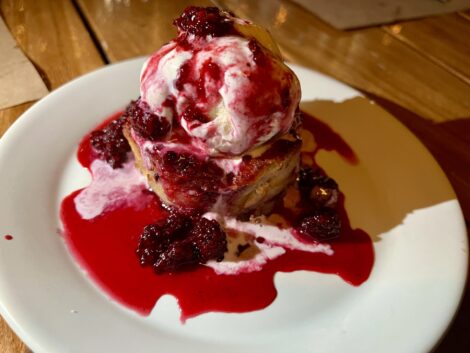 2-1/4 cups heavy cream
1-1/2 cups sugar, divided
5 eggs
4 pints blackberries, divided
Ice cream, optional
Preheat oven to 350°F.
Remove crust from bread and cut into 1-1/2 inch cubes. Place cubes in a large bowl.
Put cream and 1 cup sugar in a saucepan. Stir over low-moderate heat until sugar dissolves and mixture is warm (do not overheat).
Whisk eggs in a bowl until well blended, then whisk eggs with cream and sugar, incorporating completely.
Cut blackberries in half, crosswise.
Reserve 1/4 cup egg mixture. Toss cubed bread with half of the blackberries and remaining egg mixture. (Toss bread gently to combine ingredients, leaving cubes partially intact.)
Gently press wet bread mixture into a half sheet pan (don't compress mixture too much). Spoon remaining 1/4 cup egg mixture evenly over top of pudding.
Place half sheet pan into a deeper half hotel pan filled with 1-inch of water and place in oven. Bake uncovered until pudding is set, about 35 minutes.
Make sauce: Put remaining cut blackberries and remaining 1/2 cup sugar in a saucepan and set over medium heat. Stirring often, cook mixture until sugar is completely dissolved and the blackberries turn reddish and some break apart, about 5 minutes.  (Do not overcook or puree.)
Serve bread pudding with a scoop of ice cream and top with some sauce.
For more information about Spartina, click HERE.
Spartina, 7505 Melrose Ave., Los Angeles, CA