There are a number of reasons to vacation in Door County, Wisconsin. Consider:
2,000,000 people visit Door County per year, yet this peninsula, with Green Bay on the west and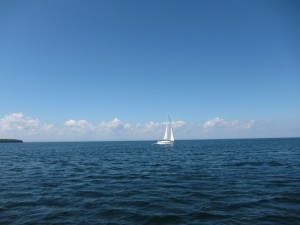 Lake Michigan to the east and north, remains gentle, peaceful, somewhat rural and very nature-focused.
20,000 or more acres of Door County are devoted to protected park and recreational areas, providing plentiful opportunity for outdoor fun.
300 miles of shoreline makes the cup runneth over with water sports and water-based activities.
70 miles-long, the Peninsula is easy to navigate by car.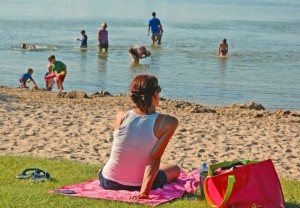 30 plus beaches delight visitors and locals alike; a few even welcome the canine crowd.
11 villages line the waterfront and each has its own personality as reflected in shops, galleries, restaurants, accommodation choices and fun venues to enjoy evening entertainments.
4 seasons bring many reasons to visit: spring for the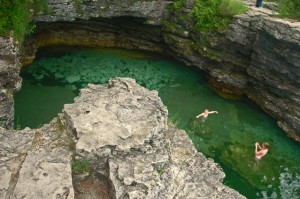 cherry blossoms; summer for mild temperatures and every kind of outdoor fun; fall to see gorgeous foliage; and winter for peace, quiet, ice fishing, snowshoeing and cross-country skiing.
And last but not-at-all least,
2 vacation necessities —bed and breakfast— shine  in Door County.
BED
LODGINGS AT PIONEER LANE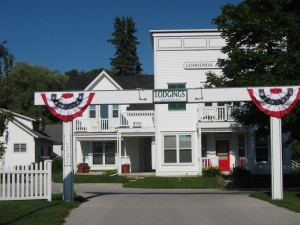 Location in the heart of Ephraim village, itself in the heart of Door County, accounts for some of the Lodgings at Pioneer Lane's draw. Ephraim makes a great base for exploring the Peninsula, and the charming white clapboard houses that hold the inn's seven rooms are a short walk from Ephraim's restaurants, shops and the shoreline (the most accessible shoreline in all of Door County).
But location isn't all. Owners Hugh and Alicia Mulliken structured their inn to be heavy on both style and user-friendly substance. Although each room is unique, most are luxuriously spacious and all are filled with comforts such as whirlpool tubs (big enough for two), air conditioning (but you probably won't need it as night air is so fresh and cooling), large closets, good beds with luxury linens (comfy to the max), TVs and free WiFi. Some rooms come with a fireplace (especially cozy in winter), while others sport a balcony or front porch area for summer lounging. Each room is individually decorated.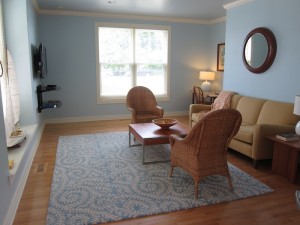 I stayed in the sleek and contemporary Sea Chest Room, which felt more like a small apartment than a hotel space, having a large living room and a kitchenette. Décor leaned to contemporary, with clean-cut lines and special design features that included lighting fixtures that are both form and function savvy and artist made wood furniture. Yacht-glossy wood floors, a blue and white color scheme and boat-related decorations supported the room's nautical theme.
Simple, sophisticated, spacious, comfortable, convenient, the Lodgings has it all. Well, maybe not all. The Mullikens don't serve breakfast—a plus in my book as I love  restaurant breakfasts and Door County had some winners to experience. Read on:
BREAKFAST
THE WHITE GULL INN RESTAURAN

T
Encouraged by Good Morning America's claims that the White Gull Inn Restaurant in Fish Creek serves one of the best breakfasts in all of America, I tried a bit of everything on the menu: omelettes, corned beef hash, buttermilk pancakes, Swedish limpa bread toast and cherry-studded coffee cake included.  Yes, I know I'm taking a chance on hell for the gluttony sin, but who cares in the quest to find the best-breakfast-title claimer, which turned out to be a divine Door County Cherry Stuffed French Toast.
This awesomely rich, but totally worth-the-calories French toast is loaded with cream cheese and local Montmorency cherries. Andy Coulson, White Gull Inn's innkeeper, gave me the following recipe. I didn't retest it for you (was afraid I might eat all six servings), but if the recipe replicates what was served, and I am sure it will, you are in for a bit of cherry heaven.
DOOR COUNTY CHERRY-STUFFED FRENCH TOAST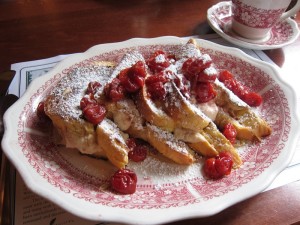 Yield: 6 servings
1 loaf unsliced egg bread
2 (8-ounce) packages cream cheese, room temperature
2 cups frozen tart Montmorency cherries, thawed and divided (see note)
3 eggs
1/2 cup milk
Oil for grilling
Cinnamon
Powdered sugar
Butter
Maple syrup
Trim ends from loaf and cut bread into six 1.5-inch thick slices. Make a cut three-quarters down the middle of each slice. (Bread will appear to have two separate slices, but will be joined together at bottom.) Set aside.
In a small bowl, mix together cream cheese and one cup of the cherries. Spread approximately 1/6 of the mixture into the pocket of each slice of bread.  Gently press slices together, evenly distributing filling.
In a separate bowl, beat eggs and milk together. Dip stuffed slices into egg mixture and coat all sides. Immediately place on a lightly oiled griddle (or in a frying pan) and sprinkle with cinnamon. Cook over medium heat until golden brown, turning to cook second side.
Remove cooked slices from griddle and place on a cutting board. Gently halve each piece diagonally, forming two triangles. Arrange two triangles on individual plates. Sprinkle with powdered sugar and remaining cherries.
Serve with butter and maple syrup.
Note: The White Gull Inn uses frozen Montmorency cherries, which they buy from Seaquist Orchards, the largest growers and processors of cherries in Wisconsin. Seaquist's owner Kristin Seaquist said if frozen cherries are not available, to use fresh or canned.  (Canned Montmorency cherries are available by mail order: click here).