Maria-Lluisa Albacar, the foreign relations manager for Turisme de Barcelona, is an avid foodie, so when she offered to take a bunch of food writers to show off some of her favorite Barcelona restaurants, I was first in line.
My favorite of Maria-Lluisa's favorite restaurants is Casa Leopoldo, a three-generation-owned oldie in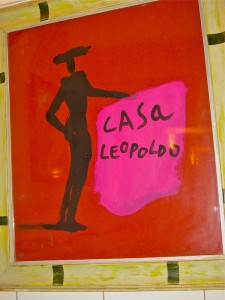 Barcelona's El Raval district. A leftover from when the neighborhood enjoyed more respect, Casa Leopoldo serves terrific traditional dishes in a setting enhanced by colorful tile walls, dark wood beam ceilings and numerous photographs of famous bullfighters who frequented the place.
As is the Spanish tradition, Maria-Lluisa ordered a generous number of her favorite dishes for us to try and my favorite of her favorites was a crusty, flavor-packed tomato bread that was placed on the table at the start of the meal.
According to Maria-Lluisa pa amb tomaquet (literally bread with tomato in Catalan) is not only one of the simplest Spanish dishes to make, but also one of the most beloved specialties in the whole of Catalonia. She said that sometimes locals top the bread with cheese, sausage or ham, but her favorite way to eat it is warm, crunchy and tasting like fresh-from-the-garden tomatoes—just as it was served at Casa Leopoldo.
CASA LEOPOLDO'S TOMATO BREAD
Cut a large round loaf of good rustic white bread, horizontally, into thick slices. Lightly toast the bread slices. While the slices are hot from the toasting, rub each with the cut side of a halved garlic clove. Halve one or two large, perfectly ripe tomatoes and press out the seeds. Rub the cut tomatoes over each bread slice. Drizzle a very good extra virgin olive oil over the bread and sprinkle with salt. Cut slices into serving size pieces and serve immediately.