Although Marion Busacker has lived in Stuttgart, Germany,  only three years, she knows the city inside and out. As the Stuttgart Tourist Office's press and public relations representative, it's her job to know what the city offers and to showcase the best of the best to the press.
She says that she worked as a journalist for a TV production company in Cologne for 13 years before switching jobs and that she decided to work in Stuttgart as she had visited many times and believes the city is well worth seeing and promoting.
She especially likes the Stuttgart restaurants, coffee houses, cafes, beer gardens and other pleasure places—and many for reasons that have to do with ambiance as well as food and drink.
Although picking favorites might not be politically correct for a tourist bureau ambassador, that didn't stop Marion from generously supplying a short list of her personal musts. In her own words (in English not her native German), Marion says she likes:
Kleiner Schloßplatz 1
70173 Stuttgart
Tel.: +49 (0) 711-280 44 41
This glass-enclosed restaurant is located on the top floor of the Kunstmuseum Stuttgart (Stuttgart Museum of Art), which is located at Stuttgart's most beautiful place: Palace Square. If you get a table at the window bank, the view of Palace Square and the hills in the background is served with your menu. Business people like the Cube for lunch and at noon the price is more moderate than in the evening. But in the evening when the sun goes down and the lights in the city are switched on the view is extraordinary. The restaurant serves very good international cuisine and has an extensive wine list. You can combine a visit to the museum, which holds the world's most important collection of the German artist Otto Dix, with lunch or dinner at the Cube. The museum is open from 10 a.m. until 6 p.m. on Tuesday through Sunday and from 10 a.m. until 9 p.m. on Wednesday. The Cube is open Monday to Sunday from 11:30 a.m. until midnight.
Löwenstraße 51
70597 Stuttgart (Degerloch)
Tel: +49 (0) 711-76 01 00
At this special restaurant, Eva and Rudolf Schmölz combine tradition and modernity. This is my favorite restaurant in Stuttgart. The food is fantastic and, although the restaurant is not inexpensive, in my opinion, it offers a very good value for the money. The restaurant is open on Monday from 6:30 p.m. until midnight and on Tuesday through Saturday from noon until 2 p.m. and then again at 6:30 p.m. until midnight. Closed on Sunday.
Trollingerstr. 4
70329 Stuttgart (Uhlbach)
Tel: +49 711-32 60 322
This cozy, Swabian restaurant is located in the vineyard surrounding Stuttgart-Uhlbach, next to the Viniculture Museum. My advice: Take the S1 (subway) to Untertürkheim. Walk the wine path, climb the Württemberg up to the Grabkapelle (burial chapel) and then walk through the vineyards down to the restaurant, which is located in a landmarked house built in 1690. Be sure to order a Viertele (a quarter) of local wine and sample the local food specialties, which include Maultaschen (a large ravioli-type pasta stuffed with all sorts of fillings), Käsespätzle (spatzle with cheese) and Zwiebelrostbraten (roasted beef with onions).  Weinstube Löwen is open from 11:30 a.m. until midnight each day except Wednesday when it is closed.
Leonhardstraße 5  70182 Stuttgart
Tel: +49 (0) 711-24 24 71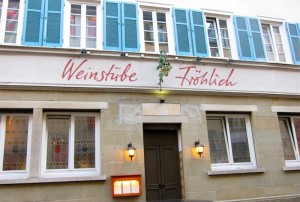 A popular historic wine tavern located in the red light district, but you don't have to fear to go there. The kitchen offers traditional Swabian food as well as creative dishes such as ostrich and chili crème brulée with chocolate. The wine list includes a wide range of local wines but also wine from Italy, France, Spain and South Africa.  This great favorite with locals is open daily from 5:30 p.m. until 12:30 a.m. and until 1 a.m. on Friday and Saturday. The restaurant also has a little garden where, depending on the weather, you can sit and eat from May to September until 11 p.m.
Marienplatz 12
70178 Stuttgart
Tel.: 0 711-633 83 83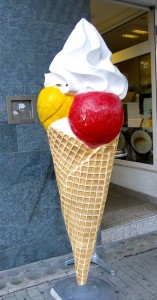 This ice cream parlor, at the Marienplatz in Stuttgart-Heslac, belongs to the Café Kaiserbau (near the Park Inn Hotel) and offers a range of fancy ice creams with creative flavors such as licorice, basil, caramel & salt, curd cheese & quince. In winter the flavors might include cinnamon, Schwarzwalder Kirsch (black forest) and Spekulatius (almond biscuit). Open from 10 a.m. to 6 p.m., even in the winter.
Eugensplatz 2a
70184 Stuttgart
Tel: +49 (0) 711-263-7973
Ice cream parlor at the Eugensplatz where you combine your ice cream with a fantastic panoramic view over Stuttgart. To get there, climb the Eugenstaffel (Duke Eugen Steps).  Open Monday through Friday from at 11 a.m. and Saturday and Sunday at 1 p.m. until 10 p.m. each day. Closed in winter.
 Café Seyffer's
Vogelsangstr. 55
Stuttgart
Tel. +49(0)711/935 59 90
My favorite café, hidden in Stuttgart-West, is yet undiscovered by tourists. It's a good place to go for breakfast, for sitting in the midday sun, and/or for drinking a beer in the evening. The café is tastefully furnished with Andalusian touches and has a huge chandelier hanging from the ceiling.   I go there to drink and usually have a Prosecco or Aperol Sprizz. The café is open from Monday through Friday from 7 a.m. until 11 p.m. and on Saturdays, Sundays and some holidays from 9 a.m. to 4 p.m.
Olgastr. 44
70182 Stuttgart
Tel: +49 (0) 711-248-6988
A very nice, uncomplicated bistro in the Bohnenviertel (Bean Quarter, a relic of historic Stuttgart which has managed to survive until the present day). Not far from the city center, Hüftengold is only about a ten minutes walk from the Schlossplatz (Palace Square). Decorated with candles, working fireplace and flowers, this charming café serves Indian curries, pasta, Sauerbraten, salad and homemade desserts. I think that anybody will find something on the menu to like. It's a lovely place to linger over afternoon cakes and coffee. Open Monday through Thursday from 7 a.m. until midnight; Saturday from 9 a.m. until 1 a.m.; Sunday from 10 a.m. until 8 p.m.; and Friday from 7 a.m. until 1 p.m.
Humboldtstraße 44
70178 Stuttgart
Tel: +49 (0) 711-284 68 78
A great place to escape, this beer garden is located on a hill called Karlshöhe and is surrounded by a park and a small city vineyard. There you have a scenic view of the south of Stuttgart. From May through September you can combine a visit to the beer garden with a visit to the city lapidarium. Although in the middle of the traffic noise of the city, the park invites you to meditate under its mighty old trees. The colonnades, terraces and lawns, which reach to the Karlshöhe, have a tranquil magic. The park grounds, which were built according to the model of Italian renaissance gardens, contain portals, columns and parts of architecture of what were once famous Stuttgart buildings, offering the visitor a clear image of the former Stuttgart city culture.
Opening hours depend on the weather. In good summer weather the beer garden is generally open every day from 11 a.m. until midnight. In doubtful weather it is best to call in advance. Closed in winter, more or less from October to March.
Teehaus Stuttgart im Weissenburgpark  
Hohenheimer Strasse 119
70184 Stuttgart
Tel: +49 (0) 711-236 736 0
Wonderful art nouveau pavilion built in 1913 with a restaurant inside, beer garden, huge terrace, pond and fountain outside. It's open from March to October and the rest of the year only at the weekends. I like to sit outside in the sun and drink a Radler (beer mixed with Sprite) or have a cup of coffee and a piece of cake.
Dachswaldweg 180
70569 Stuttgart
Tel: +49 (0) 711-6872271
Considered the largest beer house in Stuttgart, the restaurant is more than a place to enjoy good food. It is the idyllic place to go with kids, because they have a children's playground. You can sit inside the restaurant or outdoors, on a meadow under old fruit trees, and order a range of popular specialties including Schnitzel, different kinds of Maultaschen, fish, steak, salad and the like. This is a popular restaurant in a lovely setting and is especially nice on beautiful days. Open from May 1st through August 31st from 10 a.m. until 10 p.m. and from September 1st to April 30th on Monday, Tuesday and Thursday until Sunday from 10 a.m. to 10 p.m.