I love diners. I love breakfast in diners. Not tablecloth places that call themselves diners, or the chic "retro"ones that put in a jukebox and red-plastic booths and make believe they are authentic. No, I like real,

old-fashioned, Formica-table and tile-floor, long-established neighborhood diners that are warm and friendly and offer food like mom might make if mom is a homebody who likes to cook.
I look for diners wherever I wander and recently lucked out in Manhattan, where a Roosevelt Hotel bellman, whose body said he knew food, gave me the tip. "Try The Comfort Diner," he said. "Great place. Right down the street (at 214 E 45th).  Breakfast can't be beat. You'll like it."
And was he right! The Comfort Diner is the epitome of what I like in a diner. The ambiance, complete with both booth and counter seating, radiates a worn, unpretentious vintage charm. The kitchen produces made-from-scratch basic dishes with some upgrade touches, and, last, but never least, the staff aims to please.
The diner's manager, Lynn Septoff, used to be the diner's pastry chef before she burned out, now she's upfront greeting and seating guests, schmoozing with customers and welcoming all with a big smile.
Knowing I was interested in food, Lynn suggested that I order the house specialty red flannel hash and even brought a sample taste to tempt me.
Order I did. Loved it of course. And when I moaned that I couldn't bear to wait to next time I was in NY to enjoy it again, Lynn disappeared into the back room and typed the recipe for me.
When it comes to simple diner pleasure, the Comfort Diner is as good as it gets—and so is their hash.
COMFORT DINER'S RED FLANNEL HASH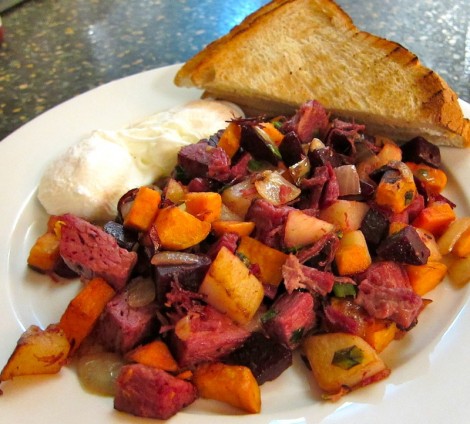 Yield: about 6 servings.
3/4 pounds beets, (about 5 beets)
Olive oil
1 large yellow onion, peeled and cut into 1/2-inch pieces
1medium red potato, peeled and cut into 1/2-inch cubes
1 medium sweet potato, peeled and cut into 1/2-inch cubes
1/2 cup diced scallions, (1/4-inch dice)
3 pounds cooked corned beef, trimmed of all fat and cut into 1/2-inch cubes
Salt to taste
Freshly ground black pepper to taste
Poached eggs (see note)
Wheat toast (for serving)
Trim stems from beets, wrap in aluminum foil, and put in a preheated 350°F oven.  Roast until tender, about 1 hour. Set beet aside to cool and then rinse them in cool water, peel them and cut into 1/2-inch cubes; set cubes aside.
Put oil in a wok or heavy fry pan and set over moderated heat until hot. Add red potatoes and sauté, just until potatoes are tender, about 10 minutes. Remove red potatoes from pan and set aside.
Add sweet potatoes and sauté until tender, about 12 minutes. Remove sweet potatoes from pan and set aside.
Add more oil to the skillet if necessary and sauté onions until soft, about 5 minutes. Add potatoes, beets, beef and scallions to onions in skillet and sauté, until heated through and potatoes are slightly browned, about 10 minutes.
Season with salt and pepper.
Serve topped with poached eggs and accompanied with wheat toast.
NOTE: TO POACH EGGS IN ADVANCE AND REHEAT JUST BEFORE SERVING
Bring a small pot of water to a full boil. Break egg into a small measuring cup. Make a whirlpool in center of the boiling water with the handle of a wooden spoon. Carefully lower egg into center of whirlpool. Reduce heat to a simmer. Let egg simmer until white is cooked and yolk is set but still runny, about 2 minutes. With a slotted spoon remove egg to a bowl of cold water.
Repeat with as many eggs as you need.
When all eggs are cook, one at a time lift egg from water with your hand and trim scraggly edges with a sharp knife. Put egg in fresh bowl of cold water. Cover bowl with plastic wrap or foil and refrigerate overnight.
To reheat, fill a bowl with hot water. Drain eggs in cold water and transfer to bowl with hot water. Replenish hot water if necessary. Let eggs sit until warm, then drain and serve.