Tucked into Franklin County, Florida, an area affectionately called the "Forgotten Coast," probably because it lacks the hordes of tourists found in other parts of the state, Apalachicola (www.apalachicolabay.org) is a perfectly wonderful place to visit for a truly laid-back, maybe-fish-a-bit, maybe-hit-the-beach, maybe-see-a little-nature vacation.
More village than town (only one electric street light in the whole place), Apalachicola sports an unusual amount of sophisticated restaurants. Most feature local seafood, which isn't surprising as more than 186 species of fish are found in Apalachicola Bay, with oysters earning worldwide attention. (Here is one of the only places in the States where wild oysters are still harvested by tongs from small boats.)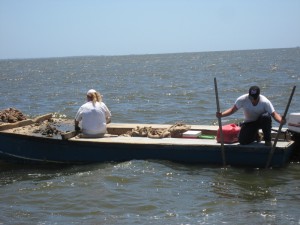 Restaurants showcase Apalachicola Bay oysters in every conceivable manner, but  it's hard to beat the simple fried oysters served at Tamara's Café Floridita (www.tamarascafe.com).
I don't know what chef Daniel Itzkovitz does to capture such flavor…well…that's not true. I do know. He told me:
FRIED OYSTERS FROM TAMARA'S CAFÉ FLORIDITA
"Take the oysters straight from their natural liquor, coat them lightly with flour, salt and pepper, and deep-fry them at 350 to 360 degrees for one minute. Serve the oysters with a sauce made from mayo, sour cream and diced pickled jalapeño peppers."
Made with absolutely fresh Apalachicola Bay oysters and eaten blissfully hot, the dish is succulent, crunchy, sweet, subtle and tangy all at one time. My mouth is watering just thinking of them.
Those who subscribe to the "R" rule—don't eat oysters in months spelled without an R—or conversely, eat oysters only in months with R in the name, have a good reason to be joyful that the long, hot summer has turned into a run of R months.