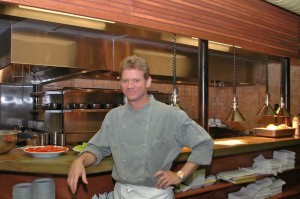 Tom Power Jr., has made quite a name for himself as chef of Fat Canary, a family run restaurant in Williamsburg, Virginia. But despite winning a slew of prestigious awards and generous accolades from diners who must make reservations far in advance, Power remains downright modest. Of his food, which has been described as "sophisticated," "superb," and "major league," Power says, "I let the ingredients make me look good." He scrupulously sources every ingredient in every dish served at the restaurant and advises home cooks to do the same. Regarding his Apple, Hazelnut and Blue Cheese Salad, Power says, "If one uses only the freshest lettuces, the most flavorful apple and the best quality cheese, the products do all the work; all the cook has to do is combine ingredients." Although it is not quite that easy, great ingredients do make or break this salad, so go for the gold.
APPLE HAZELNUT AND BLUE CHEESE SALAD



Adapted from recipe supplied by Tom Power Jr., chef, Fat Canary.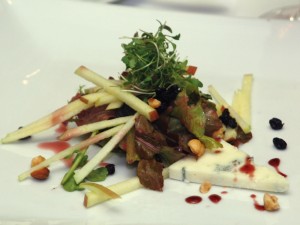 Yield: 4 servings
1/2 cup port
2 tablespoons sugar
2 tablespoons currents
2 tablespoons red wine vinegar
2 tablespoons grapeseed oil
About 4 heaping cups mixed baby lettuces
About 1/3 cup skinned, toasted hazelnuts (see note)
1 apple, cored and cut into slender strips
About 4 heaping tablespoons micro greens or sprouts
4 wedges (about 1 ounce each) good blue cheese
In a nonreactive pan, bring port and sugar to a boil over medium heat, stirring often. Boil, stirring occasionally, until liquid reduces and becomes syrupy, about 7 minutes.
Pour hot port syrup over currents and let seep 2 minutes. Drain currents and set syrup and currents aside to cool completely.
Prepare vinaigrette: Whisk 1 tablespoon of the reserved port syrup with vinegar and oil until well blended. Toss lettuce with vinaigrette. Mound lettuce in center of each of four serving plates. Sprinkle hazelnuts and currents over and around lettuce, giving each serving an equal amount. Arrange 1/4 of apple strips haphazardly over each serving of lettuce, and then top each serving with 1 tablespoon micro greens or sprouts. Drizzle remaining port syrup on top of and around salad on each plate. Garnish each serving with a wedge of blue cheese. Serve immediately.
Note: To toast and skin hazelnuts: spread shelled nuts in one layer on a baking sheet. Put in a preheated 300 degree oven and roast, shaking pan once or twice to redistribute nuts, until skins "break" and nuts turn a light golden brown, 10 to 20 minutes. Wrap nuts in a kitchen towel and set aside 1 minute. Rub nuts in towel to remove loose skin (not all skin will come off). Cool completely.