What do Bill Clinton, Justin Bieber, Oprah Winfrey and Mick Jager have in common? All stayed at the

Saxon Hotel

in Johannesburg and for good reason. The one-of-a-kind property epitomizes luxury, security, service and quite pizzazzy comfort.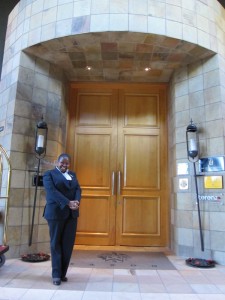 The Saxon claims a pedigreed location, sequestered in the city's upscale Sandhurst neighborhood. Grand estates, each and every one walled from street view, electronically gated and well guarded by private security, surround the hotel. The nearest city intrusion lies about three kilometers away in Nelson Mandela Square, a tony shopping/entertainment center.
Guests can, of course, hire Saxon drivers for all sorts of city excursions, but once encased, it's hard to imagine leaving the 10-acre, garden-filled hotel enclave and it's a perfect little world of privileged coziness.
Once a private home of insurance tycoon, Douw Steyn, the Saxon maintains a grand and intimate residential ambiance. Inside the security gates, staff greet guests with a warm, unobtrusive welcome.
Doors open to an opulent lobby with duel staircases curving under a domed ceiling.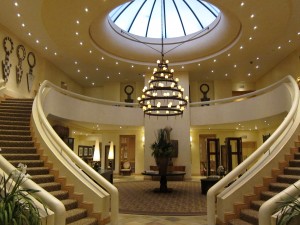 From the reception desk, butlers accompany guests to their suites, strolling through hallways filled with pencil portraits of famous visitors and/or orchids slipped into slender vases.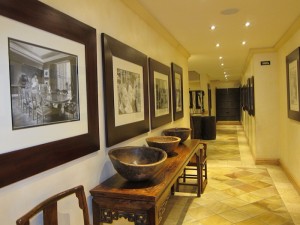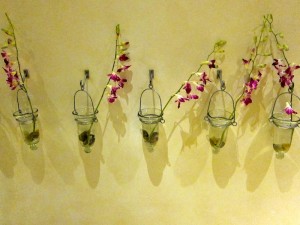 The Saxon's Egoli, Presidential and Nelson Mandela suites (Mandela lived on property when writing his autobiography Long Walk to Freedom), come in various sizes and configurations. All sport Afro-gorgeous decors with tranquil color schemes of browns, beiges and creams accented with confetti dots of red and black. Luxury linens, flattering lighting and state-of-the-art electronics add to the amenities.
My suite, 104, couldn't have been lovelier or more restful. Notice the great big bed with marble bed posts: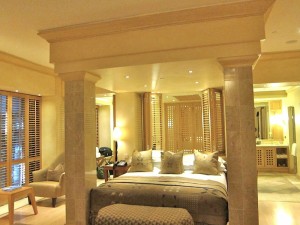 Notice the bathroom, which has separate tub, shower and two sinks—all graced with full bottles of fragrant Molton Brown products.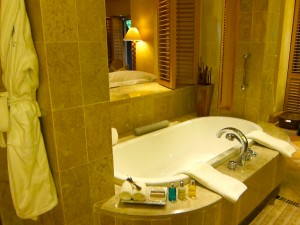 Notice the dining area with a bucket holding chilled Champagne ready to pop.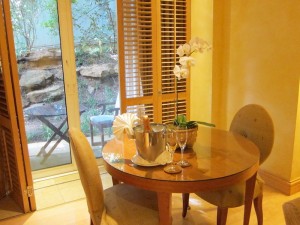 Notice the sitting area with the large TV and the desk with a power panel geared to delight the most type A, technologically connected businessperson.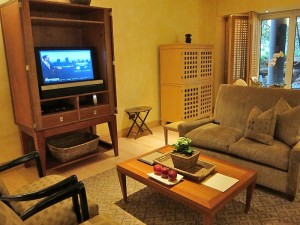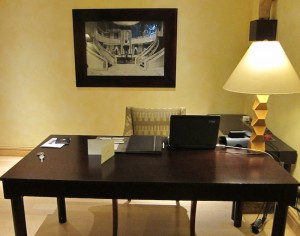 If guests feel compelled to leave their suite, the Saxon offers many pockets of pleasure, including:
An award-winning spa:

A quite heated pool: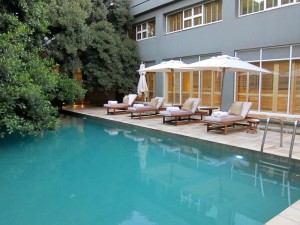 An awesome unheated pool: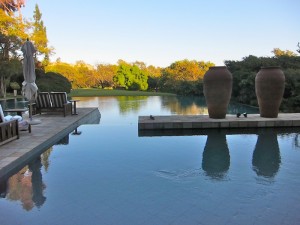 A Koi pond: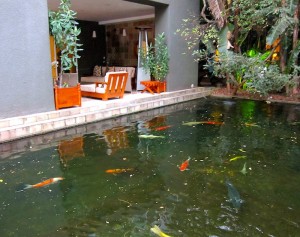 African-art filled seating areas: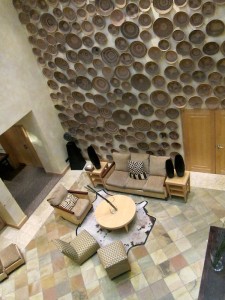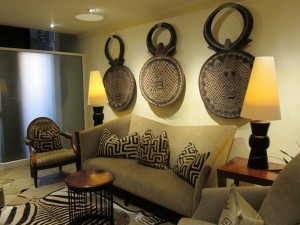 Cocktail lounges: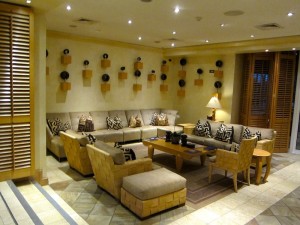 And a choice of dining areas, lusciously overseen by Executive Chef David Higgs.  I opted for a long and lingering lunch in the lovely Qunu Grill.  This is the dining room where guests enjoy a Champagne breakfast buffet. This is a dining room to steal a gourmet's heart.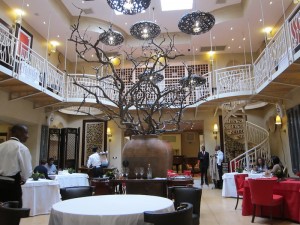 Notice the garden wall backdrop and startling red-dressed tables: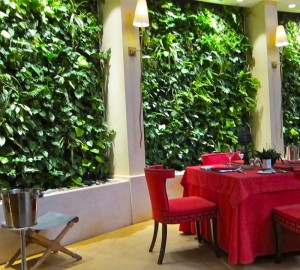 Notice the table decor of orchids and African art: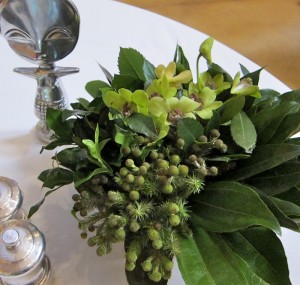 Qunu waiters are an especially friendly sort. They walked me through the menu and decided I should order mussel soup as a first course (it was heaven) and springbok loin, an African specialty and one of the restaurant's signature dishes, for the second course (it was divine).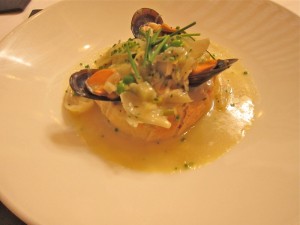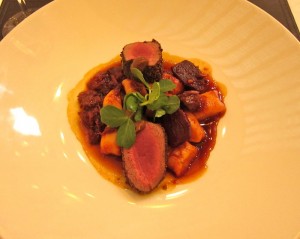 Breakfast is, of course, elegant and elaborate, with fresh oysters and sushi among the buffet choices: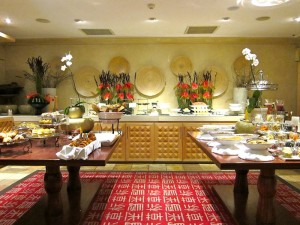 But my secret best meal pleasure came at midnight, when I suddenly craved a cheeseburger. As one would expect, the Saxon Burger (brought by the butler within 20 minutes of my call) was a masterpiece. It stood a towering four-inches tall and was dressed to the nines. French fries, fried onion rings and assorted condiments/sauces, including Avocado Salsa, Tomato Chutney and a rich, creamy Mushroom Sauce (recipes follow) added to the glory.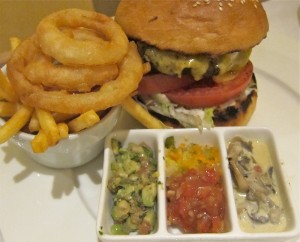 A Leading Hotel of the World, the Saxon identifies itself as a boutique hotel, and, indeed, has been called the "world's best boutique hotel," but the word "boutique" underplays the Saxon's sophisticated, high style elegance. Suffice it to say that the Saxon remains THE single best Johannesburg hotel for the wealthy, head-of-state and super-star crowd, as well as for ordinary travelers who want to borrow the celebrity lifestyle—if only for a night or two.
SAXON BURGER ACCOMPANIMENTS
MUSHROOM SAUCE
Serve as a side dish or condiment for grilled and roasted meats. 
Yield: 2 cups.
Butter or oil
1 onion, peeled and finely chopped
1 clove garlic, peeled and pressed through a garlic press
Splash of brandy
1/4 cup beef jus or strong stock
1 pound button mushrooms, sliced
1 teaspoon thyme
1-1/2 cups cream
Melt butter in a skillet. Add onion and sauté until onion is almost translucent, about 4 minutes. Add garlic and stir-fry 1 minute. Pour brandy over mixture and ignite. When flame dies, add jus, mushrooms and thyme; boil gently, stirring often, until mushrooms release their liquid and liquid evaporates, about 10 minutes. Add cream and boil gently until sauce is thick and creamy, about 20 minutes.  Serve warm or at room temperature.
AVOCADO SALSA
Serve as a snack with tortilla chips or as a condiment for all sorts of sandwiches.
Yield: About 2 cups.
2 large, ripe avocado, coarsely chopped
1 small tomato, peeled, seeded and very finely chopped
1 teaspoon finely chopped cilantro
1/2 teaspoon finely chopped parsley
2 teaspoons fresh lemon juice—or more to stabilize color
Salt to taste
Hot pepper sauce to taste
Combine all ingredients and mix well.
TOMATO AND GINGER CHUTNEY
Serve as a condiment for grilled and roasted meats and a variety of  cheese and egg dishes.
Yield: 4 cups.
Oil
1 large red onion, peeled and finely diced
1 garlic clove, peeled and finely diced
1 cup vinegar
1 cup granulated sugar
2 star anise
4 whole cloves
2 cinnamon sticks
2 bay leaves
2 sprigs thyme
2 tablespoons peeled and shredded ginger.
About 5 pounds plum tomatoes, each cut into 8 pieces (You will need about 4 cups of pieces.)
Coat the bottom of a 4-quart saucepan with a little oil. Add onion and sauté until the onion is tender, but not colored. Add garlic and sauté 1 minute. Add vinegar, sugar, anise, cloves, cinnamon, bay, thyme and ginger.  Bring to a gentle boil, stirring often until sugar dissolves. After sugar dissolves, boil mixture 1 to 2 minutes.
Add tomatoes and gently boil until tomatoes are soft, 10 to 20 minutes (time depends on degree of ripeness.) Strain tomatoes from liquid, returning liquid to pan.
Remove anise, cloves, cinnamon, bay and thyme from tomatoes and discard. Set tomatoes aside.
Boil liquid in pan until it reduces and becomes thick and syrupy, about 15 to 20 minutes.
Gently stir hot syrup into tomatoes. Set chutney aside to cool at room temperature and then refrigerate in a covered container. Serve chutney chilled.