In the beginning, God created heavens and the earth. Jaffa came later—according to archeologists, around 7500 BCE. And Tel Aviv, founded on the outskirts of Jaffe, claims April 11, 1909 as its birthday. That's when 66 Jewish families purchased 12 acres of land on the mosquito infested, barren sand dunes outside of Jaffa, divvied up the land and started building. Today Tel Aviv is the thriving, lively and happening heart of entrepreneurial, financial and cultural Israel.
Most visitors enter Israel through Ben Gurion International Airport, located about 20 minutes from downtown Tel Aviv. Built of Jerusalem limestone quarried in the nearby Judean Hills, the airport is all bright and sleek with decorations worth study. Even if you are totally zonked from a long flight, look up as you walk the corridor to passport control. The mosaics above the entrance are actual remnants from 5th and 6th century Byzantine floors. The Greek inscription on the top right mosaic repeats a Biblical text: "Blessed shalt thou be when thou comest in, and blessed shalt thou be when thou goest out." (Deuteronomy 28:6).
Archeologists define "tel " or "tell" as a mound or hill built from layer upon on layer of different civilizations. Aviv is the Hebrew name for "spring." The name symbolizes both the ancient and the renewed—which is particularly fitting for Tel Aviv, a city springing from one of the world's oldest port cities and emerging as a mega modern international hub.
Located in central Israel, along 14 kilometers of Mediterranean shoreline, Tel Aviv sports first-rate beaches for summer lounging, swimming, playing, relaxing, visiting and enjoying sunshine fun.
How many ways do I love Tel Aviv, let's start with 1,800—the number of cafes and restaurants that fill the city. Not-to-be missed food experiences include:  big, bountiful, breakfast buffets served at most hotels;  "Modern Israeli" cuisine produced by young Israeli chefs in upscale restaurants; casual fare served with coffee in coffee cafes; and Israel-style fast food (falafel and shawarma) found in street-side stands.
Over 90% of Tel Aviv is Jewish and the city pays attention to Shabbat (from sunset on Friday to an hour after sunset on Saturday). How does Shabbat impact tourists? Most businesses, kosher restaurants and cafes close Friday afternoon and all day Saturday, and public transportation options diminished (taxis still run). The larger hotels limit breakfast buffets to cold specialties or food that can be prepared ahead and kept warm. Some hotels have special Shabbat elevators that stop on every floor so that observers will not have to push electric buttons. The beaches are extra busy. Early Friday evening is quiet, as most residents join family and friends for a traditional Shabbat dinner (try to score an invitation, or hook up with a hotel as the Shabbat feast is as good as it gets) and after dinner, the nightclubs fill and the good times roll.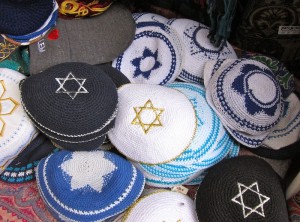 In 2003 UNESCO proclaimed the "White City" (historic zone) of Tel Aviv a World Cultural Heritage site.  The designation recognizes the city's 3500 to 4000 Bauhaus-style buildings erected from 1920s to 1950s by immigrant architects who studied at the Bauhaus School in Germany. Interpreted for the Tel Aviv environment, the Israeli International (Bauhaus) architecture focuses on simplicity of design, inexpensive building materials, and functionality over frou frou. Most structures are two to three-story, cubic shapes with flat roofs, white walls and facades with ledges offering shade.
So let's talk about Jaffa, which claims to be the oldest port city in the world. The old (and I am talking history dating to the Ice Age, with "modern" referenced in Greek mythology and the Bible) city officially merged with the city of Tel Aviv in 1950. Despite being a part of Tel Aviv, Jaffa remains a physical and psychological separate entity with a multi-ethnic population and shopping stops that range from the shabby flea market to super chic art galleries.
Tel Aviv's walls sport an unusual amount of both graffiti and cats.
Mild Mediterranean weather, flat coastal land and dedicated bike paths throughout the city make biking a totally cool, fun, health-enhancing and cheap way to tour.
The land of milk and honey's cornucopia also overflows with luscious produce, so much that Israel produces over 95% of its own food and has plenty leftover for export. Israelis are creative inventors and developed new agricultural technologies to tame land unfriendly to farming. Citrus, olives, avocado, kiwi, corn, tomatoes, cucumber, dates, bananas, berries—name it—the cup runneth over.

I've heard Tel Aviv called the "city that doesn't stop." People say that the weeknight bar and club scene is like a weekend in any other city of the world, and that the weekend is like New Year's Eve. I am told the party starts around 11 p.m. with dancing, drinking, and general merry making continuing to morning. I don't know as I am an early-to-bed-early-to-rise type, but I have been told the town positively rocks. And I believe it—and am sure the calorie-burning dancing accounts for all those buff bodies on the beach.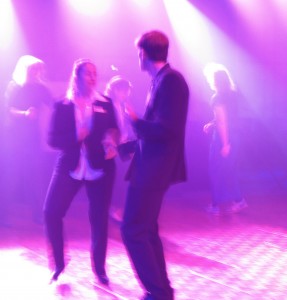 And the winners for Israel's top favorite dishes are—sharing second and third place: shawarma (spit roasted meat) and falafel (deep fried balls of ground chickpeas) both served inside a pita pocket along with tahini, chopped vegetable salads and assorted pickles. The first-place number one dish served at every hotel breakfast, every restaurant meal, every snack stand, every food outlet is…are you ready…. hummus.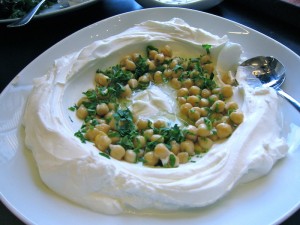 There are as many variations to hummus as cooks making it. I like hummus very lemony and topped with feta as in the recipe here. If you don't want the lemon, eliminate the zest. If you prefer a different flavor (garlic, cumin, roasted red pepper) add it. Toppings, too, are adjustable.
When it comes to the best hummus, do your own thing—make yourself happy.
HUMMUS
Yield: about 8 servings as an appetizer.
About 2 cups cooked chickpeas (see note)
1/2 cup tahini
Grated zest from 1 lemon (optional)
Juice from 1/2 lemon
Extra virgin olive oil
Chickpea cooking liquid, as needed
Salt
Optional garnish—use any or all
Whole chickpeas
2 ounces crumbled feta cheese
1 tablespoon chopped parsley
Juice from 1/2 lemon
Pita bread
Place the chickpeas, tahini, lemon zest and juice from 1/2 lemon in the bowl of a food processor or blender and blend until smooth. With the motor running, slowly add 1/4 cup olive oil to the mixture. If the hummus is too thick, or if you want a silkier texture, with motor running, add a little reserved cooking liquid and/or more oil to mixture until desired texture is reached. Add salt to taste.
Mound hummus in the center of a plate. With the back of a large spoon, create a shallow well in the mound. Drizzle olive oil over top of hummus and garnish as desired with whole chickpeas, feta, parsley and/or lemon juice. Serve with pita bread, cut into wedges
NOTE–TO COOK CHICKPEAS  Put good-quality, small dried chickpeas in a large strainer and wash under cold running water, removing any foreign matter or damaged chickpeas.  Transfer chickpeas to a large bowl or pot, cover well with cold water, add a pinch of baking soda and let soak overnight.
Drain chickpeas from soaking liquid and, again, wash well under cold running water.
Put chickpeas in a large pot and generously cover with water. Add another pinch of baking soda. Set pot over moderate heat and bring water to a low boil. Skim any foam and/or skins from top of water. Boil until chickpeas are very soft and can be easily smashed when pressed between two fingers, 1-1/2 to 2 hours. Drain chickpeas (reserve cooking liquid to make hummus).